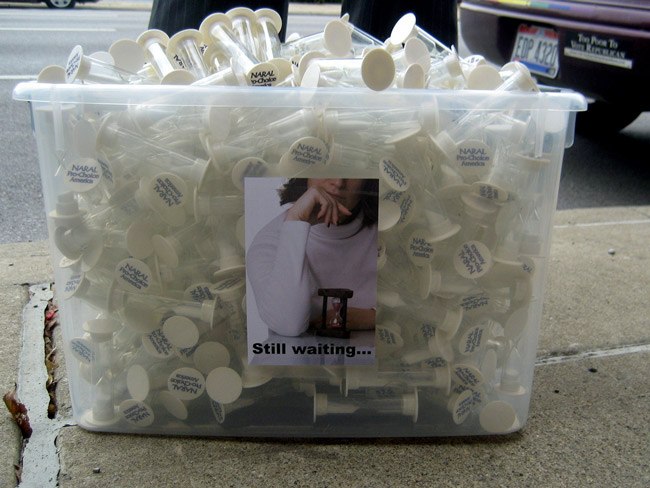 By Nancy Smith
What rang my bell was Rep. Jennifer Sullivan's description of HB 633, a busybody bill that would make women wait 24 hours before having an abortion. She called it — wait for this — a plan that would "empower" women.
That's what she said, empower.
Empower what women? The only women the Mount Dora Republican's bill would empower are the ones who believe they should interfere in a pregnant woman's very personal, very private decision. HB 633 would carve out interference by family members, friends, boyfriend — boyfriend? — clergy, pressure people, buttinskis of every description — as a "right" under Florida law.
Let's look at this bill practically: If it becomes law, even when a woman has already received state-mandated counseling and made a deliberate and fully informed decision, she will be forced to wait 24 hours before having an abortion. That is patently wrong.
We're talking about women who have already made the decision to have an abortion. They should not be forced by legislators in Tallahassee to make two separate trips, 24 hours apart, before having the procedure. It adds expense, medical risk and in some parts of Florida, it could mean as much as 400 miles and eight hours of travel.
I hold that doctors and patients, not politicians, should determine the course of medical treatment, even when the treatment is abortion. And it's time I spoke up about it.

In case you haven't guessed, I am a card-carrying member of the RMC, Republican Majority for Choice. We're thousands strong across America — old-school conservatives who believe like Barry Goldwater that government doesn't belong in the boardroom or the bedroom.
Certainly my membership is not very politically correct in Florida today. Which is why I've tended to stay wussily away from the subject in Sunshine State News. But for HB 633, I'll make an exception.
The House Health and Human Services Committee approved it on a straight party-line vote of 12-5. The day before, the Senate Health Policy Committee approved its version, SB 724, in a similar vote. [It passed the House on April 22 and the Senate two days later.] Apparently every Republican without exception on these committees believes the state should meddle in a woman's abortion choice.
I guess it's just as well I'm not in the Florida Legislature.
---
The GOP's founding principle of personal freedom is ingrained in the Big Red Umbrella.
---
But let me tell you why we need more pro-choice Republicans. It's because they understand that we can streamline spending and find ways to balance the needs of countless women and families. It's because they are an integral part of the legislative process, committed to the universal application of the GOP's founding principle of personal freedom.  That's our roots. It's ingrained in the Big Red Umbrella.
Pro-choice Republicans are vitally important to Florida and to the nation because we provide a counter to extremists on both sides. We encourage bipartisan solutions in what has become an increasingly polarized environment.
And, frankly, getting back to what's going on in the Legislature right now, we muster up the courage to argue against bad bills, bad government, bad policy.
Once again, choice isn't a political issue and the government shouldn't be in the business of legislating private behavior or personal medical decisions.
In today's climate within the party, I'm sure Rep. Sullivan believes in her bill. I don't. If she really wants to empower me and other women — I mean, really — she will leave us alone to make difficult medical decisions — abortion included, as I said earlier — with or without counsel and for ourselves.


Nancy Smith is the editor of Sunshine State News. She started her career at the Daily Mirror and The Observer in London before spending 28 years at The Stuart News/Port St. Lucie News as managing editor and associate editor. She was president of the Florida Society of Newspaper Editors in the mid-1990s. Reach her by email here, or follow her on twitter at @NancyLBSmith.