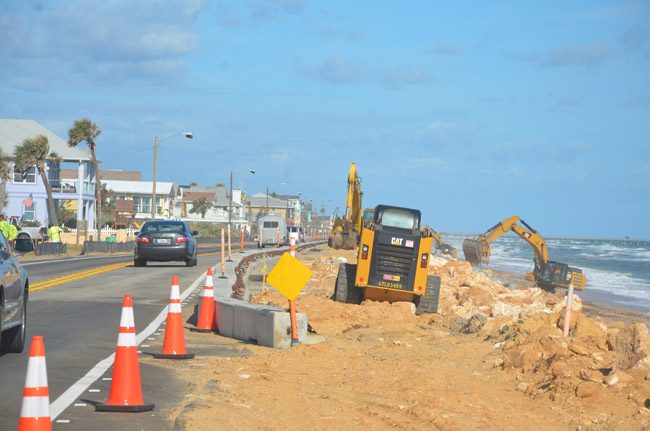 More than two years after Hurricane Matthew chopped up the south end of State Road A1A in Flagler Beach, requiring makeshift repairs to keep the road driveable, the state Department of Transportation this week executed a $22.4 million contract with Jacksonville-based Superior Construction Company Southeast to start construction on permanent repairs of the road in three segments starting on Jan. 4. (Transportation officials in November 2018 had projected a start date last summer.)
No road closures are anticipated in the year-long project, scheduled to be completed by January 2020. But detours are anticipated onto Central Avenue and possibly Daytona Avenue.
The project actually consists of three phases, or segments, which are independent of each other.
The first segment consists of enhancing dunes and vegetation from South 28th Street to South 22nd Street. That segment involves no road construction.
The second segment is the most construction-intensive part of the project, with the most direct impacts on residents and businesses. That's the reconstruction of A1A from south 22nd to South 9th Street (the project will be moving progressively from south to north). That segment, schematized in the illustration below to the right, will result in a two-lane road divided by a median equipped with deep French drains. Each lane of travel will be 10 feet wide, as will the median, with two-foot shoulders on either side of the whole road. A low, small fence-like divider will delineate the road from the existing rock revetment oceanside. Those rocks and dunes will not be altered, though they will be part of a subsequent, unrelated project once the transportation department's project is completed.
There will also be a rebuilt sidewalk to the west of the road. There will be no parking allowed on the east side of the road. The speed limit will be 30.
The third segment of the construction project stretches from North 18th Street to Osprey Drive in Beverly Beach. It does not involve road construction directly, but rather the construction of a sea wall behind the existing dune, concealed by more sand and vegetation. Though it does not involve road construction, road travel will be directly impacted with detours in areas of construction.
That overall project won out over a series of other DOT proposals, some of which included moving State Road A1A inland, to Central or Daytona avenues. Those plans of course were vigorously opposed by Flagler Beach residents, and were scrapped–though likely only shelved by the transportation department. (Rising seas, eroding shorelines, and the federal and state government's refusal, so far, to serious policies countering global warming may make that approach inevitable in coming decades: a major report issued by 13 federal agencies last week warned of cataclysmic consequences for the national economy because of such things as retreating shorelines and more violent storms. That bodes ill for places like Flagler Beach.)
When transportation officials first presented the plans in a public hearing a year ago, they pledged that the construction would take place in short stretches, blocks at a time, to minimize impacts on local businesses and residents, and they pledged to have numerous median breaks along the stretch of reconstructed road at the south end of town. (See DOT's presentation in the video at the foot of the article.)
Flagler Beach City Manager Larry Newsom said the transportation department hasn;t yet provided his administration with more detailed plans of construction's effects on traffic and diversions. "We have to face facts though, it's going to be diverted and there's going to be an impact," Newsom said. "There will be an impact on central and there will be an impact potentially on Daytona, I don't think Flagler will get a whole lot."
The city is concerned about the damage to its avenues because of more intense, heavy and truck traffic, and to its turning zones, where trucks typically create ruts, then cause the road structure to buckle or erode, water to pool, and asphalt to chip off. For that reason, Newsom has held off on needed resurfacing on Central Avenue.
"We've had good conversations with DOT as far as the roadways and damage to the roadways that may be caused based on the diversion of traffic," Newsom said. "The city would expect some reimbursement if we have to go in and take care of roadways that have rutting."
Another big challenge for the construction company is finding a "lay-down yard," or staging area for the company's heavy construction equipment. That usually necessitates finding private land to lease for the duration of the project. Superior Construction contacted Santa Maria del Mar, the Catholic church. "The one thing I'll say about the Catholic church there is they work very well with the neighborhood, but this is new for them," Newsom said. Before a decision is reached, he said the company and whichever land owner is a possibility for a lay-down yard will meet with the city to ensure that the location is amenable to surrounding residents.
But Newsom is cautioning residents and businesses that for all the disruptions ahead, "it's a project that has to be done, construction is not pretty, it's not meant to be pretty, when it's done, it's cleaned up, yeah, it's pretty then." Nevertheless, he said, "My goal always is to make sure our local businesses are not impacted. They've taken a beating the last two years and they're just now getting back on their feet."
He said the city's good relationship with the transportation department will work to its advantage.
The road-reconstruction and seawall projects are separate from yet another major project coming to Flagler Beach: the extension of the dunes reconstruction project the county started at the north end of Flagler last January, and that will be merged with a U.S. Army Corps of Engineers project for its Flagler Beach version. The state transportation department has nothing to do with that project. The County Commission and the Flagler Beach City Commission are holding a joint workshop on Dec. 4 to talk strategy about the beach renourishment.
Meanwhile, Flagler Beach officials are hoping the road project's disruptions will be well-managed. "I just hope they can minimize the disruption to people on Central mainly and the people on A1A. There's quite a few businesses there, and they're going to have to go through the backdoor I guess," City Commission Chairman Rick Belhumeur said, favoring the approach of construction a few blocks at a time. "If they can do it that way, that would be great because it wouldn't hurt the businesses on A1A as much."
For Flagler County as a whole, the transportation department project in Flagler Beach is adding to another, $4 million project on U.S. 1, at Old Dixie Highway, where DOT is building the county's first major roundabout on a main thoroughfare. That project, too, gets under way in January.