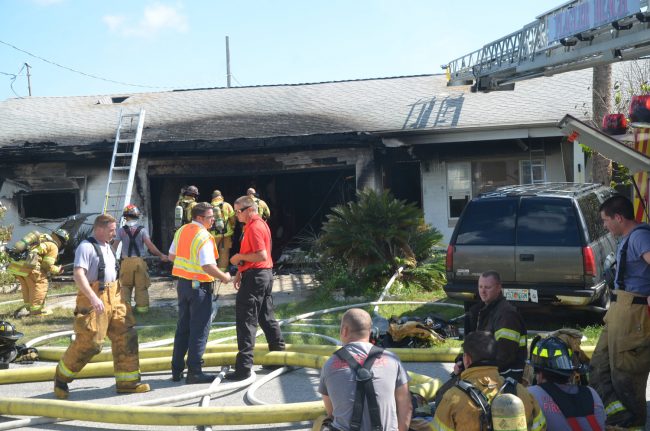 At 10:30 this morning Pat Bauvi was in his room taking a nap in his house at 1915 South Central Avenue in Flagler Beach. Thankfully for him, he was not to deeply asleep.
"I was taking a little nap, it's my day off, watching Kelly Live," Beuvi, 57, said, standing a few feet away from the now-charred part of his house, "and all I heard is glass breaking, and I woke up to just—a house full of smoke."
The fire had shut down South Central at 19th Street. The house is on the east side of South Central, toward the middle of the block, between 19th and 20th Streets.
Bauvi's 25-year-old son Zach was in his own bedroom at the far-south end of the house. "I yelled for him and I got out the front door—no shoes, no glasses, no wallet, no nothing." That's how he still was at 11:15 as Flagler Beach and Flagler County firefighters had finished putting out the flames, and were conducting their follow-up operations to ensure against additional breakouts.
"I was in my room, I ran out. First I thought people were arguing outside," Zach Bauvi said. He too then heard windows break. "I grabbed my shorts, I grabbed the cat and I ran out the front door. That's it: no idea what happened. I was watching TV."
They had lived in the 1,500-square-foot house about a dozen years. It was built in 1961 and last sold to its current owner, Lau Hsueh Yen, of Holliswood, N.Y., in 2005, for $450,000. It is now valued at $258,000, according to the property appraiser.
Flagler Beach police Sgt. David Acieri was first on scene, followed shortly by Flagler County Sheriff's deputy Mark O'Leary, who happened to be in the neighborhood serving judicial papers. He changed plans and lent Acieri a hand as firefighters and the Flagler Beach Fire Police converged on the scene.
"There was smoke billowing from the roof" when they arrived, Flagler Beach Police Chief Matthew Doughney said.
By 11:15, the north side of the house was a total loss, gutted and charred though the roof had not caved in, and the rest of the house, while partly damaged in the living room—which is in the middle of the house—appeared to have survived, if somewhat damaged.
"We're truly undetermined at this point," Flagler Beach Fire Chief Bobby Pace said. "Flames basically coming out the eaves when we showed up, heavy plumes across the ocean there. What we have right now, we're just looking for extinctions, we have some smoldering areas, you can see a couple of vent holes we cut into the roof. Now we're just doing our once over."
The Flagler Beach Fire Department used its new quint firetruck's ladder to extend over the house and drill the roof to make those holes, from which smoke could still be seen spilling out at 11:15.
"There was some damage into the living room, if you look into that window you can see some char, I don't think there was extensive damage to the south of the house." But asked if the house was salvageable, Pace said: "I wouldn't want to make that determination right now."
Two crews went into the house, he said, one of them entering the house from the garage area as soon as the majority of the flames had been controlled and pushed back, and another attacking from the south end of the house.
No one was injured, and no one, other than the residents of the house at 1915 South Central, had to be evacuated.