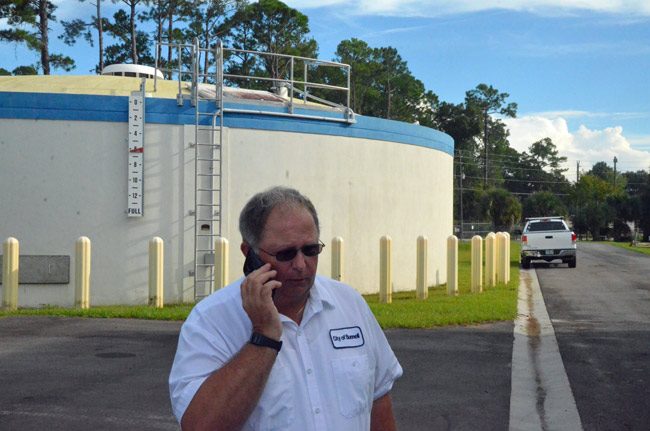 Note: Bunnell is under a boil-water advisory.
Bunnell residents woke up without water this morning, and the city had to switch over to Palm Coast water for two hours to restore service as it analyzed what had gone wrong at its $4.8 million plant, which opened just nine months ago.
Residents and businesses were without water for "20 to 30 minutes," Utilities Director Perry Mitrano said. "We don't know what exactly happened."
Bunnell then connected to Palm Coast water until 9:45 a.m., thus ensuring that customers had water again. By 9:45, the city's tanks had filled again enough that Bunnell water could be restored. The city was producing water at a rate of 600 gallons a minute, with demand at around 300 gallons a minute, which will enable the tanks to continue filling to capacity. The city uses an average of 340,000 gallons of water per day.
An alarm went out at about 5:30 this morning. The city has two concrete water tanks, about 14 feet high, each containing 375,000 gallons, and the 70,000-gallong water-tower tank visible from State Road 100. The concrete tanks are at the foot of the water tower. The alarm was triggered by water levels in the two storage tanks falling to four feet of water, from 14 feet.
Somehow, between 11:30 p.m., when the system was last checked and found to be in working order, and 5:30 this morning, the tanks lost more than half their volume.
"They have a level that they're allowed to go down to," Mitrano said, explaining the incident in laymen's terms. "When they get down to that low level the alarm sets off and shuts the plant down, because that means that you have maybe a break or something going out beyond the system. We don't want to just pump the system dry, so the system will shut down. When that happens teams have to go out and try to figure out what's going on."
Crews were, in fact, scouring the city, opening hydrants and looking for the problem as Mitrano spoke. "But that's not what happened," he continued. "What happened is we had a fault in the pump-house, the variable speed drives that tell a pump what to do—speed up, go slow—shut down. So we have to analyze now what caused that problem. Once we got the water levels in the tank back to normal, they rest themselves. So now when something is rest, you can't find the short. Is it a short? We don't know what the problem is. So essentially it's a brand new plant, it doesn't give you the directions when something goes wrong, you have to figure it out."
It's nevertheless possible that a water main may have broken, Mitrano said, especially since the city three weeks ago raised the water pressure from about 54 pounds per inch to 60 pounds per inch. Such increases have in the past caused water-main breaks. But in this case, Mitrano said, a main break is unlikely, because if it was going to happen, it should have happened already.
"I don't believe we have a loss of water like a main break," Mike Baldwin, the city's utilities manager, said. "We haven't scoured the whole city yet, but I believe the problem is mainly telemetry." By 9:30 a.m. technicians from Central Florida Controls were attempting to analyze the system's instruments to locate the issue.