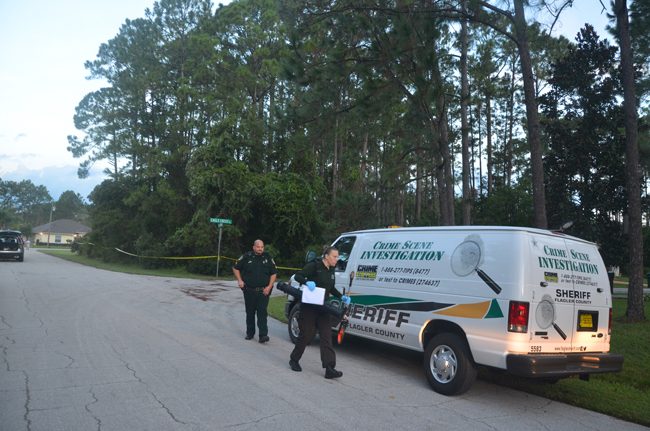 September 22 Update–The man found dead in a vacant lot in Palm Coast's E Section Tuesday morning was identified as Joseph A. Kelemen, 46, of St. Johns County. He had previously lived in Palm Coast. "He was staying with family in Flagler County," the Flagler County Sheriff's Office said in a statement this morning. "We believe this was an apparent suicide by hanging. The medical examiner's office confirmed his identity using dental records and his family has been notified."
Kelemen, authorities believe, had been in the E-Section lot several days, possibly a week, before he was found. "Shoelaces were found at the scene. Otherwise, the medical examiner's investigation isn't complete because toxicology tests are still pending," a sheriff's spokesperson said.
The previous story is below.


A Man Is Found Dead in Vacant Lot in Palm Coast's E Section, Likely Suicide
September 21–A man was found dead in an empty lot near the intersection of Eagle Harbor Trail and Eagle Crest Path in Palm Coast early Tuesday morning. The Flagler County Sheriff's Office is attributing the death to a likely suicide, but is not confirming that cause of death.
Cpl. Ryan Emery was on routine patrol in the area, which has had a few burglaries and other problems recently, when he smelled the odor of decomposition. Emery investigated and found the body in the heavily wooded corner lot at the intersection of Eagle Harbor and Eagle Crest. That smell was still pungent this morning around 7:30, as the medical examiner had not yet arrived at the scene and the sheriff's Crime Scene Investigations unit was doing its work.
"He's been there for a little while, enough that it created a foul odor for the deputy to pick up," Jim Troiano, the sheriff's chief spokesman, said.
Thought he said the death of the man was "self-inflicted," he's not specifying whether it involved a gun or whether the man hung himself. The age of the man is not known, either. "I just don't want to go into that at this pt but it is self-inflicted," Troiano said. "I don't want to mislead or jump the gun. I also don't want to create fear and panic in our community." (An incident report released Wednesday states the man was found "lying face down in the woods approximately 10 yards into the wood line." There was no mention of a weapon found in that specific report.
The body was found around 4:30 a.m. The area is just a few blocks west of Belle Terre Parkway and two or three rows of lots north of Eastwood Drive. The sheriff's office posted a notice on its Facebook page about the discovery at about 6 a.m.
A half dozen sheriff's units lined the quiet neighborhood streets around the scene this morning. The wooded lot itself had been entirely encircled by yellow crime tape. Two neighbors had walked over to the lot. One of them said she'd smelled the odor yesterday, but figured it was a dead animal. A car occasionally passed by the scene, stopped, spoke with deputies, who would reassure the driver that there was no problem, and drive on. A woman walked her dog past the lot, not stopping to ask questions. The lot is flanked by a house for sale to its north on Eagle Crest, and another house to its west, on Eagle Harbor. A house at 41 Eagle Harbor is immediately across from the empty lot, itself flanked by two vacant lots.
"The investigation is in its early stages and the actual cause of death will be determined by the medical examiner's office after an autopsy is completed," the notice stated. "There have been no recent reports of missing people from this area. Deputies are canvasing the area at this time and additional information will be provided as the investigation continues."
There's been a rash of suicides in the county since mid-August, in a proportion much higher than averages have indicated over the past 10 years. If today's finding is confirmed to be a suicide, it would be the sixth in five weeks. The annual number of suicides in Flagler has ranged from a total of six to a total of 20 over the past 10 years.