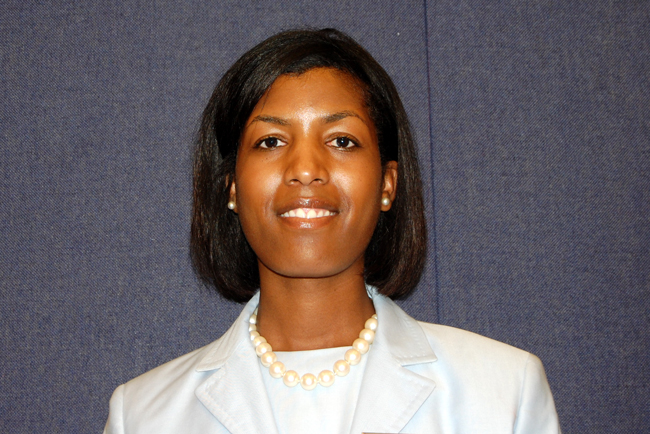 Raven Sword is a Flagler County School Board candidate running from District 5, but all registered Flagler County voters are eligible to vote in the Aug. 24 election. Sword, an attorney, is running against John Fischer and Peter Peligian for the seat being vacated by Evie Shellenberger, who's retiring. Click here for an overview of the race, and here for a previous article on the candidates.
FlaglerLive submitted written questions to every candidate. The intention of the Q&A was not to enable another campaign brochure but to challenge the candidates to clearly state their positions on some–and by no means all–of the issues relevant to the position and responsibility they're seeking. The candidates were asked to avoid generalities and the usual campaign clichés and answer as specifically as possible. They received follow-up questions where necessary. Some answered more directly than others. Answers not relevant to the given question were edited. Incomplete or lacking answers were noted as such.


Why are you running for school board, and what makes you think you are the best person for the job?
Flagler County School Board Candidates: The Live Interviews
There are many reasons why I chose to run for Flagler County School Board. I received an email from the Gap Commission that contained what was described as verbatim responses from our students. At first  glance, I assumed that the responses were from middle school aged  students and then I read closer and realized that those responses came  from our high school students. I was shocked by their inability to  form a grammatically correct sentence or to spell correctly. I wondered how these high school students would ever be able to complete a successful application to college.
Another motivating factor was the continued emphasis on standardized exams. As an attorney, I have had my share of standardized exams and to be completely honest I did not do well.  Thank goodness that the  University of Michigan and George Washington Law School looked beyond my less than stellar performance and relied on other indicators of performance.  Although I tested poorly,  I graduated with  distinction.  My point is that I am sure that there are many students like myself who simply will not ever test well, but the lack of performance does not always equate with an inability to perform.  The  important questions to me, with respect to standardized exams, are whether are students have substantively mastered the core subjects or have they merely mastered test taking strategy. I am encouraged by the  legislature's effort to phase out the FCAT and instead move to an end of the year exam for the core curriculum.  I want to be a part of this change.  My hope is that the end of year exam truly test student's  mastery of curriculum and forces the student to rely on critical thinking skills. I also hope that this alternative proves to be much cheaper than the FCAT in its implementation.
I am the best person for this job because my training as an attorney  clearly sets me apart from the other candidates.  The following skills that I use in private practice are valuable transferrable assets to a  position on the school board: research; reading comprehension; problem-solving; time management; communication; leadership; debate; and the ability to analyze and draft legislation.
Describe the scope of your job as school board member as you understand it: what's your primary responsibility? What's in your power to affect on a day-to-day basis? What is not in your power to do?
Simply put, the role of the board is to set policy. Policy that is  consistent with the Sunshine State Standards, Florida statutes, and the rules of the State Board of Education.  It is not the Board's job to administer or execute that policy; that is the job of the superintendent and administrators.
Name your three specific priorities you intend to achieve as a school board members within the scope of the doable-not pie-in-the-sky stuff, not generalities. That is, three priorities you'll be able to say, four years down the line, that you've achieved.
Three specific priorities I intend to achieve include the following:  add more vocational programs by partnering with the local  universities; fully utilize the Advanced Technology Center; and develop a large scale grant writing initiative intended to offset costs.
It's January 2011. State revenue is tanking. Flagler schools must cut 5 percent of their budget. Salary cuts are off the table, but eliminating positions isn't. Name three specific programs, curriculum areas or activities you'd cut.

Cutting programs and/or activities should not be an arbitrary  decision. I would have to review the level of attendance in those extra curricular activities to make any cuts. Before any  decision is  made to eliminate the activity I would like to brainstorm on some alternativeness to the program's elimination. For example, pay to play programming or partnering with the municipalities or the county to provide the program as part of their respective parks and recreation departments.
The answer explains the method of going about cuts, but not quite the areas, beyond unspecified extra-curriculars, that you would cut. Please be more specific, citing actual programs or areas you'd cut before others.
Again my hope is that the board would not be cutting programs per se, but creatively eliminating the programs as an expense to the district by engaging in a combination of partnering with entities to offset the expense and intensifying efforts at grant-writing to likewise offset the expense. Before the decision is made, however, we would have to make sure that the cost savings would be applied for use in the general fund of the budget.  Assuming that the cost savings could be applied to the general fund, I would start with peripheral programs like  the nursing program that currently staffs each school with a full-time  nurse.  I would suggest researching available grants to see whether a grant exists to pick up the staffing expense and still allow students access to the nurses for health related treatment.  This idea truly is not all that far-fetched in that Rymfire currently benefits from a grant designed to allow nurses to come to the school.  I do not know whether this particular grant allows the visiting nurses to actually treat students, but it could be a possibility or there could be another grant that would allow such services.  I would then look to our extra curricular activities as a whole and again see what grants are available or partnering opportunities are available to allow the program to exist without incurring an expense to the district.
The school board split on hiring Superintendent Janet Valentine, with two board members arguing that a national search should have been conducted first, rather than sticking with an internal choice. How would you have voted on the matter? How do you rate Janet Valentine as a superintendent, understanding that she's only been in the job a few months?
Let me first start by saying that I am confident that Superintendent Valentine will prove to be an excellent choice, however, I would have voted in opposition. My opposition is based on the process of the hire. I would have advocated for an in state search; not a national search.  Competition is a good thing and pairing Superintendent Valentine's resume with other candidates would have likely demonstrated why she is best suited for the job.
Who on the board currently is the board member most closely aligned with your idea of a school board member and why?
I think Colleen Conklin is most aligned with my idea of a school board member. Ms. Conklin shares my passion to ensure that our students are prepared for the 21st century. She also understands and appreciates the deficiencies in relying on standardized exams.
If you had a choice of running the school district with a teacher union or without one, what would that choice be, and why?

If I had to make the choice, I would run without the teacher's union. As I have explained, my goal is to make sure our students have the tools to be successful in the 21st century. In order to reach that  goal, we have to make sure that the providers of those tools, i.e. teachers have the incentives, pay and benefits, to meet this objective with enthusiasm.
Outgoing School Board Chairman Evie Shellenberger said in May: "The folks in Tallahassee, to me, their goal is to shut down public schools. Shut down public schools and go to charter schools." Do you agree? How do you see charter schools fitting in public-school equation, and how successful has that fit been in Flagler?
I do not believe that Tallahassee is trying to shut down public schools. I would agree, however, that by not funding many of mandates this places many pressures on the district. Charter schools can be a great alternative for some children.  The School Board is required to support charter schools as long as the Charter school fulfills it's charter.  In order to fairly determine whether charter schools have been successful in Flagler you have to ask the parents who enrolled their child in a charter school what their objective was and whether that objective was met.
Is the notion of zero tolerance as a disciplinary approach effective?
The notion of zero tolerance as a disciplinary approach is not the  best approach to discipline because a mechanical implementation of  that approach can have unintended results. I do not think zero tolerance is really appropriate in any setting because I think that in crafting sanctions, all of the facts and the circumstances of each situation should be given weight in designing an appropriate punishment.
What is your position on sheriff's deputies in schools-in elementary, middle and high schools, and what weaponry should these deputies be allowed to carry in schools?
I do not think it's necessary to have deputies in schools at the elementary schools. I would like police presence at the middle schools and high schools.  The officers should only be permitted to carry minimal weaponry like a taser in the schools.
In a choice between raising taxes and laying off teachers and other personnel, what would you do?
Under this scenario, there would have to be sacrifices on both sides. As a board we would have to have a frank and honest discussion with the union. Brainstorm with the union representative to develop an  alternative to terminating teachers.  Perhaps requesting a "temporary pay cut" whereby teachers agree to forgo a certain percentage of the salary for a specified period of time.
With the tough economic climate that we find ourselves in, governments, municipalities, businesses, and schools are all at some point in the near future going to look to taxpayers for help to cover anticipated deficits. Schools must be given priority in this dilemma. A well educated populace has long term positive consequences for all ages in this community.  If we invest in education then we will be developing a strong workforce. If we invest in education then businesses may decide to make Flagler their home base thereby solving two problems, providing sustainable jobs in Flagler and increasing Flagler's tax base.
What is your understanding and personal opinion of the Sunshine Law, and how will you ensure that you are always operating in the Sunshine?
The Sunshine Law provides a right of access to government proceedings at both the state and the local level. It is in our best interest to comply with this law if we want to continue to maintain a  free and open deliberative process.
You're a lawyer. You're a young mother. Two demanding jobs. How do you propose to balance that with your duties as a school board member, understanding that even when you've attempted to sit through meetings of the board, you haven't managed to make it through some of the more interminable ones—and that meetings are only the public side of a demanding job? Do you foresee having to miss some meetings or cutting back your workload?
It will be a balancing act, like any endeavor taken by a working parent.  Please note, I said parent -not simply a working mother-because regardless of whether you are a working mother or a working father; it is difficult.  I think, however, that working parents on the board is a valuable asset.  There is a lot of discussion as to how should the board get parents more involved in the school district.  The board and this community would certainly benefit by having a person such as myself on the board to offer insight on this issue. All member's of the board's schedule have to be accommodated irrespective of whether you are a retiree, empty nester, or a working parent.


Flagler County School Board Candidates: The Live Interviews