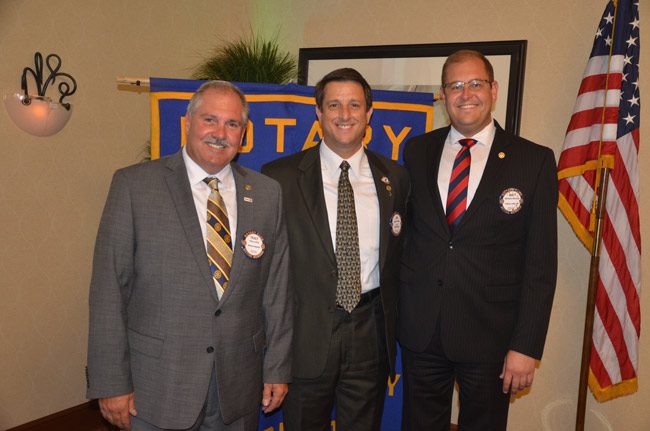 The Rotary Club of Flagler County Wednesday evening held its installation banquet at the Hilton Garden Inn in Palm Coast, naming Dr. Marlee Walsh-McDaniel its Rotarian of the Year and Jim Troiano its 2016-17 president.
McDaniel, who is also a member of the University Women of Flagler, is heavily involved in the Rotary's scholarship program and is a past recipient of the President's Service Award. Troiano is a director at the Flagler County Sheriff's Office, and the agency's chief spokesman.
The Service Above Self Award went to Jeanette Loftus. The vice-president is John Symeonides. The treasurer is Sev Tamayo. The secretaries are Regina Nunnally and Walsh-McDaniel. The sergeant at arms is Giulio Lancia. Club directors are Jerusha Logan, Vince Lyon, Joe Rossheim, Toby Tobin, Jim Callender and Cindy Evans.
The banquet was preceded by a social hour with music by the Flagler Youth Orchestra Quartet (which featured the last public performance, as a member of the orchestra, by long-time FYO member and Concertmaster Daniel Masbad, who's now off to Bard College).
The Rotary Club welcomed four new members: Tara Clymer, Kaiti Lenhart, April Leopold and Don O'Brien. Lenhart also got the Rookie of the Year award. (Lenhart, the Flagler County Supervisor of Elections, is running in that race this August. O'Brien, a vice president at Haywood Brown, the insurance company, is running for a county commission seat.)
The Flagler Beach Rotary Club had its installation banquet last week.