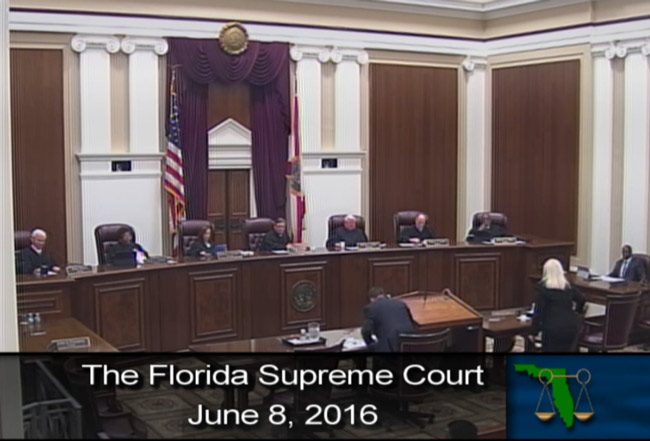 Law-abiding Floridians should be allowed to openly carry firearms in public, a gun-rights groups argued Wednesday to the Florida Supreme Court on behalf of a man arrested four years ago while strolling with a visibly holstered weapon in Fort Pierce.
Florida Carry attorney Eric Friday said the state's nearly 30-year-old concealed-weapons law violates the U.S. Constitution's Second Amendment, which he said requires people to be allowed to openly carry guns. Lawmakers this year considered a proposal to allow people with concealed-weapons licenses to openly carry firearms, but the bill did not pass.
"Quite frankly, the Legislature at this point has deprived citizens of the substantive right to bear arms," Friday said as some justices appeared skeptical of his argument. (The full video of the argument is here. A transcript is here.)
Justices Barbara Pariente and Peggy Quince questioned how the current state law allowing citizens to receive concealed-weapons licenses to carry firearms suppresses gun ownership.
"This isn't a ban," Pariente said. "It's just a ban on the method of carrying that the Legislature has determined protects public safety more than people walking around like they're in the wild west. "
But Justice Charles Canady asked if public safety is served better by allowing concealed weapons but not open-carry.
Assistant Attorney General Heidi Betterndorf, representing the state, replied that concealed-carry is a "policy decision" of the Legislature, a response that Canady didn't find adequate.
"The fact that it's a policy decision that has an impact on the Second Amendment right is not the end of the discussion," Canady said. "There has got to be some kind of a justification for it."
Florida Carry is representing Dale Norman, who was arrested in February 2012 for openly carrying a gun in a holster.
---
"I don't think in general journalists' cameras kill people, do they?"
---
Norman, then 24, had recently received a concealed-weapons license, something that 1.57 million people now possess, according to the Florida Department of Agriculture and Consumer Services.
Norman challenged the constitutionality of the law, but was unsuccessful in lower courts. A trial judge imposed a $300 fine and court costs on Norman.
Norman appealed to the 4th District Court of Appeal in West Palm Beach, which in February 2015 agreed with the trial court that the state law "does not improperly infringe on Florida's constitutional guarantee, nor does it infringe on the 'the central component' of the Second Amendment — the right of self-defense."
Friday, the Florida Carry attorney, tried to make a comparison that regulating firearms is akin to imposing rules against journalism, which would violate the First Amendment.
"This court would never stand for the idea of a training class, a fee and a 90- or maybe even a 180-day wait in order for a person to get a license to get a camera to be a photojournalist," Friday said.
Chief Justice Jorge Labarga was quick to dismiss the comparison.
"I don't think in general journalists' cameras kill people, do they?" Labarga said. "I don't know."
"Well, you honor, so, some photos throughout history have been very provocative and have created situations where they have led to problems," Friday persisted.
Justice Rick Polston asked: "What would you consider an appropriate regulation? For example, would you consider if the state legislature were to require anyone who has a permit, particular kind, similar to concealed carry permit, only those people could carry in a certain way and in certain places, open, in an open sort of way? Is that constitutional?"
"Your honor," Friday replied, "it depends whether there is a method of exercising the right as constitutional right rather than a licensed privilege. To give an example what you're discussing would be Mississippi. Mississippi has constitutional open carry, so no permit required. They have a regular permit that is almost pro-forma to get that allows us to carry concealed firearm. They have enhanced concealed carry permit similar to Florida's with training requirements that allows you carry in places including schools and courthouses. They have a broad range but at The end of the day they have a constitutional right where they do not have to seek government permission ahead of time, as long as they're a law-abiding citizen they're allowed to carry a firearm."
The court case is one part of an effort by Florida Carry and other gun-rights groups to allow Floridians to openly carry handguns, which is allowed in some measure by 45 other states.
The Florida House, in an 80-38 vote, supported an open-carry bill this year with a provision attached that would have allowed state lawmakers to carry sidearms into legislative meetings. However, the proposal was blocked in a Senate committee.
–Jim Turner, News Service of Florida