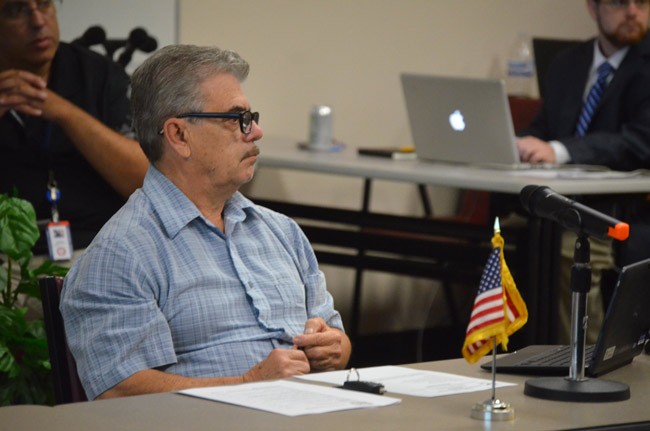 For the Florida Ethics Commission, the stream of complaints filed mostly by the same small group of people against Flagler County commissioners and other top county officials has followed the same pattern going back to late 2014: in one bin, out the other, with every complaint deemed groundless, frivolous or, in the arcane language of official press releases, lacking probable cause.
On Friday, the ethics commission tossed out the latest and largest batch, clearing county commissioners Charlie Ericksen, George Hanns, Nate McLaughlin and Frank Meeker and also clearing county attorney Al Hadeed.
The stack of complaints were filed by then-Elections Supervisor Kimberle Weeks and ex-commission candidate Mark Richter's son Mark Richter Jr. in December 2014, alleging all sorts of wrongdoing by each of the five officials. Weeks resigned soon after filing the complaints and found herself under felony indictment involving some of the same issues that were at the center of her allegations against some of the commissioners, particularly recordings she secretly made of them. Richter, the ex-commission candidate, himself a convicted felon, filed an ethics charge against County Administrator Craig Coffey a few weeks ago.
The complaints had centered on the officials' various roles involving the canvassing board. No probable cause was found to believe that McLaughlin, Meeker and Hadeed misused their positions or official resources by participating in discussions in violation of the Sunshine Law, the ethics commission found.
Richter and Weeks had alleged that the commissioners and Hadeed had formed what essentially amounted to a cabal to manipulate the election, with the appointment of Hadeed to the canvassing board as part of the scheme, even though county attorneys routinely are the attorneys of record on canvassing boards across the state, and have been so in Flagler County for many years. Weeks never recognized Hadeed as the canvassing board's attorney and hired her own–or rather used taxpayer dollars to hire one of her own, even though the two other members of the board had declared Hadeed the attorney.
The ethics commission found no evidence of manipulation. (Meeker and McLaughlin won their respective 2014 Republican primaries against Dennis McDonald and Mark Richter, by narrow margins, and would go on to win reelection.)
The Commission also found no probable cause to believe that Flagler County Commissioner and Canvassing Board member Charlie Ericksen misused his position by participating in discussions in violation of the Sunshine Law. Weeks had, according to the felony indictments against her, secretly recorded Hadeed and Ericksen in a conversation about the alleged misdeeds of another county commissioner in a previous election. That recording is one of many in evidence in the ongoing case against Weeks, who faces a total of 12 felony counts.
Weeks had claimed that because Ericksen had donated $25 at an elections dinner for Meeker, he could not lawfully serve on the canvassing board. Ericksen did resign his seat, but the ethics commission did not find an "unlawful" connection between him and Meeker or in other conduct while he was on the canvassing board.
The case against Hanns–filed by Dennis McDonald–was tossed out largely for the same reason. Weeks maneuvered to push Hanns, too, off the canvassing board the very night of the primary election, when Weeks and the chairman of the canvassing board, Melissa Moore Stens, the county judge, voted to have Hanns removed. Weeks claimed that Hanns had supported Meeker in an election flier, though in fact Meeker had merely mistakenly included a quote by Hanns on his flier. The Florida Elections Commission tossed out a complaint against Hanns on that ground last October, declaring that Hanns should not have been removed from the canvassing board. Friday's decision by the ethics commission buttresses that conclusion.
"I knew all along I'd be cleared, because the allegation, it never happened, it's just you hold your breath and hope someone doesn't misread it," Haans said in a brief interview this afternoon, describing himself relieved but none too pleased with having "a blemish after serving all these years." He's been in office for 24 years, not counting two years before that on the Palm Coast Service District Advisory Board.
"I'm all for concerned citizens finding fault with government, a watchdog type of thing or calling them on this," but in this case, it's all been "unfounded, false allegations and things like that, and it's just unfortunate," Hanns said, citing costs to the county's insurance, which covered some of the costs. "And as far as the state goes, they must spend a tremendous amount of time" investigating the cases.
"I'm just glad that it's been taken care of and that it's been finalized," Ericksen said today. "It just seems to be a decision consistent with prior decisions made by the ethics commission, that these were complaints filed that didn't have any basis to them."
Ericksen had felt particularly targeted–and humiliated–by Weeks, who during one canvassing board meeting insulted Ericksen by assigning him an escort when the commissioner had to use a restroom. "I think it's that pattern: when you purposely shout out to a subordinate to come over here and escort commissioner Ericksen to the men's room in front of 10 or 15 people," Ericksen said, "it's just a pattern you could call bullying, or attempted bullying."
In all, more than two dozen complaints were filed by Weeks, Richter, McDonald and John Ruffalo against commissioners and county officials since 2014, mostly through the state elections commission and the state ethics commission. Hadeed also faced two Florida Bar complaint from the same batch (one filed by Weeks, one by Ruffalo). Both of those bar complaints have been dismissed, just as most of the remaining complaints have been. The county is still trying to recover attorneys' fees for the work it had to do defending officials over some of them. The filing of complaints hasn't stopped, however. Just this month, McDonald and Richter were again the source of complaints against the entire commission and against Craig Coffey, the county administrator.
A county release this afternoon provided a clear sum-up of the tally: Some 26 complaints have been filed since the 2014 election cycle. One complaint was filed in the Seventh Judicial Circuit that was dismissed. Eleven complaints have been filed with the Florida Elections Commission: six dismissed, three pending and two settled. Ten complaints have been filed with the Florida Commission on Ethics: seven (including the five today) have been dismissed, two are pending and one was settled. Additionally, both the State Attorney's Office and Florida Bar Association dismissed the two claims a piece that were filed individually with each agency.