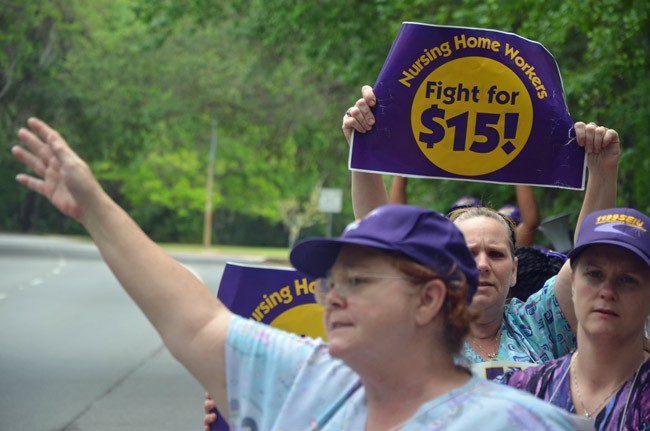 Starting at 7 this morning, across the street from Grand Oaks Health and Rehabilitation on Palm Coast Parkway, groups of a dozen to two dozen low-wage Grand Oaks workers staged a 24-hour strike protesting low pay and calling for a $15-an-hour minimum wage. The facility itself posted armed guards at its two entrances—privately hired from the sheriff's office at $1,500 for the day, or the equivalent of 100 man-hours at $15-an-hour—to police all those coming in and keep some people (including reporters) out.
The strike was part of state and national movement in support of the $15-an-hour wage, with poverty-wage workers striking at fast food restaurants, child care centers, airports, hospitals and other industries in upwards of 300 cities.
It was the first strike at Grand Oaks, which roughly five years ago was acquired by Consulate Health Care, a privately held Orlando-based company that describes itself as Florida's largest provider of nursing and rehabilitation facilities in Florida—workers are striking at all 19 of its facilities in the Sunshine state—and the sixth largest in the nation, "providing service with our hearts and hands," as its motto goes.
Its employees agree: they're providing the hearts and the hands. But Consulate isn't paying them adequately for it, they say, and most of those Certified Nursing Assistants, custodians, food service workers, laundry workers and others on today's picket lines have to work two or three jobs to make ends meet.
"If they can get the decent wage to $15 an hour folks won't have to work two jobs," says Veronica Lewis, a union organizer on the picket line along Palm Coast Parkway. "Everything is going up, bread, milk, gas, wages just stay the same. It's ridiculous. It's time for poverty wages to be buried. The fight is on for $15, that's what folks deserve, and we're not going to stop until we get $15."
---
Workers who carry two or more jobs to make ends meet rebel against poverty wages.
---
Take Denise Dawson. She's been a CNA for 39 years. When she started in 1977, it was $2.90 an hour. She started working at Grand Oaks seven years ago. She's making $11.74. "That's it. After 39 years." The value of $2.90 in 1977 adjusted to current dollars? $11.40. In other words, for 39 years' experience, Dawson has had a net raise of 34 cents, over and above the cost of living. "I have a disabled husband, but for many years I was a widow, raising a son, worked three jobs just to support him."
Tuwanna Robinson has been working at Grand Oaks seven years, and has 19 years' experience. She makes $11.85 an hour. She works two full-time jobs: at Grand Oaks from 11 p.m. to 7 a.m., and at Moultrie Creek, a similar facility in St. Augustine, from 2:45 p.m. to 10 p.m., for $12.58 an hour (she's been there nine months): 16-hour days, five days a week. "I've got rent, I've got bills, I like to do things, I help my kids," who are grown, she says. She could not get by on one full-time job at that rate. Few of her colleagues could, unless they have other subsidies.
Workers at Grand Oaks start at less than $9 an hour. For new hires, the striking workers say, they're agreeable to a starting wage of $10 an hour, but with compensation for experience.
"I've been there almost 10 years and I've literally only got about $1 raise in 10 years that I've been there," Holly Elston says, between chants directed at the eastbound traffic on Palm Coast Parkway. This morning, Elston woke up to a sign on her door informing her that her rent was going up $50.
Consulate's latest offer at the bargaining table: 11 cents an hour.
Management staff at Grand Oaks would not speak with a reporter. Jennifer Trapp, the company's public relations handler, emailed a statement: "While we are disappointed in the union's decision to strike, the continuity of patient and resident care will remain unaffected thanks to the combined efforts of our dedicated staff and compassionate fellow care center volunteers. We will continue to work in good faith, as we have always done, towards a resolution." She did not respond to emailed questions about the company's actual offer to workers, why it would not agree to a $15 wage, and other items. (After the story published, Trapp wrote: "I cannot comment on the details of on-going negotiations, and our previously released statement serves as our response to media at this time.")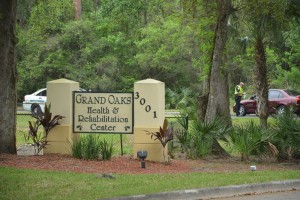 The company has sent conflicting signals to its employees regarding the strike's consequences. In one Florida facility—the Franco Nursing and Rehab Center in Fort Lauderdale–executive director Marcia Couitt told certified nursing assistants in a memo that they would not face retaliation. Her April 11 memo was asking workers to let her know if they intended to work or not on strike day, so she could make replacement arrangements. "As I said before, there will be no discipline associated with any answer you give, but I'm counting on each of you to be honest with me, either way you decide, so I can make sure our residents have adequate care on Thursday," Couitt wrote.
A memo to workers by Stacy Lingenfelter, the executive director at a Consulate facility in Kissimmee, was more threatening. "If you engage in an economic strike, you can be permanently replaced," Lingenfelter wrote. "If you are permanently replaced, and you later provide an unconditional offer to return to work, you will be placed on a preferential hiring list and will be offered an opening for positions you are qualified to perform based on your seniority."
Different variations of the memos went up at facilities across the state.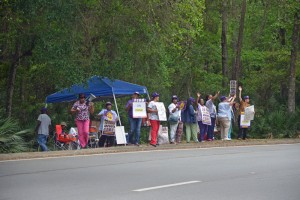 "Our members know, they've seen this before," said Jose Suarez, state spokesman for the service employees union. "These are mere intimidation tactics, either to get them to feel bad about what they're doing or straight intimidation. It's important to note that regardless of the fact, these care givers do care about these jobs, otherwise they wouldn't be doing this work for this little money, but they have families to take care of."
The cops at the facilities' entrances are intended to have the same intimidating effect: they have what amounts to a black list on a clipboard (a red clipboard at the north entrance) with the names of all the banned workers. A sheriff's spokesman confirmed that the deputies, though they were in department-issued uniforms and had their department-issued sheriff's patrol cars—which gave the impression that the county sheriff was policing Grand Oaks's grounds—were privately paid by the company.
Judy Sroka is a CNA at the Grand Oaks facility. She was on the picket line this afternoon. Her wife is a nurse at Grand Oaks. This morning she drove her in with their van. She was stopped by the guard, and ordered not to go further. Her wife could be dropped off. "She had to get out and walk in and I was in the van and had to leave the premises," Sroka said. Intimidation aside, it's not clear why Grand Oaks and other facilities would take the heavy-handed armed-guard approach: the workers on the picket line were nowhere near unruly. They chanted, brandished $15 wage signs, waved to traffic. It's not as if any intended to sneak in to administer fugitive care or pay surprise visits to their residents.
Sroka started at Grand Oaks 20 years ago at $6.50 an hour. She's probably cared for thousands of Palm Coast and Flagler residents along the way. She's done slightly better than some of her colleagues. Her pay is now $16.50—not grand, and certainly not in line with her experience after two decades, she says, or enough to care for her family of six. But she was on the line in solidarity. "I'm not OK with the starting pay that nobody wants to start to work here for," Sroka said, citing the $8.50-an-hour starting wage.
"Who wants to take care of 15 or 20 residents, people, for $8.50 an hour? Nobody. We're dealing with diseases, infections, biohazards," Elston said. (Evening and graveyard shifts get an additional $1 in differential pay.)
"We're dealing with lives," another worker on the line said.
"I do a damn good job with what I do," Sroka said, "and my patients and family members appreciate how I take care of these people. This morning one of my patients' husband stopped right here and gave us a dozen donuts, because they're behind us."
Suarez said 1,600 to 1,800 workers at Consulate facilities walked off their jobs today, and did so for just 24 hours to raise their voices against the "pennies on the dollar" raises they've been offered. "These care-givers have a huge responsibility, they take care of our grandparents, our parents when they can't take care of themselves. They're responsible for people's lives at the end of the day."