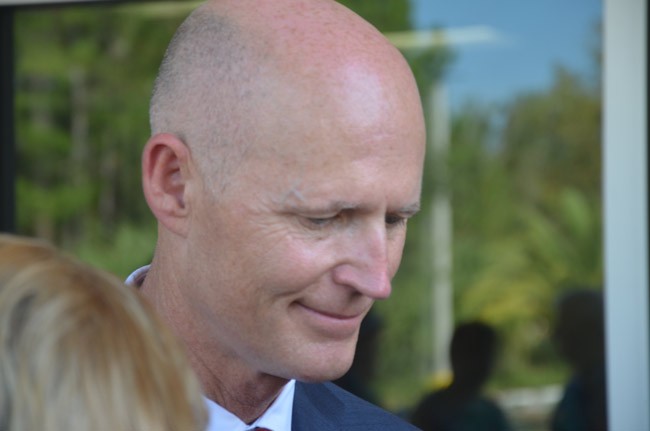 Less than 24 hours after Donald Trump won the Florida Republican primary for president with 46 percent of the vote–the same margin Mitt Romney's win mustered in 2012, and 10 points higher than John McCain managed in 2008–Gov. Rick Scott announced his endorsement of the New York businessman.
"With his victories yesterday, I believe it is now time for Republicans to accept and respect the will of the voters and coalesce behind Donald Trump," Scott wrote in a Facebook post a little before noon Wednesday. Scott likened himself and his political trajectory to that of Trump, whom he described as "a businessman outsider who will dramatically shake up the status quo in Washington."
Scott, a former hospital executive, wrote that when he first ran for Florida governor, "the political class and party leaders opposed me with great vigor, and some even said if I won the primary they would never vote for me. But the voters had other ideas, and they are the only ones who count."
The endorsement was as much a plea for party unity as another signal from Scott that he is open to Trump's invitation as his vice president nominee. In January, Scott wrote a fawning OpEd in USA Today about Trump, admiring him as a candidate "who speaks and tweets his mind freely" and who is "capturing the frustration of many Americans after seven years of President Obama's very intentional government takeover of the American economy."
Scott, in a reference to verbal clashes on the campaign trail between Republican candidates and their organizations, called for an "end to the Republican on Republican violence," but did not mention actual violence at Trump rallies between Trump supporters and protesters. Last week, Trump refused to disavow Trump's indictments of Islam and Muslims in general as haters of the United States.
Other than Attorney General Pam Bondi who endorsed Trump just before the primary, no prominent Florida Republicans–among them Marco Rubio and former Gov. Jeb Bush–have endorsed the real estate mogul as a realignment within the Republican Party continues between Trump's brand of insurgents and the GOP establishment, which is angling for a brokered convention by denying Trump the delegates he needs to clinch the nomination. But it is still not clear whether the party is ready to fall behind runner-up Ted Cruz, who has few friends in the Republican establishment, while John Kasich, the Ohio governor, has won just one state in primaries so far–his own.
On Wednesday, Trump warned that if the party attempts to hand the nomination to another candidate if he doesn't clinch the delegates necessary before then, "I think you'd have riots. I think you'd have riots. I'm representing a tremendous, many, many millions of people." He was speaking in an interview on CNN's "New Day."