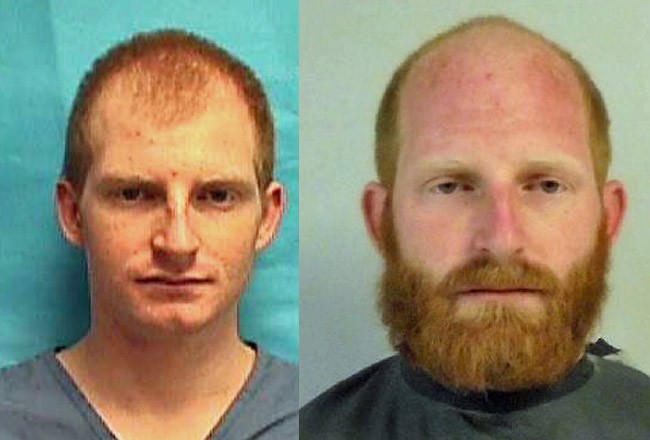 Two years ago Marjorie DeGaetano got an injunction on Grant Dewayne Gieger, a 29-year-old Bunnell resident and convicted felon with a long history of arrests, convictions and violent behavior. The injunction was to expire next month.
Gieger did not wait. Monday night he appeared at the door of DeGaetano's house, which she shares with Anthony Ross. Before the confrontation was over Gieger had allegedly brandished a gun and a knife, fired his gun twice, threatened to kill Ross so he'd never live to see Valentine's day, taken Bunnell police and Flagler County Sheriff's deputies, their guns drawn, on a brief chase, and finally been shot with an officer's Taser before being arrested.
Gieger now faces a slew of misdemeanor and felony charges and is being held at the Flagler County jail on $91,000 bond.
Bunnell police got a call to respond to a burglary in progress just after 11:30 p.m. at 2250 Old Moody Boulevard in the small neighborhood across from the Government Services Building.
DeGaetano and Ross had been asleep, they told police, when they were woken up by their dog barking and found Gieger at their front door, allegedly armed and trying to force his way in. "If you don't open the door there will be bloodshed," Ross said Gieger told him, threatening that he would be "dead before Valentine's day." Soon after DeGaetano called 911 the couple heard two shots ring out. Ross armed himself with a knife in case Gieger managed to get in and huddled by the fridge.
Gieger was under the carport by the house when he fired one shot into the ceiling, Ross said. Ross heard another shot as Gieger had walked away, about two minutes later.
Cops heard the shots as they were approaching the scene and ran to the house with their guns drawn. As they approached, they saw Gieger walking west on Second Court. They ordered him at gunpoint to get on the ground. "I observed Mr. Gieger carrying a firearm in his right hand as he continued walking down the street," the Bunnell Police Department's officer Shane Tully wrote in Gieger's arrest report. Gieger continued walking. "While observing Mr. Gieger walking, he tucked the firearm into his waistline and then threw his hands up in the air and stated 'he didn't have a firearm,'" the arrest report goes on. But he continued to walk toward the dead end on Circle Drive. At that point Tully states he saw Gieger throw a knife into the grass, "but it was unknown if Mr. Gieger was still armed with the firearm."
At Fourth Court and Circle Drive Tully ordered Gieger to get on the ground several more times, to which Gieger, throwing up his hands and bringing them back down "as if he was assuming a fighting stance," Tully reported, Gieger said: "Fuck you."
Tully gave him more commands, was ignored, and Tully Tased him.
The knife was subsequently located in grass in the neighborhood, as was a firearm, what the arrest report refers to as a "Trade Alfa Mark .38 Special."
Gieger was charged with violating an injunction, resisting arrest without violence, armed burglary, aggravated assault, discharging a firearm in public, and carrying a firearm as a convicted felon.
DeGaetano had been the victim of several incidents involving Geiger in the past, including an assault by strangulation, one of the many charges he incurred that were later dropped. In march 2014, when she was living in Palm Coast, she filed for an injunction after Geiger allegedly vandalized hers and her husband's vehicle, according to court documents, making her fear for herself and her two children. She claimed in the injunction application that Geiger also dispersed nails all over her mother's driveway. "He is a very violent person," she wrote at the time, "and he is destroying my life."
In the injunction application where the petitioner is asked whether the respondent owns weapons, DeGaetano wrote: "Knives, he is obsessed with knives, and a small handgun."
Then-circuit Judge Dennis Craig granted the injunction.
Gieger has a long rap sheet, including seven bookings at the Flagler County jail in the last three years, 11 since 2008, and a stint in state prison going back to felony convictions in 2006. That had been a third-degree felony for being an accessory in a hit-and-run crash involving an injury, and a third-degree felony for resisting arrest with violence. He was subsequently charged with criminal mischief (the charge was dropped), aggravated battery, a felony charge that was dropped, found guilty of battery in 2008, a first-degree misdemeanor that landed him in jail and six months' probation. In 2011 he faced yet another felony charge of aggravated assault. That charge was dropped. In 2013, a felony charge of battery by strangulation was reduced to disorderly conduct, a misdemeanor, to which he pleaded guilty. The same year he was arrested for a minor drug charge. Adjudication was withheld. He was arrested last year for driving on a suspended license. The charge was dropped, was again arrested on a minor pot possession charge, and adjudication was withheld in that case. Over the years he's incurred numerous probation violations.
Then came Monday's incident.