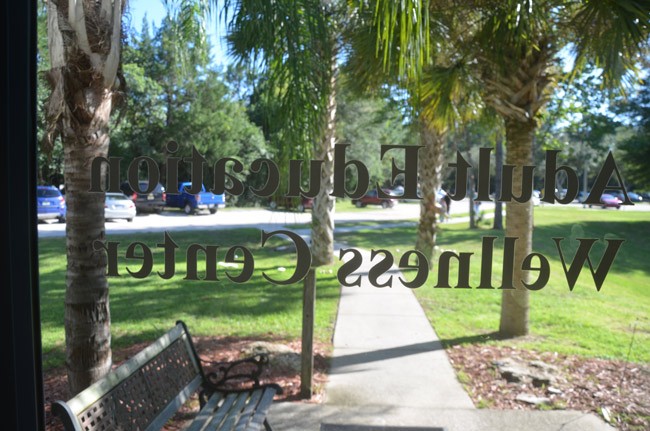 The Belle Terre Swim and Racquet Club, at the brink of closure just last September, will stay open for now as the Flagler County School Board Tuesday evening voted 5-0 to approve the club's new business model for the foreseeable future.
This time, the board did not set a new ultimatum or a new benchmark the club must meet to stay open. Superintendent Jacob Oliva, who was favoring closure last summer, said he never imagined last year that the club would be where it now is as he gladly recommended keeping it open.
"We're very blessed to have a very different relationship with the members than we've had historically," Oliva said, crediting the turn-around to that membership.
"I truly applaud each and everyone of you, because you did it," Colleen Conklin, chairman of the school board, told members of the club, who'd packed this evening's board meeting once again to show the sort of grass-root campaign they'd built in a short time to ensure the survival of the facility. Conklin asked them all to stand just after the vote, and when they did, they got rousing applause, much of it their own.
Several members had earlier addressed the board in one final bit of lobbying for the club, with one woman describing how good it's been for her health, a veteran describing what fellowship he's developed there with other veterans, and CarMichael McMillan, one of the leaders of the revival effort, asking the board to consider the club the way it would consider a failing child with potential. It was an odd comparison: the club is among the oldest structures in Palm Coast, but it was partly because of that connection to an older Palm Coast (and an older membership base) that it managed its turn-around. "At the rate that we're adding members, even if it slowed down to one member a day, we'd have twice the members we had last year," McMillan said.
Last year Belle Terre Swim and Racquet Club ran a $141,000 deficit, money the district had to make up from its general revenue–and could not keep making up, as the facility may not chronically use general revenue dollars. It's intended to be self-supportive. It once was. But as fitness clubs began sprouting around town, membership at Belle Terre declined.
A membership-based group emerged to stave off closure, established a non-profit charity and advertised its efforts to recruit new members. By the end of January, it had increased annual memberships to 303 (at $200 a year). That was still short of the goal of 400 the board had set. But that goal was also based on an overall deficit that had to be closed. Most of that deficit was closed thanks to an annual $25,000 grant from county government and a few other revenue sources.
As of now, the district is expecting a deficit of $7,800 this year, assuming no additional memberships or new revenue sources are secured.
"We have made major changes," Patti Wormeck the district's finance director, said, contrasting the new bottom line with last year's. The club is expected to add more members.
"Make sure you guys get those 30 other members, please," Trevor Tucker, the board member who'd been most critical of the club's finances, said after the 5-0 vote.
"With the model that we have in place, I think that we have a sustainable model," Oliva said, even as he stressed: "It's not over, this is an ongoing target that we're still going to have to hit."
But this time, no deadlines loom over the club.