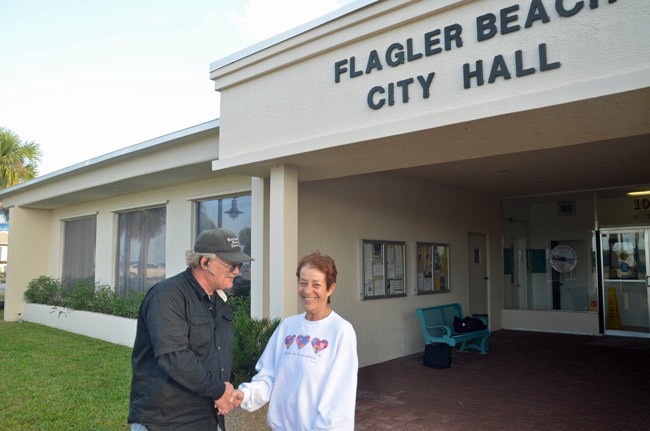 Flagler Beach is no stranger to uncontested elections: It hasn't had a contested election since 2012. Last year, Joy McGrew and Mayor Linda Provencher were reelected without opposition. In 2014, Marshall Shupe and Kim Carney were reelected unopposed. The year before, Steve Settle and Jane Mealy were.
And today, Mealy was reelected without opposition yet again to a three-year term.
But this is new: in what will amount to a shock in Flagler Beach politics, Settle, whose seat was also up, did not file to run again. He will be out of office in March. His seat will be taken by Rick Belhumeur, the only candidate, other than Mealy, to file for the March election. Absent Settle, Belhumeur, 62, was automatically elected, as was Mealy, when qualifying ended at 5 p.m. today.
"I was expecting to have to run a campaign," Belhumeur said, who demurred, out of courtesy when asked what he thought of winning without a fight: clearly, he was glad not have to campaign until March. The election was to be held on March 15, concurrent with the presidential preference primary.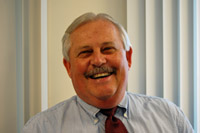 The Flagler Beach City Commission is defined by the outspoken, candid and often passionate voices of its individual members, each of whom tends to be fiercely independent. There are no set or predictable alliances. Settle could at times be even more passionate than his colleagues, his passion at times bleeding into grandstanding and grating on his colleagues–five years ago he feuded with Mealy, but they have since worked out their differences, and more recently he locked horns with Carney. But all along he maintained a focus on fiscal conservatism that his colleagues respected. He also closely associated his tenure with former City Manager Bruce Campbell, whom he'd championed, and who disappointed Settle when Campbell decided not to continue in the job. Settle did not return a call to his home Friday, so it's not clear what led him to decide not to run. But with Campbell gone, he may have lost his most compelling connection to city government (other than his wife, who is the deputy city clerk.)
"My difference is going to be that I believe and can safely say that I'm more aware of what's going on throughout the city on a day to day basis," Belhumeur, who had his own feud with Settle, said. "He lives in his own world. I'm out and about all the time, so I'll be showing up at events, doing what I can—I'll just continue to be who I am."
The dynamics of the city commission won't necessarily change. If anything, Belhumeur is even more outspoken than Settle. He's been attending commission meetings for a half dozen years, and serves on numerous boards: He chairs the county housing advisory committee, a position he says he will keep, but he will resign from the Flagler Beach Planning and Architecture Review Board, the citizen's advisory committee with the Transportation Planning Organization, and the county's Parks and Recreation Advisory Board.
"I pretty much agreed with a lot of the positions he took in more recent times," Mealy said of Settle, "and Rick I think will have a similar kind of personality. Rick isn't shy to say what he thinks."
Of getting reelected yet again without opposition, Mealy said: "I'm going to take it that people are basically happy with what's going on, and it is a big commitment, maybe people aren't ready to give up their life."
Mealy, 72, was first elected in 2006. She has never lost an election, and is now the longest-serving member of the Flagler Beach City Commission. She said the change in city manager will make a big difference. "We've got a real city manager now," Mealy said.
"Professional would be my word,": Belhumeur said of Larry Newsom, whom the commission hired just last month after a short search, a decision Belhumeur supported.
Newsom was finishing the day just as the qualifying deadline passed, and offered his congratulations to Mealy and Belhumeur as they stood just outside city hall. Belhumeur happens to be Newsom's landlord for now. Newsom is based in Pensacola, and will be renting locally until his situation with the commission is more settled and he can invest in a house.
"I've been impressed with the things that I've seen so I think having a different city commissioner and a different manager will change the dynamics," Mealy said.
"I think the complacency in this city will be addressed to a better degree," Belhumeur said.
For now, Belhumeur said, he wants to see the city protecting its infrastructure and assets rather than letting them go, as it nearly did, he said, with the Pier restaurant before the Funky Pelican moved in. He wants the same attention to such assets as the Wickline Center.
"Not usually because I get up and bark about it anyway."
Originally from Baltimore, Belhumeur's connection to Flagler Beach dates back to the 1970s, when his father bought property there, and served on the city commission in the late 1980s and early 1990s.
lived in FB 2 years, but has been attending commission meetings for 6, has had property in the 1970s. Fred Belhumeur, who died in 2010, was voted out when residents were displeased with his support of the big water tower at the south end of town. Belhumeur has lived in Flagler County proper for 12 years, most of those in Palm Coast, though he's always had property in Flagler Beach, which he now manages. He's lived in the city two years. Mealy, an educator by profession, is originally from New York. She's lived in Flagler Beach 15 years.
The two commissioners will be sworn in for their new terms at the March 24 meeting of the city commission.
The uncontested election will save the city a few hundred dollars: it was saving money anyway since it was piggy-backing on the presidential preference primary.