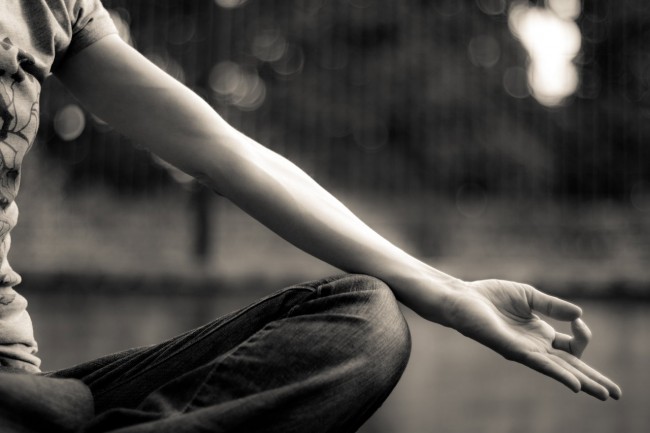 A pastor who largely misunderstood the purpose of yoga and its inclusion in a secular wellness program in three local schools appeared before the Flagler County School Board Tuesday evening to question the program's development during school hours.
Juan Schembri, pastor at the non-denominational Eternity Church in Bunnell, described "the meditation practices of the Buddhism and the Hinduism" as "the base of the yoga and the meditation" and asked: "With this being known, how is this being allowed to be practiced in the schools? Where is the separation of church and state with these practices? Because I can easily bring in a ton of scripture that Christians would meditate on and would, I would love for our kids to be able to meditate and have these scriptures done in school, but there's a separation of church and state, but here I see that this program was even granted by State Farm and is being allowed to be done in school and or during school hours, where ours has to be between, before school, after school or on lunch breaks. So my question is, I don't even know how this even got through, and how this got passed the Board of Education to allow this to—because my concern is the Christian kids."
Pat Williams, a Palm Coast resident for nine years and a former psychologist for 25 years, is the founder of a non-profit called Coaching the Global Village. The organization has been part of the weekly Road to Success program at Carver Gym, where young people learn success skills from dressing well to preparing resumes.
Earlier this year Williams secured a $30,000 service-learning grant through State Farm Insurance to teach wellness and stress management skills to students at Bunnell Elementary, Buddy Taylor Middle School and Matanzas High School. It's one of 65 such grants awarded across the nation and Canada. Flagler's grant is one of five in Florida. He brought in Michael Eizen, a wellness expert who works with students and faculty to develop age- and school-appropriate programs.
Eizen has already held a few sessions in the schools, including a keynote speech and "a pep talk where he talks about doing things for relaxation, meditation, how to destress, how to avoid bullying," Williams said. "There's all sorts of things that go into this. It's a wellness perspective." The emphasis is on positive thinking, an optimistic outlook, and a giving attitude. The students at each school then develop a wellness initiative which can be as simple as a gratitude board on the wall—where students write things they're grateful for, like a running Thanksgiving board—a nutritional guide for healthy eating, or something called relaxation Mondays. It's the students' choice. "We're not telling them what to do at all," Williams said.
And it has absolutely nothing to do with religion, anything faith-based or proselytizing.
---
Stretching the definition of yoga as a religious exercise.
---
"I've seen this happen in other places too," Williams said, citing concerns similar to Pastor Schembri's when yoga was part of programs in Georgia and Colorado. "Yoga is simply a methodology for stretching and exercising, it has nothing to do with religion, and no religion is talked about in the process. That may not convince him." Williams said he's trained boards and staffs of non-profits including Christian missionaries in Africa, Episcopal priests in Connecticut and Catholic nuns in Chicago, and held training sessions in Nepal and Cameroon, among the six continents where he's worked. His clients have been very ecumenical. "It's not religious in any way, shape or form," he said.
(After Williams's Flagler program was highlighted in an Observer article last week, in which he appeared in a photograph next to a Buddha, he heard a few concerns about the statute, which is in his backyard: it never goes into the schools. But he had not heard about Schembri's appearance before the school board until a reporter told him of it.)
Schembri misunderstood the purpose of meditation, too, conflating meditation and religion in ways most practitioners of meditation or yoga—several health clubs in town offer yoga in one form or another—would not recognize. "If they're being taught a meditation that's not in their faith, how are the kids, our kids, being protected from straying off into other faiths," Schembri said. "There would be hell if a Muslim student or a Jewish student was taught something of a Biblical faith, of a Christian faith. They would turn up this place. And they would load up this room, talking about you can't teach that to my child because of their faith, so where is the protection for the Christian child that this can, you know, this yoga and meditation can take place?"

School board members were surprised by Schembri's take on what they considered to have been a healthy, uncontroversial addition to some of their schools' wellness offerings. "I do not know anything about yoga," board member Trevor Tucker said. "I just thought it was a stretching exercise." Tucker was right.
Colleen Conklin, who chairs the school board, went to greater lengths: "There's no religious principals being taught as part of that program at all," she told Schembri, "and I would recommend that you maybe sit down with the folks who are teaching that program to get a little bit more information and insight, but as far as I'm aware, 99.9 percent positive, that there are no religious overtones or religious intonations that are being brought into that program at all. It's really about helping students trying to de-stress and focus." (Conklin received $3,000 from Coaching the Global Village in 2013, according to her financial disclosure form.)
Several workshops have been held in the three participating schools so far, with a parent-focused workshop this evening at Matanzas High School. The 7 p.m. workshop, titled "Creating the Empowered Family," is open to all parents and others, whether from participating schools or not—and whether individuals have children in school or not.