Monday Briefing: Racism in Palm Coast's L Section, Beachfront Parking in the Hammock, Bill Cosby Uncut
FlaglerLive | July 20, 2015
Today: high of 88, low 73 Details here.
Today's fire danger is moderate. Flagler County's Drought Index is at 401.
The weather in Bucharest, Romania: high 92, low 67. Details.
Today's document from the National Archives.
The OED's Word of the Day: Chiantishire, n..
The Live Community Calendar
Today's jail bookings.
Today's Briefing: Quick Links


Note: all government meetings noticed below are free and open to the public unless otherwise indicated. Many can be heard or seen live through each agency's website.

The Flagler County Commission meets in workshop to discuss public beachfront parking at Jungle Hut Road and the Malacompra area of the Hammock to ensure that Flagler County Fire Rescue's access to the beach, with two new ocean rescue units, is not hampered by people parking by the beach. The county administration is proposing two options that would redraw the parking map around Malacompra. "The only difference between the two options is environmental rescue and political considerations," the administration states in a memo to county commissioners. The commission meets again at 5 p.m. for a business meeting. The commission is expected to approve a pair of contracts with the Northeast Florida Area Agency on Aging, or ElderSource, worth $81,000 and $167,000, and ratify a pair of grants the county's Emergency Management division secured, worth a combined $170,000. The board is also expected to ratify, after a public hearing, final adoption of a land use change south of the Sea Ray Boats property that will allow the boat manufacturer to build a parking lot there.


Racist messages found on Palm Coast family's property: Swastikas, the CSA acronym (which stands for Confederate States of America, the Southern breakaway rebel nation during the Civil War) and KKK graffiti were painted in white on the street and on three cars belonging to a homeowner on Laramie Drive in palm Coast, News 13 reports. "What upsets homeowners like Lori Farmer who lives in the area, is not just that all the racist remarks were written on their street, but that it has remained out there so long," the station reported.
Tyler Tracy, 21, of Palm Coast, Is Killed in a Single-Car Wreck on U.S. 1: Tracy was at the wheel of a 2002 Chevy SUV, with passenger Michael Neves, 22, also of Palm Coast, who according to a Florida Highway Patrol report of the wreck had been drinking. Tracy's alcohol status at the time of the wreck is pending. According to the report, Neves was not taken to a hospital.
Florida Loses 47,000 Jobs, Flagler 190, But Shrinking Labor Force Lowers Unemployment: The unemployment rate went down for state and county because the labor force in each case shrunk by even larger numbers: in Florida, it shrunk by a very significant 79,000 people, and in Flagler it shrank by 325. With the labor force shrinking at twice the rate of job losses, the net result is a decline in the unemployment rate. But jobs are not being created: in Flagler, 190 fewer people were employed in June than were employed in May, for a total of 40,093.
Live-Blogging Harper Lee's "Go Set a Watchman": On Sunday, FlaglerLive started a community project of live-blogging Harper Lee's "new" novel, with 10 of Flagler County and Palm Coast's most interesting voices participating. Sunday's installment featured chapter 1. Read the 10 contributors' results, and join in.
Florida Hospital program seeks to cut down on ER visits: Community Care, started in Volusia County, may be on its way to Flagler County. It aims to reduce frequent ER visitors' trips for emergency care. "About 60 people are participating," the News-Journal reports. "Patients must be uninsured or on Medicaid and are selected by the hospital based on utilization data. Florida Hospital has partnered with nursing programs at Bethune-Cookman University and Stetson University to offer the service." (Story paywall-protected.)
Rich Weber Replaces Bob Nocella as Matanzas High School's Athletic Director: Weber was one of some 75 applicants for the $44,757 position, which oversees 36 athletic teams, 22 of them at the varsity level, monitors compliance with Florida High School Athletic Association regulations, students' academic standing, physicals, the financial statements of all teams, and coordinates fundraising and transportation. The director is also responsible for attending athletic conferences and district meetings. Weber's equivalent at Flagler Palm Coast High School is long-time Director Steve DeAugustino.
Scott Bolsters Protection for Florida National Guard in Wake of Tennessee Marines' Murders: Scott directed Adjutant Gen. Michael Calhoun to temporarily move National Guard members from six "storefront" recruitment centers to armories. Also, he ordered Calhoun to work with local law-enforcement agencies to arrange regular security checks of armories and said the state will expedite processing of new concealed-weapons licenses for members of the National Guard.


It's a minimalist day in Flagler County court: Circuit Judge J. David Walsh hears a plea in a robbery case at 9 a.m. in Courtroom 401, County Judge Melissa Moore-Stens and Circuit Judge Michael Orfinger do not hold does not hold court sessions today. Judge Denise Mensh holds case management in Hearing Room 2B, morning and afternoon.


Note: Most proceedings below can be followed live on the Florida Channel.

The state Division of Pari-Mutuel Wagering takes public input about wide-ranging rule proposals for the pari-mutuel industry. The proposals focus heavily on horse racing. (9 a.m., Department of Business and Professional Regulation, Northwood Centre, 1940 North Monroe St., Tallahassee.)
Integrity Florida holds a news conference to release a report about whether increasing the minimum wage would lead to job losses. (10:30 a.m., Florida Press Center, Tallahassee.)
Court funding: The Revenue Estimating Conference discusses what are known as "Article V Revenues," which help fund the court system. (1:30 p.m.)
–Compiled by the News Service of Florida and FlaglerLive


The Cuban flag rises over the Cuban Embassy in Washington today, and the America flag rises over the U.S. Embassy in Havana, 54 years after the United States severed diplomatic relations.
Republican presidential candidate Jeb Bush gives a campaign speech in Tallahassee, where he served as governor for eight years. (10 a.m., Augustus B. Turnbull III Florida State Conference Center, 555 West Pensacola St., Tallahassee.)
Tour de France: Stage 16 is 201 km from Bourg-de-Peage to Gap in the Alps. The live feed here.


Fire Around County Road 304 and State Road 11 in Flagler: The Florida Highway Patrol continues to monitor a controlled burn in the area of County Road 304 and Old Haw Creek Road which may affect roadways including State Road 11 in Flagler County.. Motorists are encouraged to use caution when traveling in these areas. Visibility may deteriorate quickly due to smoke/fog type conditions, especially during the night time and early morning hours. Motorists are reminded to reduce their speed as necessary to avoid a collision and utilize their low beam headlights in order to adapt to changing weather conditions.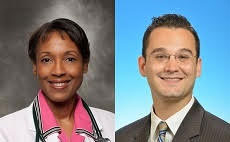 Town Center Family Care welcomes Dr. Stephen Keen to the practice: The office of Dr. Donnette Williams is proud to announce the arrival of Dr. Stephen Keen to provide primary care services.  Dr. Keen is a board certified family physician.  He is a graduate from Wake Forest University School of Medicine who completed the Halifax Family Medicine Residency Program in 2013.  He has practiced the last two years in Ormond Beach.  He will begin seeing patients August 5th at Town Center Family Care, 21 Hospital Drive, Ste 290 in Palm Coast.  Dr. Keen joins Dr. Williams solo, private practice allowing him to provide more patient- centered, personal care in a physician directed manner.  Dr. Keen and Dr. Williams feel that maintaining their independence allows them to provide more effective, unbiased care for patients in the community. They will provide late appointments for patients' convenience four days per week, with appointments until 6 pm.  Dr. Keen provides in-patient services for his patients at Florida Hospital Memorial Medical Center formerly known at Ormond Memorial Hospital.  Drs. Williams and Keen see patients 5 years and above. Their office phone number is (386) 437-7977 and website http://www.towncenterfamilycare.com.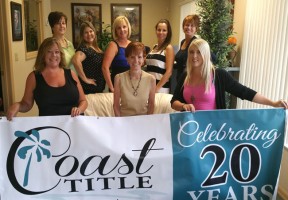 Coast Title Insurance Agency Celebrates 20 Years in Business: Coast Title Insurance Agency was founded in 1995 by Sandra McDermott and three other partners. By 2007, McDermott bought out the partners and became the sole owner of Coast Title. She also serves as President/Co-Owner of two other affiliated title companies. "I feel proud to work with such an experienced and dedicated team of title professionals – we would not be in business this long if it weren't for my incredible staff," said McDermott. "Our office staff has a combined title experience of over 140 years and that makes a huge difference, especially with the changes that are happening in the title insurance industry right now." According to McDermott, it's unusual for title offices to have more than two licensed agents in the same office, and Coast Title has four licensed title insurance agents on staff. McDermott also credited Coast Title's longevity to a few business mentors she's had over the years, her relationships with local realtors, homebuilders and lenders. She said that owning her own business has had its ups and downs, including the real estate market crash that hit Flagler County especially hard starting in 2007. Along with a 20 year anniversary came a brand new website at http://www.coast-title.com. "It was definitely time," said McDermott. The website allows visitors to educate themselves on the types of services that Coast Title offers as well as virtually meet the staff. In addition, they have a page with helpful links to industry information.


Florida sheriffs deny claims of 'sanctuary' cities in the state: "Hillsborough, Hernando, Pasco and Pinellas are among seven Florida counties included on a recent map of so-called "sanctuary cities" released by the Center for Immigration Studies. The agencies are listed among more than 200 across the nation that the center says "protect criminal aliens from deportation by refusing to comply with (Immigration and Customs Enforcement) detainers or otherwise impede open communication and information exchanges between their employees or officers and federal immigration agents." The center, which bills itself as a nonprofit, nonpartisan research group based in Washington, D.C., said the agencies provide sanctuary for illegal alien criminals because they refuse to honor Immigration and Customs Enforcement requests to hold undocumented residents accused of a crime for up to 48 hours while the agency determines when and if to pick them up for deportation. […] Sanctuary cities — and counties and states — have been the focus of a national debate recently after the July 1 shooting death of a San Francisco woman, allegedly by a Mexico native with a lengthy criminal record who had been deported from the United States multiple times. San Francisco is one of a handful of cities that has a sanctuary law, the "Sanctuary Ordinance," that prevents city employees from helping ICE without a warrant or unless required by federal or state law. […] The sheriffs, though, said the recent court cases illustrate that local agencies don't have the jurisdiction to keep undocumented residents in their jails solely on immigration status. If those arrested are able to bond out for the charges on which they're arrested, their hands are tied, they said." From the Tampa Tribune.
America's best program for the poor may be even better than we thought: "The Earned Income Tax Credit isn't super well-known, but it's one of the best tools the federal government has for fighting poverty. It functions as a wage subsidy for the working poor, providing an average of $2,982 a year to families with children come tax season. The results are impressive. According to the Census Bureau, refundable tax credits like the EITC and the similarly structured Child Tax Credit cut the poverty rate (correctly measured) by 3 percentage points in 2013 — that's 9.4 million people kept out of poverty. But a new study suggests that even that is an underestimate. UC Berkeley economist Hilary Hoynes and the Treasury Department's Ankur Patel find that the EITC might be twice as effective at fighting poverty as the census estimate suggests. […] In one paper, Hoynes, Douglas Miller, and David Simon found that the EITC significantly increases infant birth weight. A study by Notre Williams Evans and Craig Garthwaite found that the 1993 expansion reduced reports of high blood pressure and of biomarkers that predict stroke, heart attacks, and death. Economists Raj Chetty, John Friedman, and Jonah Rockoff found that the earned income and child credits significantly increase students' test scores, which in turn increases their odds of going to college, raises their earnings, and cuts teen birth rates. […] But because Obama and Ryan both fund their plan in ways that are totally unacceptable to the other side, they haven't come to a deal to pass this plan. Obama would pay for the expansion by raising taxes on hedge fund managers and rich self-employed people, while Ryan would cut other safety net programs and "corporate welfare," which is this case means specifically energy subsidies the Obama administration likes. Ryan has explicitly rejected Obama's funding mechanism, and it's hard to imagine Obama accepting Ryan's." From Vox.
Bill Cosby, in Deposition, Said Drugs and Fame Helped Him Seduce Women: He was not above seducing a young model by showing interest in her father's cancer. He promised other women his mentorship and career advice before pushing them for sex acts. And he tried to use financial sleight of hand to keep his wife from finding out about his serial philandering. Bill Cosby admitted to all of this and more over four days of intense questioning 10 years ago at a Philadelphia hotel, where he defended himself in a deposition for a lawsuit filed by a young woman who accused him of drugging and molesting her. Even as Mr. Cosby denied he was a sexual predator who assaulted many women, he presented himself in the deposition as an unapologetic, cavalier playboy, someone who used a combination of fame, apparent concern and powerful sedatives in a calculated pursuit of young women — a profile at odds with the popular image he so long enjoyed, that of father figure and public moralist. […] Mr. Cosby has never been charged with a crime and has repeatedly denied the accusations of sexual assault, now leveled by dozens of women. David Brokaw, Mr. Cosby's publicist, did not respond to requests for comment on Saturday. Ms. Troiani declined to comment. In three suits, women who accused Mr. Cosby of sexual misconduct are pursuing civil claims against him. In addition, the Los Angeles police have said they are reviewing a complaint of a sexual nature against Mr. Cosby." From The Times.


Palm Coast Construction and Development Progress Reports:
The following is an update of ongoing construction and development projects in Palm Coast, through July 17:
The Palm Coast Arts Foundation took out a development order for its 7,420 square-foot pavilion at Town Center, for a performance stage to be constructed on a portion of Lot 19 on the south side of Central Avenue, just west of the intersection with Town Center Boulevard. This initial phase will consist of the stage only and associated landscaping:
Development orders were issued for the construction plans for Hidden Lakes Phase I Sections 2A and 2B: Section 2A is proposed for 89 single family residential lots and Section 2B is proposed for 59 single family residential lots. Hidden Lakes Subdivision is located on the east side of Old Kings Road, south of Palm Coast Parkway and north of Town Center Boulevard and the Lehigh Canal.
Palm Coast Superwash Special Exception Development Order: Superwash was granted a Special Exception by the Palm Coast Planning Board for an automated carwash facility on 2.2 acres at 110 Cypress Point Parkway. Proposed site improvements include the development of an automated carwash with "flexservices." The project includes a well-designed and integrated accessory detail area, automated payment stations, offices, and a customer waiting room. A canopy will extend from the customer waiting room toward the front of the proposed building.
Daily's Convenience Store (Shell Gas Station) Building Addition Development Order: A 200 square foot restroom building addition to the
existing 4,392 square foot Daily's store located on a 1.03 acre parcel at the northeast corner of Palm Coast Parkway and Boulder Rock Drive.
Palm Coast Parkway Six-Laning is 83 percent done: Widening on the north side of the parkway continues and some paving and concrete curbing was completed. Landscape irrigation work continues. Utility connection tie-ins continues. Signage installation has begun. Final grading being completed
in preparation to install the remaining pavement for the widening areas.
Royal Palms Parkway Improvements: Punch list items continue.
Holland Park, 23 percent done: Installation of storm water pipe continues.
Palm Coast City Hall at Town Center, 72 percent done: Installation of drywall on interior walls, mechanical duct work & VAV damper installation, electrical conduit rough-in and fire sprinkler piping are all 96% complete. Painting of exterior wall continues. Paving of parking area completed. Floor tile in bathrooms has begun. See ongoing images of construction here.
Colechester at College Waterway Bridge Rehabilitation Construction, 65 percent done: Contractor and City staff met and discussed the directional drill plan. The directional HDPE pipe was fused and drilling has started. Demolition on the east side seawall and sidewalk continues. preparations are underway to move a utility water main.
County's I-95 Interchange Matanzas Woods Reclaim Water, 25 percent done: Contractor has installed approximately 1,000 ft. of reclaim water main total installed 5,000 ft. to date.
Palm Harbor Parkway Roadway Extension, 6 percent done: Contractor working on submittals and coordinating utility work with FPL & ATT.
Island Walk Shopping Center Phase 1, 90 percent done: A manhole was installed in front of the Island Doctors building. A 6″ fire line with backflow preventer was installed behind building on west end of project.
Shops at Pine Lakes Convenience Store, 88 percent done: Pressure testing of the water and sewer installations has passed.
Walmart Addition, 30 percent done: A new Grease Interceptor has been installed replacing the old one outside the new building addition.
Old Kings Road Utilities Work, 85 percent done: Pressure testing of new water main has passed.


Road and Interstate Construction: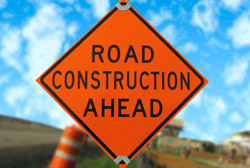 Palm Coast:
Lane closures planned for Palm Coast Parkway work July 20 – July 24: On Monday, July 20, through Friday, July 24, between the hours of 9 a.m. and 5 p.m., motorists and other travelers should expect eastbound lane closures along Palm Coast Parkway between Cypress Point Parkway and the I-95 bridge.Two lanes will remain open eastbound. From 9 p.m. Tuesday, July 21 until 7 a.m. Wednesday, July 22, motorists should expect heavy delays. Eastbound traffic will be reduced to one lane on the I-95 bridge. These lane closures are required for street light pole installations. A uniformed law enforcement officer will be on-site to direct traffic. Motorists are encouraged to watch for flaggers and work zone signs.
Matanzas Woods Parkway closed: Matanzas Woods Parkway is closed until early August for construction of the Interstate 95 interchange. The portion of Matanzas Woods Parkway that spans I-95 will be reconstructed to accommodate four single-lane ramps for on and off access to the interstate. Other improvements include the widening of the interstate to accommodate new acceleration and deceleration lanes, wet detention ponds adjacent to the roadway, sidewalks, lighting, overhead signs and landscaping. Project details are available and regularly updated at http://www.matanzas95interchange.com. The detour map is available here.
Palm Coast Parkway between Cypress Point Parkway and Florida Park Drive. IMPACTS: Lane shifts and closures will occur and this may cause traffic congestion on this already busy roadway. Most construction work will occur between 9 p.m. and 7 a.m. though weather and unforeseen issues may adjust the schedules. This project will be complete by December 2015.
Flagler County Road 302 is Closed to all but local traffic as repaving began on June 7 and the roadway will be closed to all but local traffic. Others will be required to detour around County Road 302 using State Road 100. The roadway will be closed for 90 days, or until early September.
Palm Coast's Colechester Lane bridge to be closed July 7 through Sept. 4:  A detour will be established taking travelers over the Colorado Drive bridge instead. Signs will be posted directing motorists to the Colorado Drive bridge. The City of Palm Coast strives for safe construction zones. The City asks for the cooperation and patience of residents as this important bridge improvement project is completed. For more information, contact Palm Coast Customer Service at 386-986-2360.
Volusia: I-4 Widening from SR 44 to east of I-95, Monday and Friday, 7:00 a.m. – 5:00 p.m., Eastbound/Westbound shoulder closing. Sunday through Thursday, Eastbound and Westbound lane closures as needed from 8 p.m. to 6 a.m. Thursday, 9:00 p.m. – 5:30 a.m. EB road closure between Canal St./SR 44 and I-95 with detour at US 92 exit ramp.Motorists should be aware of traffic shifts near Canal St./SR 44.
Central Florida Commuter Rail Commission's Customer Advisory Committee Meeting: A meeting of the Central Florida Commuter Rail Commission's Customer Advisory Committee is scheduled for 9 a.m. Friday, July 17, 2015 at LYNX Central Station, 455 N. Garland Avenue, Orlando, FL in the second-floor multi-purpose room. Public participation is solicited without regard to race, color, national origin, age, sex, religion, disability or family status. Persons who require special accommodations under the Americans with Disabilities Act or persons who require translation services (free of charge) should contact Ms. Jennifer Smith, FDOT District Five Title VI Coordinator, 719 S. Woodland Boulevard, DeLand, FL 32720, or by phone at 386-943-5367, or by email at jennifer.smith2@dot.state.fl.us. Questions? Please contact Steve Olson at steve.olson@dot.state.fl.us or 386-943-5479.
County Road 304 Project Map and Description


Click on the links for more details:
Back to School Immunization, required by schools, available at the Flagler County Health Department from August 10 through August 21, Monday through Friday from 8 a.m. to 11 a.m. and 1 p.m. to 3 p.m. on a walk-in basis. For further information, please call: 386-437-7350 ext. 2224.
All Summer: Free Breakfast and Lunch for All Flagler County Children Through Seamless Summer Freeding
All Summer: Flagler Sheriff's Police Athletic League (P.A.L.) Offers Free Summer Activities for Youth .
July 22: Emmanuel's Closet Fund-Raising Dinner and Fashion Show, from 6 to 9 p.m. at the Italian American Club at 45 Old Kings Road N. in Palm Coast. Includes dinner, dessert, raffles, a silent auction, dancing, photos and other activities.
July 23: Pastor Charles Silano will be recognized as Outstanding Community Leader at the Northeast Florida Community Action Agency, a local nonprofit, in a luncheon at noon at the Hyatt Regency Jacksonville Riverfront.
July 27: The River to Sea Transportation Planning Organization Meets in Palm Coast from 5-7 p.m. to receive public input on the 2040 Long Range Transportation Plan. The meeting will be held at Palm Coast's Hilton Garden Inn, 55 Town Center Blvd. Specifically, the River to Sea TPO is holding the public meeting to solicit input on the draft Cost Feasible Project List. For more information, contact Pamela Blankenship at pblankenship@r2ctpo.org or 386-226-0422 ext. 20416, or visit http://www.r2cmobility2040.com.


Comment of the Day (From the Comment Section):
Samuel L. Bronkowitz, in "Donald Trump Isn't the Exception. He's the Republican Prototype." "Don't forget, many of the people posting in the comments section also proudly voted for Rick Scott. If they don't see any issues with letting the former CEO of a health insurance company that was on the receiving end of the largest medicare fraud settlement in history run the state that they themselves live in, why would they have issues with a clown like Trump? He's basically like a fat Rick Scott with more hair. Seriously, gotta laugh at the people wanting this nation run like one of his businesses. He's bankrupted a number of them and had to go crying elsewhere for money." Reply to Samuel Bronkowitz here.


Cultural Coda:
The Evolution of Chuck Jones, the Artist Behind Bugs Bunny, Daffy Duck & Other Looney Tunes Legends: A Video Essay
From Open Culture: "Like all good directors, Jones learned from his actors–in this case, animated, and not all of them his babies. Bugs and Daffy were the brainchildren of the great Tex Avery. Friz Freleng created Yosemite Sam and everyone's favorite stuttering pig, Porky. Jones teased out the desires that became the primary engines for those characters' physicality as well as their behavior. Daffy comes off as an unhinged lunatic in his early appearances. His comic potential grew once Jones reframed him as a conniver who'd do anything in pursuit of wealth and glory." Watch: