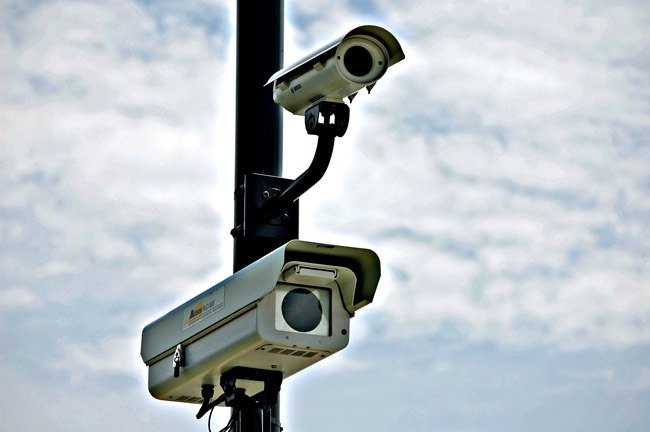 A Florida court of appeal decision declaring private companies' issuance of traffic citations illegal has dozens of cities across the state, among them Palm Coast, again rethinking whether they can maintain their red-light camera programs.
That doesn't mean red-light cameras have been turned off in Palm Coast. They haven't. But it does mean that ticketed individuals who choose to challenge their ticket in court have a greater chance of seeing that ticket and fine thrown out. And it has Palm Coast officials studying whether the decision may open a door to extricate the city from its contract with American Traffic Solutions, the private company that runs the city's red-light camera program.
"If in fact ATS cannot issue Uniform Traffic Citations," Palm Coast Mayor Jon Netts said, "and if the city isn't in a position to do so, then the best advice would be I guess don't pay your fine and it goes away, which hardly seems fair. So this is the beginning I would guess of a major overhaul of the system, if not an elimination thereof. If not, we shall see."
The city council won't meet again until mid-November, so all discussions on the matter are happening, when they're happening at all, behind the scenes. "Our attorney is reviewing it to determine how it impacts us," Cindi Lane, the city's spokesperson, said of the DCA decision on Monday. "I do not believe we've received a report back from him with a recommendation."
The decision was issued on Oct. 15 by the 4th District Court of Appeal in West Palm Beach. The decision is controlling in three judicial circuits covering six counties in southeast Florida—not Flagler, which is in the 5th District. But that doesn't mean it has no legal weight in Flagler and the rest of Florida, because so far it's the only appeals court that has ruled on that particular aspect of the law.
The case has little to do with the initial "notice of violation" and $158 fine issued to red-light runners. Most people who get those notices pay them, and their case is over. The court does not address that step. Nor has it called it illegal, even when private companies issue the notice of violation. It addresses the next step.
When a driver either does not get the initial notice of violation of refuses to pay it, the notice after 60 days immediately becomes a so-called Uniform Traffic Citation, and the fine increases to $264. At that point, it's no longer a "notice of violation" but a traffic misdemeanor and a court case. But ATS is still the issuer of the traffic citation, which is signed by a "traffic infraction enforcement officer," although not really: the signature is electronic, and the citation is issued from ATS's office in Arizona.
---
A door opens for drivers not to pay their red-light camera tickets and cities to wiggle out of their contracts with ATS.
---
Under Florida law, the 4th DCA ruled, that's illegal. Florida law requires that such a citation be issued by an actual traffic enforcement officer, not a third-party vendor, judge Mark Klingensmith wrote for a unanimous three-judge panel. (The case emerged from the city of Hollywood, which has a contract with ATS similar to Palm Coast's. See the full decision below.)
"In Florida, only law enforcement officers and traffic enforcement officers have the legal authority to issue citations for traffic infractions, which means only law enforcement officers and traffic enforcement officers are entitled to determine who gets prosecuted for a red light violation," Klingensmith wrote, opening a way for drivers to easily contest the initial issuance of the $158 ticket. By law, that officer must be employed by a police agency and be located in the county where the ticket is issued. ATS applies neither criteria to its ticket-issuing. ATS makes the initial determination of violation, too, sending them on to the city for its own determination. If the city concurs, the ticket is cleared for issuance—from Arizona.
"Therefore," the judge found, "the contract requires ATS to send images and information regarding the violation to the TIEO only if ATS determines in its sole discretion that certain standards have been met, and ATS may withhold sending information if it determines that those standards were not met." In essence the company, not the city, decides which alleged violations the city gets to review.
"The city also lacks the lawful authority to outsource to a third-party vendor the ability to make the initial review of the computer images of purported violations and then use its unfettered discretion to decide which images are sent to the [traffic enforcement officer], and which ones are not," the ruling concluded. "The city improperly delegated its police powers when it contractually outsourced its statutory obligations to a for-profit, non-governmental corporation."
To Netts, the court decision means ATS can still issue notices of violation, but not traffic citations. "Until somebody tells me otherwise, that's the law of the land," Netts said. "So my position is ATS cannot issue tickets in Palm Coast. It's that simple."
Doug Williams, a Daytona Beach attorney with numerous cases in Flagler County, said the new court decision is legally "persuasive but not controlling." In other words, it's not the law of the land, because it was handed down by an appeals court in South Florida that does not have jurisdiction in Flagler. But because it's the only such decision on the books in Florida, it can easily persuade judges across the state to follow its conclusions should tickets be challenged.
Adam Richardson, a West Palm Beach attorney, points to a 1992 court of appeal decision that states that "in the absence of interdistrict conflict,
district court decisions bind all Florida trial courts," which would mean that the 4th DCA decision is binding locally.
In Flagler County, Judge Melissa Moore-Stens in April, after a dispute between the Clerk of Court and Palm Coast, issued an order that anticipated the DCA ruling and stated explicitly that "once the Uniform Traffic Citation has been generated by the City of Palm Coast or their designee, the City of Palm Coast does not have the legal authority to accept payment from drivers."
In light of that order and the DCA decision, Williams said drivers can challenge their ticket "in two ways, they can challenge it through Judge Melissa Moore-Stens's motion, they can also take that 4th DCA case as persuasive. It's not binding on Melissa at all, but she's already kind of made her decision the same way." Williams said he's been using Moore-Stens's order to get numerous tickets thrown out.
Tickets that do get converted into traffic citations are not as numerous as they once were, Flagler County Clerk of Court Gail Wadsworth said. "Under the newest law, a clerk of court may dismiss a uniform traffic citation for a red light citation if something or other is found, and what we do, we know that ATS is supposed to mail twice to the proposed defendant. We use exactly the same mailing address they do. When we get something back returned, no forwarding address, addressee not found, whatever the little yellow sticker says, then I sign a document that automatically dismisses that citation, and last month there were 13 to 14 as opposed to 40 or 50, so something has changed for the better." But Wadsworth doesn't know what.
In light of the 4th DCA decision, Wadsworth said, "It would make the community, the council and Palm Coast question, if this is illegal, should we continue to do this, or should we back out, should we do something to rid ourselves of this contract." One candidate for Palm Coast City Council, Steven Nobile, sent an email to council members Friday imploring them to "use the ruling to dissolve our contract with ATS and have the red-light cameras removed from our city as soon as possible.  I fear that this issue will bring our city to its financial knees as one day we will be drowning in a sea of lawsuits demanding the return of the money from citations that have already been issued and paid." Nobile sent the email after getting confirmation from City Clerk Virginia Smith that Palm Coast's system with ATS is almost identical to Hollywood's. (See Palm Coast's current contract with ATS.)
ATS did not return a call or respond to emailed to its media spokesperson.
But Wadsworth expects ATS to appeal, since ATS has contracts in about 60 Florida communities—and the Florida Attorney General has, in fact, advised local communities with ATS contracts, including Tampa, that "certain aspects" of the 4th DCA ruling should be challenged. "I expect if I were sitting in their shoes, I would appeal, because I imagine the city of Palm Coast and every other entity who uses them is now questioning their contract, and this 4th DCA opinion that they're illegal, anybody who's trying to wiggle out, it gives them a tool to wiggle out with."
Wadsworth is not getting an argument from Netts.
"Our original thought was we need people to obey the traffic signals and here's a way to get their attention and to get them to understand. It was not overly onerous, the first go-around," Netts said. "When the state stepped in and upped the ante and brought in the Uniform Traffic Citation component and made it very convoluted and got the court system involved, it just became very, very difficult to administer and to administer easily, equitably, fairly. So this may well be an opportunity to review, revise, revoke. Pick your option."

4th District Court of Appeal Ruling on Red-Light Cameras, Oct. 15, 2014