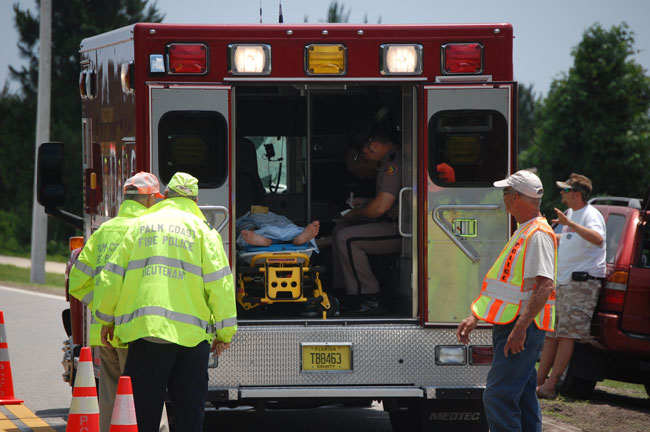 A Ford SUV and a Land Rover Discovery collided just off the intersection of Matanzas Woods and Bird of Paradise in north Palm Coast moments after noon today, causing injuries. The extent of injuries is not determined, but both drivers were taken to Halifax Hospital on trauma alert.
The eastbound lane of Matanzas was closed from Luther Dr. to about 100 yards past Bird of Paradise for about an hour, though traffic was being let through on the westbound lane.
Here's the story from State trooper Dean Lewis:
---
Video: The Scene at Matanzas & Bird of Paradise[media id=34 width=250 height=250]
Around noon Jennifer Marie Parks, 32, of Palm Coast's Blairton Court, was driving her Ford with husband Scott Parks, 30, in the passenger seat. They were traveling east on Matanzas Woods when Colin Peter Taschler, 23, of Riverview Bend in Palm Coast, t-boned them with his Land Rover as he was traveling west. The road curves just past Bird of Paradise, going east. Taschler never negotiated the curve and kept going straight—into the Parks' vehicle.
Taschler "overturned a couple of times," Lewis said. "Charges right now are pending. Obviously he is at fault. But there's some other stuff. Some blood was taken, so it's a possible DUI."
Jennifer Parks was ejected out of the driver's side window. Her husband was not injured. He rode with her in the ambulance to Halifax Hospital.
At 1:17 p.m., lanes reopened. A wrecker was towing away the Land Rover. At 1:27 p.m., the scene was all clear, with both vehicles towed away.
More photos below.