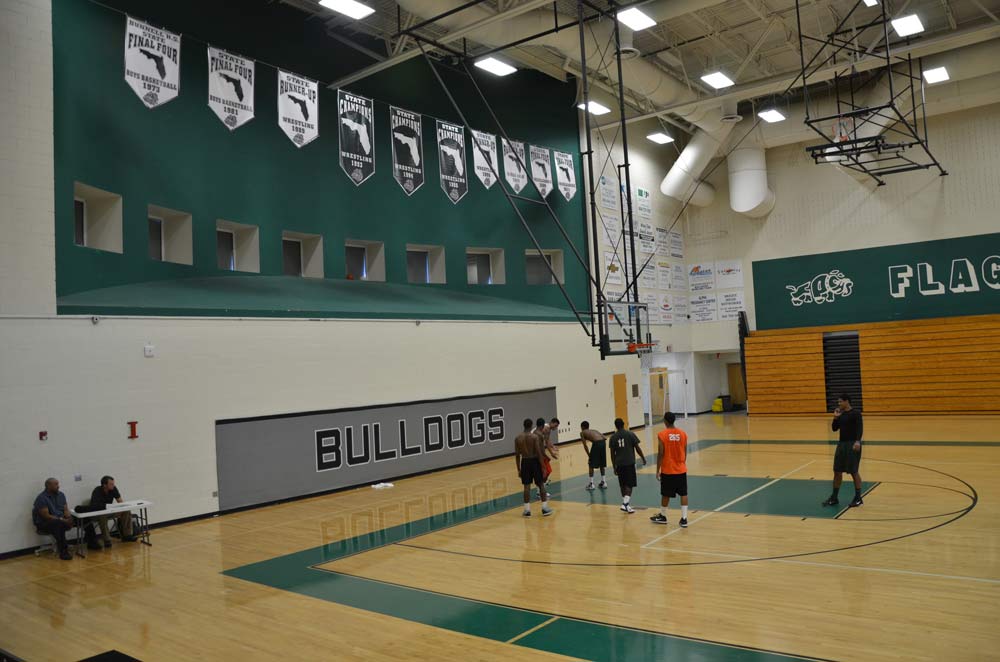 A 15-year-old Flagler Palm Coast High School student faces a felony aggravated assault charge after mimicking shooting two other students with a toy gun at school on Wednesday. The students were not aware that it was a toy gun.
Florida law does not distinguish between real and toy guns when either are used to give the impression that someone is armed, and criminal charges are filed accordingly.




The incident was initially reported by a student to one of the school's resource deputies. A review of surveillance camera showed K.B., the 15 year old, reach into his backpack at 8:20 Wednesday morning while speaking to two students at the entrance to the main gym (known on campus as the 800 gym).
He then points the gun at the two other students, prompting one of them to seek protection in the bathroom. When that student reemerged from the bathroom, KB pointed the gun again, pulling the trigger several times.
"I kept flinching because I really thought it was done," one of the students KB was targeting said, "like all of my life was over, my heart dropped when he kept pulling the trigger at me." Students are immersed in fears about school shootings and safety messages about school shootings, so that particular student's reaction could not have been a surprise.
All K.B. had said was that he was going to shoot the students, according to his arrest report.
At some point the students realized the gun had an orange tip, and determined it was not an actual firearm. It was made to look like a Glock handgun.
K.B. was pulled from his classroom shortly afterward and the backpack was seized. K.B. told the deputy he had a toy gun in the backpack–a gel blaster with graffiti drawings on it. K.B.'s mother, Sashana Jones, did not allow the deputy to speak with her son about the incident (it is parents' and students' right to decline to be interviewed by law enforcement).




"Never, ever threaten someone's life, even with a fake gun," Sheriff Rick Staly said. "A prank like this will only get you arrested. This type of behavior will not be tolerated in our schools. Fortunately, this was a fake gun, and the student immediately reported the incident and did exactly what they should have when threatened. Parents, talk to your children and be the Sheriff in your home. Otherwise, we will be, and your kid will be arrested!"
The student was booked at the Flagler County jail on an aggravated assault count and a count of improper exhibition of a firearm, the latter a misdemeanor, before he was transferred to the Department of Juvenile Justice in Daytona Beach. School penalties vary, based on a variety of factors, though in this case the student's infraction is categorized among the most severe in the district's Student Code of Conduct.