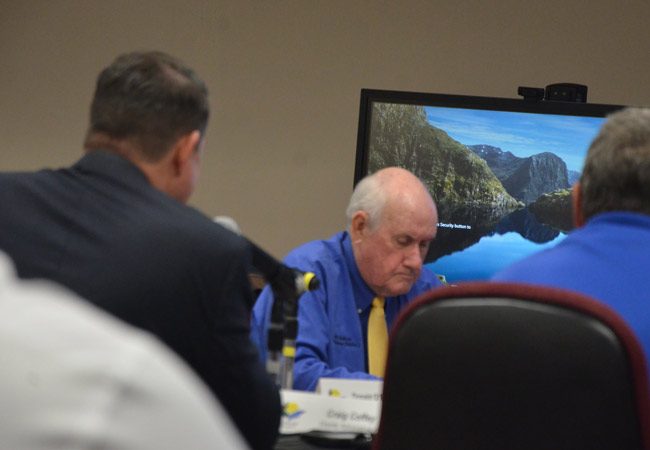 Flagler County Commissioner Dave Sullivan is done with the Sheriff's Operations Center.
In a stunning, unequivocal statement this morning at the end of a three-hour workshop on an unrelated issue–the lease for Captain's BBQ at Bing's Landing–Sullivan said he will not approve spending another nickel on the troubled operations center except to demolish it, and that the county must create a task force to figure out how to build a new operations center at a different location, how to pay for it, and what to do with sheriff's personnel in the interim.
Just as consequential is Sullivan's call for a commissioner to be delegated to the task force, suggesting a loss of trust in the county administrator to fulfill a job that would normally be his.
Commission Chairman Don O'Brien said he would have proposed the task force delegate had Sullivan not done so (and thinks the commission's delegate should be Sullivan), so a commissioner is at the table in every meeting concerning the operations center. But O'Brien said it's not for lack of trust in County Administrator Craig Coffey, but so the sheriff's side has someone they can trust, since they've lost trust in Coffey. "We have a sheriff that doesn't want to communicate with him," O'Brien said.
Clearly though, there appears to be some discomfort with relying on Coffey alone. "I want one of us to be the point person for the commission," O'Brien said, "to be at every meeting, and take on the responsibility to be our eyes and ears, to come back to us and keep us appraised of what's going on, and for the commission to take back some control of this issue, or more involvement, than just waiting for reports."
That Sullivan made the statement carries tipping-point weight: Sullivan has so far been more cautious about the fate of the building and has been willing to let testing take its course, preserving a commission majority still willing to seek solutions to eventually re-enter the building. That majority is now as oozy as the operations center's foundation. The difference was last week's testing in the building, which revealed serious and unexplained water intrusion through the base of the building, and in many spots. Those revelations shocked even county officials, including Coffey, and appear to vindicate what sheriff's employees and the sheriff have been saying since the middle of last year: that the building is sick, and making employees sick in turn.
The sheriff and close to 70 employees with offices in the building evacuated it in June after persistent health issues affecting more than two dozen employees. Sheriff Rick Staly–who called the Operations Center an "albatross" in May–spread his operations between temporary offices in the county courthouse and the old sheriff's administrative building. Staly and County Administrator Craig Coffey are no longer on speaking terms. Coffey's job is in jeopardy.
Over the weekend Sullivan told Coffey that he was "finished" with the building. "It's the most important issue we face, and it's time to put that on the front burner," he told Coffey. Today, as if to remind his fellow-commissioners and dozens of people in attendance that a county lease with a popular restaurant was not the most pressing matter on the county's agenda, he spoke briefly and directly just before adjournment.
"I'm stating at this point, just so you all know: I'm not willing to put one more nickel into that building," Sullivan said. "The only money I'll ever approve now for that building is to demolish it. And I think at this point, at this point in time, we need to establish a task force. I want a commissioner on that task force to find out what's going on, and come up with a plan of action and milestones for replacing–first, to come out with a more robust interim solution, and then a long-term solution. I know this is a tough issue, but I don't think we can kid ourselves any longer, and it's time to do something. I just want to make that point clear, that's my opinion, and I think that's the most important thing we face right now. Not anything else."
---
"We can build a new building, and the other building can stay there and rot for all I care."
---
He was even more direct when interviewed after the meeting. "It's time to fish or cut bait. We can't waste any more time. It's time to get on with a plan of action and milestones of what to do," Sullivan said. He wanted the matter separated from the ongoing legal struggles of sheriff's employees and their workers' compensation claims, or even with their health issues, which the county can't affect–except to the extent that it is responsible for providing them with a safe and healthy building.
"We're in charge of the building. Period," Sullivan said. "We can build a new building, and the other building can stay there and rot for all I care. But right now we're not going back to that building and I'm not going to authorize any more money for it."
Even Coffey, after Sullivan's statement, spoke with more concern about the building's problems than he has in the past, seeing a significant difference in what was just uncovered. "I think it was a milestone the other day, we found something. So that puts us on a lot of different courses. That puts you on a course for potentially the employees, but it also puts you on course for more testing to figure out where it came from. It could have come from something as benign as carpet cleaning. I don't know. We will find all that, and there'll probably be an estimate at some point to fix it or repair it. If it's not repairable, obviously the scenario he threw out made a lot more sense. The board will have a tough decision either way. Obviously you have some stigma now with everything. But let's say the repair is $1 million. Do you throw away the asset for that to build a $10 million facility, and the delay in time? I don't know. But the county found this through its testing, and it was even outside the protocol we were there to do. Some of the minor stuff I don't think is significant. But the water obviously is the most significant thing. Is it repairable or not? I don't think we know the answer to a lot of the questions at this time."
But Sullivan's point today was that the building is beyond repair.
He was asked repeatedly whether he thought the building was salvageable, or whether the site was. He left no room for doubt either way. "There's no hope for making use of that building again no matter how much it costs," Sullivan said. "I'm tired of the whole thing, we started in 2013, and the chickens have come home to roost." Meaning? "The problems with the building starting with the purchase of the property and the old hospital, through what we found with the most recent testing."
Sullivan, who was not a commissioner at the time, opposed the commission's purchase of the building, which until 2003 used to be the old Memorial Hospital (which became Florida Hospital Flagler on State Road 100, until the hospital's name-change last week.) The negotiations leading to the purchase were secretive, the $1.23 million purchase was controversial and questioned.
Commissioner Joe Mullins was supportive of Sullivan's position, particularly after what he saw last week, when he spent time inside the operations center during testing and pointed to spots that should be uncovered, including flooring. "I think it's long overdue, I think it's time, with what I walked through," Mullins said of Sullivan's statement.
O'Brien was more cautious about Sullivan's statement. "I carefully said I agree with most of what he said," O'Brien said. "I need to think through that a little bit. I don't know. I'm not quite there yet as far as not another penny. We need to vet through the other options and all of the information, because we still don't have the final report from the firm that did the inspecting last week."
Commissioners Greg Hansen and Charlie Ericksen did not address Sullivan's statement, though Hansen, by choosing to echo whatever Coffey says on the matter, has become a marginal voice in that regard.
On Sunday, Mullins emailed his impressions of his time inside the building, with pictures and explanations, to all four commissioners (after he said he checked with County Attorney Al Hadeed on how to do so without violating the sunshine law.) "This building is very new to have items looking like the pictures," he wrote as one of his "take-aways," suggesting "corners may have been cut." He concluded: "with all that was found, this issue will not be resolved anytime soon."
Commissioners will select a member to be on the task force at their next meeting, currently scheduled for next Monday, Jan. 14, when they are also scheduled to consider Coffey's fate.
Sullivan's statement radically alters the conversation, raising the questions of where the sheriff's operations should be located now and in the future, and how the county will pay both for the interim and the new building. The money, Sullivan said, "will come from the county, and we may have to go as far as do a referendum for special funding, for a new building. All that may have to happen. But I'm saying: let's stop fooling around on this, and just face facts and move on with a plan. I'm talking only about the building."