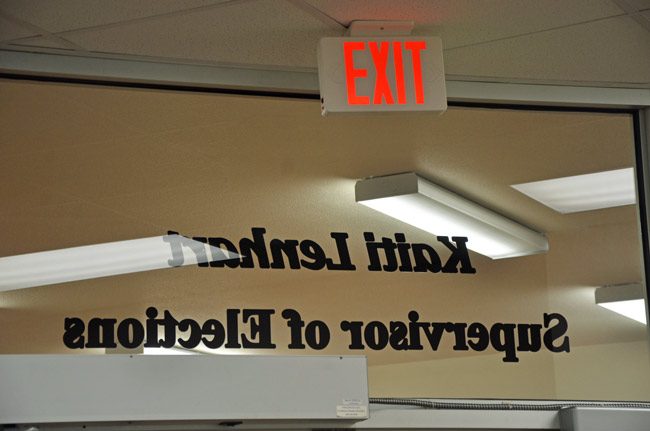 Though almost half the states have declined to provide voter registration data to a presidential panel investigating alleged fraud, officials in Florida and Flagler County are opting to comply with the request even as Democrats and some state legislators called for non-compliance. Flagler County isn;t complying directly. It is doing so through a database available to the state, so no local work hours or resources are being used to comply.
But some voters are responding individually–by cancelling their voter registration. It started with one voter doing so in Flagler on Thursday, and several more have been calling or visiting the Flagler supervisor's office to cancel their registration today, Supervisor of Elections Kaiti Lenhart said. Lenhart became so concerned that, even though she'd written a statement Thursday explaining the county's and the state's compliance, she wrote an open letter to voters today to try to stem the growing number of voters looking to drop off the rolls. (See the full letter here.)
"We've had several today. Just one is too many in my opinion. We've heard from several people this afternoon who are concerned about their privacy," Lenhart said in an interview this afternoon. But the cancellations will not stop the county's voter registration information from being made available to the federal commission, through the state.
"Not all of the data will be provided, as I expected," Lenhart said the Thursday statement. "This has been treated as a public records request and in the state of Florida, your Social Security number and Driver's License / Florida ID numbers are exempt from public disclosure. Florida will only provide that information which is already publicly available. Just to clarify, this request was made of the Florida Secretary of State, not of Flagler County."
Lenhart continued: "This public information being provided to the Commission includes: voter name, addresses, date of birth, political affiliation and voting history. You vote by secret ballot, so the public voter history information is not 'how' you voted, but instead, the elections in which you participate. Social security numbers are never public record and they are not shared to anyone who requests public records by your local Elections Office."
The federal commission asked for the last four digits of every voter's Social Security number. Those numbers will not be in the information provided out of Florida.
Lenhart stressed her opposition to information that could be turned into a federal voter database. "I also do not believe any information provided by any state to this Commission will be used to create a national voter registration database and certainly would not recommend this for security, legal and practical reasons. One strength of our elections process is the fact that it is decentralized. Elections in Florida are independently conducted in each county by competent, transparent, elected Supervisors of Elections who are working for you every day to maintain the integrity of the voter rolls and security of the process."
---
A concern about the "politicizing" of the electoral system even as no evidence of fraud has surfaced.
---
Lenhard blamed the current climate for "the politicizing of our voter system," which she said is resulting in apathy and undermining the trust in the electoral system. She's been fielding calls from voters for the past few days.
Lenhart says it's not known what the federal commission will determine from its investigations. "If they're just using the information we're providing, they're going to get a lot of false positives," she said. One example, said said, makes the point: there are 1,820 people registered as "John Smith" in Florida alone. They may all vote in any given election. That could appear as if the same person is voting repeatedly, across the state.
President Donald Trump's claims of voter fraud in the United States have repeatedly and forcefully been debunked by analysts, media, fact-checkers upon fact-checkers, and supervisors of election, among them Flagler's own Kaiti Lenhart.
In Flagler County specifically, there has not been a single documented instance of voter fraud in the last two elections. During the last primary, there was the case of a man who tried to vote twice. He did so intentionally, he said, to test the system and see if he'd be caught. He'd cast a ballot in early voting, and tried to do so again on Election Day. He was caught. In other words, the system's verification procedures worked as planned. But even such attempted cases of fraud are extremely rare. There have, in addition, been cases of a few individuals casting ballots or registering to vote before the supervisor's office received notice from the state their their eligibility had been revoked, once they have been sentenced as felons. But again, those are matters of delayed documentation from the state reaching the local office, and they are extremely rare.
Similar evidence prevails across the country. Despite the lack of evidence of fraud, the president has continued to make the same false claims.
On May 11, he signed an executive order creating a Presidential Advisory Commission on Election Integrity. The stated goal of the commission is to examine elections and registration procedures across the country and investigate claims of fraud.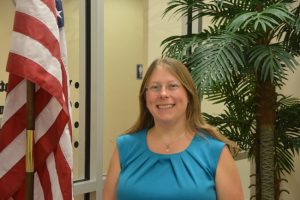 On June 28, the vice chairman of the commission, Kris Kobach–the secretary of state in Kansas–sent letters to secretaries of state across the country, " requesting that you provide to the Commission the publicly available voter roll data for Connecticut, including, if publicly available under the laws of your state, the full first and last names of all registrants, middle names or initials if available, addresses, dates of birth, political party (if recorded in your state), last four digits of social security number if available, voter history (elections voted in) from 2006 onward, active/inactive status, cancelled status, information regarding any felony convictions, information regarding voter registration in another state, information regarding military status, and overseas citizen information."
The request triggered an uproar from state officials, Democrats and Republicans alike. By Thursday, 22 states and the District of Columbia said they would not comply, including solidly Republican states (among them Kentucky, Tennessee, the Dakotas, Nebraska, Mississippi and South Carolina). Louisiana, as about half a dozen states haven informed the commission it could buy what legally available documents are available, but otherwise the state would not comply. "You're not going to play politics with Louisiana's voter data," Louisiana Secretary of State Tom Schedler said in a statement.
Maryland Attorney General Brian Frosh called the request "repugnant" and said it was illegal, as it appears, he wrote in a statement, "designed only to intimidate voters and to indulge President Trump's fantasy that he won the popular vote."
The concerns find an echo locally, even as the county is complying with the commission's request.
"I spent a majority of the past two days personally responding to each of the Flagler County voters who expressed your concerns by email and phone. It is disheartening to have received one request from a voter who asked to cancel their voter registration. If you have considered this, I would ask that you remember your vote is your voice in government. Your vote is counted in every election. We just celebrated together Independence Day, the founding of this great nation, in honor of all who fought and died for our freedom. An active, informed electorate builds a strong community. Stay registered AND vote in every election!"