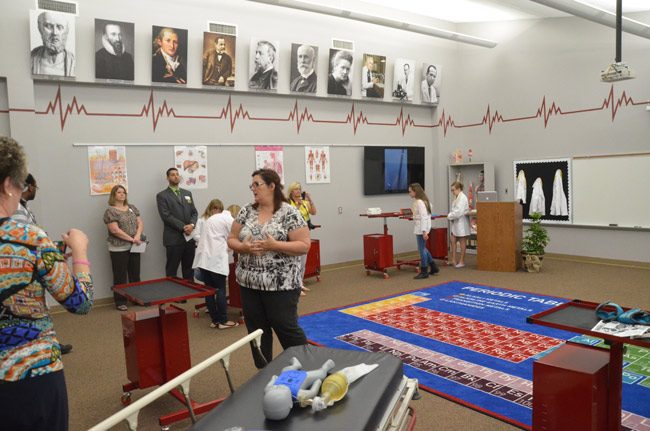 Flagler County students and faculty have a lot to be proud of: by almost every measure, they have improved their English, math, science and social science scores, year over year, according to 2017 test results the Department of Education released today.
And Flagler's students have ranked in the top third, and at times better than that, when compared to Florida's 66 other school districts. The results are as good as a swan song, performed by students, for Jacob Oliva, who put in his last day as superintendent last week, and a steep challenge for newly minted superintendent James Tager to maintain or improve on.
For the second year running, the very best performance was turned in by the district's 6th graders in math's Florida Standard Assessment, with 65 percent of students scoring at a level 3 or better, ranking them seventh best in the state. Last year they also scored a 65, and were ranked fifth. That success appears due especially to students and their teachers at Old Kings Elementary, where 79 percent of students were at a level 3 or better last year, and 75 percent were at 3 or better this year, eight points ahead of second-best Belle Terre Elementary and Wadsworth Elementary.
Biology students in grades 6 through 12 also had very large improvements, going from an already healthy 63 percent proficiency or better to 74 percent, and beating the state average (which fell by a point) by 11 points. Both Flagler Palm Coast High School (71 percent) and Matanzas High School students (74 percent) put in strong performances in biology, based on spring testing.
Standardized test results are a bit complicated nowadays by the fact that assessments are based on Florida Standard Assessments, which are like the latest-generation FCAT, as well as so-called End of Course exams. Certain disciplines, like biology, civics, US history, geometry and algebra 1 and 2 are tested through the End of Course exams. Language arts and general math are tested through the FSA approach.
That said, when the numbers are analyzed for trends and net scores, the resulting image is quite bright. (See the details in the chart below.)
"We are always looking to improve our scores, but I am extremely excited at what we're seeing with our scores," Tager is quoted as saying in a release the district issued this afternoon . "You look at the trends and our students are either at or above the state average in every subject but one."
Gains in language arts across the district were modest, with the combined 3rd-through-10th grade scores improving by just a point, to 58 percent at level 3 or above, though remaining four points above the state average. the county's 3rd graders are especially strong this year, ranking 11th in the state, as are 4th graders, ranking 17th, but 5th graders ranked 30th, 7th graders ranked 24th, and 10th graders 25th, pointing to a disparity that must always be taken into account with standardized tests: each year's crop of students is different, and is not necessarily a reflection of the faculty (though when the same grades perform a certain way year after year, conclusions about the faculty are fairer to to draw.)
The math FSA scores were consistently strong, mostly ranking in the state's upper third or half, and with this year's 7th graders improving on last year's weaker group. Some 60 percent of 7th graders managed a 3 or better, an improvement of six points over last year, vaulting the grade's ranking from 39 in the state last year to 23 this year. That class, now that it has moved on to 8th grade, saw its scores tip to 50 percent at proficiency, compared to 52 percent last year–one of the rare blips in the year's results, and one that suggests a weakness within that class, rather than within faculty–and may prompt more focused attention from the district, now that it is aware of the class' relative weakness.
In science, aside from biology, students are still struggling a bit, managing to remain just beyond the 50 percent threshold in proficiency, and a few points above the state average, though nothing stellar in that regard. Students appear more adept at history and civics, ranking 28th and 21st respectively in those disciplines, and earning 71 and 74 percent proficiency or better, while beating the state average by a few points.
One serious blip: only 38 percent of Flagler Palm Coast High School students taking the end-of-course geometry exam passed it with a 3 or better, down from 47 percent last year, and well below Matanzas's 58 percent at proficiency.
"We want to take a closer look at our high school geometry scores," Tager said, "but I want to congratulate our students, teachers, and staff for working extremely hard and I hope they recognize that hard work is paying off."


2016-2017 Florida Standard Assessment and End of Course Exams
| Exam | Grade | Flagler, Percent Proficient, 2016 (Florida Comparison) | County Ranking | Flagler, Percent Proficient, 2017 (Florida Comparison) | County Ranking |
| --- | --- | --- | --- | --- | --- |
| US History EOC | 5-12 | 68 (66) | 33 | 71 (67) | 28 |
| Language Arts | 3-10 | 57% (52%) | | 58% (54%) | |
| Language Arts | 3 | 63 (54) | 13 | 69 (58) | 11 |
| Language Arts | 4 | 56 (52) | 22 | 59 (56) | 17 |
| Language Arts | 5 | 54 (52) | 13 | 53 (53) | 30 |
| Language Arts | 6 | 60 (52) | 13 | 57 (52) | 18 |
| Language Arts | 7 | 53 (49) | 13 | 54 (52) | 24 |
| Language Arts | 8 | 61 (57) | 13 | 60 (55) | 18 |
| Language Arts | 9 | 54 (51) | 13 | 58 (52) | 17 |
| Language Arts | 10 | 56 (50 | 15 | 53 (50) | 25 |
| Math FSA | 3 | 70 (61) | 13 | 69 (62) | 16 |
| Math FSA | 4 | 65 (59) | 17 | 68 (64) | 20 |
| Math FSA | 5 | 55 (55) | 32 | 58 (57) | 27 |
| Math FSA | 6 | 65 (50 | 5 | 65 (51) | 7 |
| Math FSA | 7 | 54 (52) | 39 | 60 (53) | 23 |
| Math FSA | 8 | 52 (48) | 28 | 50 (46) | 26 |
| Math FSA and EOC | 3-8 | 63 (57) | 16 | 65 (59) | 16 |
| Math FSA and EOC | 3-5 | 63 (58) | 16 | 65 (61) | 17 |
| Math FSA and EOC | 6-8 | 62 (56) | 20 | 65 (57) | 17 |
| Science | 5 | 47 (51) | | 51 (51) | |
| Science | 8 | | | 54 (48) | |
| Science and Biology | 8 | 54 (50) | | 54 (50) | |
| Biology 1 EOC | 6-12 | 63 (64) | 39 | 74 (63) | 10 |
| Civics EOC | 3-12 | 71 (67) | 20 | 74 (69) | 21 |