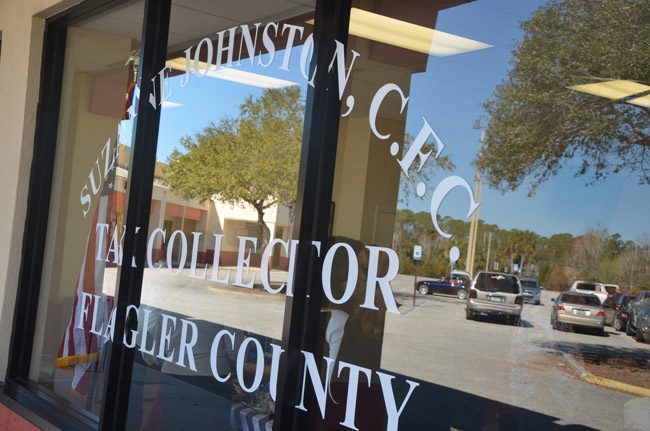 Seven years ago the Florida Department of Highway Safety and Motor Vehicles blamed the Great Recession for low traffic and closed 13 driver's license bureaus across the state, among them the one in Flagler Square in Flagler Beach. Months later, Food Lion a few doors down closed, spelling doom for a shopping center that has been struggling to be more than an idle parking lot since.
On Wednesday, life returned in the same old driver's license bureau, this time as the second branch location for the Flagler County Tax Collector's office, to go along with the branch in the Staples shopping center off Old Kings Road in Palm Coast, and the main office at the Government Services Center in Bunnell.
"I got a driver's license here," Jay Gardner, the Flagler County Property Appraiser and a Flagler Beach resident, remembered of the old days during the gala-like opening, noting that the office was designed for just such a purpose. Tax Collector Suzanne Johnston needed it because she's been running out of space at her two other locations, and foot traffic demands it. "Right now she's using my office for storage because she doesn't have space down there." The new branch, he aid, "will be good for me because I live in Flagler Beach."
Gardner was kidding, somewhat, since he practically lives in Johnston's office at the Government Services Building.
"It's needed," Johnston said of the new branch. "The branch office in Palm Coast is busy, there's a line down the sidewalk and it only holds eight employees."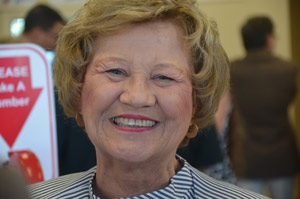 The numbers explain why Johnston needed an additional office: walk-in transactions at the main office have jumped from 116,221 in 2010 to 130,280 in 2015, a 12 percent increase. Transactions have jumped from 54,734 to 79,421 at the Palm Coast Branch office, a 45 percent increase. And that was before what's expected to be a considerable increase in 2016 as Johnston started issuing concealed weapons permits starting at mid-year, in a county that was already in the top-10 among Florida's 67 for such permitting.
In fact, the new branch office in Flagler Beach will by March become the exclusive location where residents and other Floridians may get their concealed weapon permit. Currently, those permits are issued at the Bunnell location. But the demand in state law that concealed weapons permitting be as private as possible means that tax offices have had to either reconfigure their offices to create private spaces, or to open new offices—such as Johnston's in Flagler Beach.
The location's 3,400 square feet is much larger than the 1,200 square feet of the Palm Coast branch, and it includes two corner rooms that have been devoted to concealed weapons permitting—a waiting room, where gun owners can wait together, but out of view of other people who use the office, and a room where they can fill their applications and file them electronically. Yet another special treatment for weapons owner is the fact that their records are exempt from the state's public records law. No such discretionary allowances as private offices or dissimulated computer terminals are ever afforded other users of government services such as people applying for food stamps, social assistance or unemployment.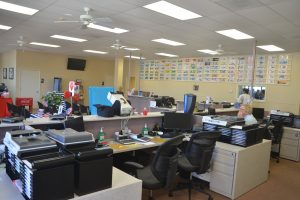 That new branch will not accommodate driving tests. That will still be done exclusively at the Bunnell office. But the visual test, the issuing of tags or driver's licenses and all other services—issuing of identification cards, hunting and fishing licenses, disabled parking permits, vessel registrations and so on—will be conducted at the new branch.
People are also streaming in from Volusia County to use the tax collector's services, as the tax collector has a reputation for running a very customer-friendly operation. "Her influx from Volusia County is tremendous," said Craig Coffey, the county manager. "I think it's a credit to her and her customer service." County workers from the maintenance and IT departments contributed to setting up the branch.
To run the new branch, Johnson signed a 10-year lease, at a rent of $3,400 a month, and her staff has increased by four, for a total of 39 employees spread between the three offices—eight at each of the two branches, 23 at the main office. The new branch will be co-managed for a while by Donna Masse and Kelly Mullen.
Wednesday's opening featured a festive turnout of Flagler Beach, Palm Coast and county officials, the Chamber of Commerce board chairman, a representative from the sheriff's office, the music of Carl Monte,and 16 pound cakes baked by Tax Collector Suzanne Johnston's sister.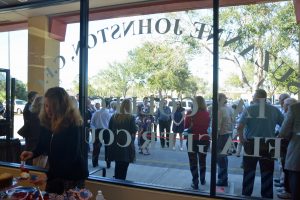 "Hopefully this is one more convenience for everybody in the eastern part of the county," Flagler Beach City Commissioner Marshall; Shupe said. "Come out and enjoy it, stop by to enjoy a good breakfast next door, or on the way to the beach." Shupe was referring to Sammy J's ("Boston's Best Breakfast," in Flagler Beach!), one of the dogged businesses trying to survive in the shopping center. There aren't many. There's also a lacrosse sporting goods shop called Lacrosse, a Fitness One, a nail salon, and Junque Trunk, the antique store that's made a name for itself thanks to Jeff Cappaletti, whose demented sign-brandishing gyrations on State Road 100 have attracted more than customers' curiosity.
The tax collector's branch itself had been a motorcycle storage space for less than a year before that business closed.
Flagler Beach city officials are seeing the tax office as a commercial cornerstone for the revival of the shopping center, in tandem with a projected increase in residents in the area: some 200 new houses are planned off Colbert Lane, opposite Sea Ray, and six months ago the county approved another 100 platted properties on South Anderson Highway, in Gardner's neighborhood.
"It's wonderful for citizens," Flagler Beach mayor Linda Provencher said of her constituents, "they only have to cross the bridge a little bit. But it's also great for this shopping center, which has been empty for quite some time."