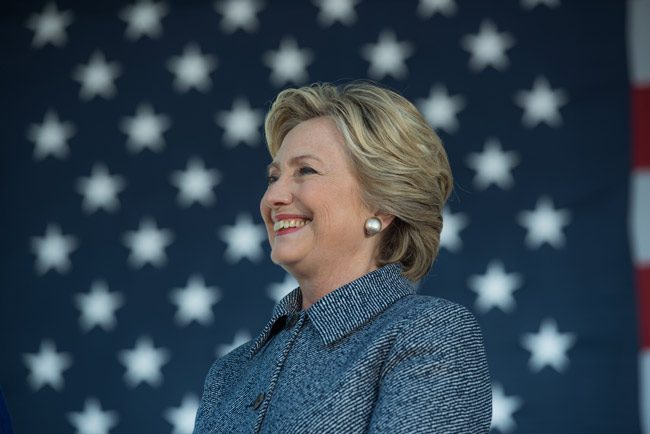 Coming out of their first televised debate, Democrat Hillary Clinton holds a narrow lead over Republican Donald Trump in the critical battleground state of Florida, a new poll shows. Clinton is backed by 46 percent of likely voters, while Trump has the support of 42 percent, according to the Mason-Dixon Polling & Research poll released Friday.
Libertarian Gary Johnson is at 7 percent, Green Party candidate Jill Stein is supported by 1 percent, and 4 percent of voters remain undecided.
"Despite small shifts that have given Clinton a post-debate bump, the race is still very competitive and the outcome will hinge on where and among whom voter turnout is higher," Mason-Dixon said in a release announcing the poll numbers.
Clinton and Trump debated Monday in New York. The Mason-Dixon poll of 820 Florida voters was conducted from Tuesday through Thursday and has a margin of error of 3.5 percentage points.
After what may have been her worst week of the campaign, leading into her first debate with Trump, Clinton has benefited from her debate performance, widely seen as commanding and sharply contrasting with Trump's missteps, while Trump himself has compounded his errors in the days since, insisting on doubling down on his lesser moments–ridiculing the weight of a former Miss Universe contestant and flirting with attacks on Bill Clinton's former affairs. Their next debate is scheduled for Oct. 9 in St. Louis.
The Real Clear Politics average of all major polls has Clinton again in the lead in Florida after trailing Trump there for a few weeks. She has a lead of 1.2 percentage points, with four of the last six major polls giving her an advantage.
Florida is critical to Trump if he is to win the election. It is less critical to Clinton, who has other ways of getting to 272 electoral votes. Clinton also has the lead in the two polls with the largest samples.
"If you look at the map, he can't get there unless he wins Florida's 29 electoral votes," Real Clear Politics Publisher Tom Bevan told Fox News' Megyn Kelly He would really have to run the table, it would take something of a miracle. So, that is critical for Donald Trump. Obama won Florida by less than a point in 2012, it is now within one point in our RealClearPolitics average. It has been really close for the entire month of September. Trump is going to try to run up his numbers in the North, in the Panhandle. Clinton will run up her numbers in South Florida. And then the battle will be fought, as it always is in Florida, in that I-4 corridor around Tampa. That is where this state will be decided."