"Josh" Davis, Felony  Assistant State Attorney, has been a resident of Flagler County since 2008. Josh is married to Lesley and has four children, Noah, Lauren, Addison and Macy. His involvement with our community has included working with the Teen Court Program, being a member of the Drug Court Team and training local Law Enforcement on how  to better serve the community. Mr. Davis is asking for your vote on August 14 in the judicial race for Flagler County judge.
Mr. Davis graduated from the University of North Florida with a Bachelor's degree in Criminal Justice and a minor in Political Science.  Subsequently, Mr. Davis attended Florida A&M University, College of Law in Orlando, Florida where he received the degree of Juris Doctor. As a licensed attorney, Josh has devoted his entire career as a public servant to the residents of the State of Florida. First, Josh became an Assistant Public Defender in Daytona Beach. As a Public Defender, Josh protected the rights of individuals charged with
crimes in Juvenile, Misdemeanor and Felony cases while practicing in both County and Circuit Courts.
Next, Mr. Davis went on to protect the rights of children involved in the dependency system by becoming a Senior Program Attorney with Guardian ad Litem for the Seventh Judicial Circuit. In 2009 Josh became an Assistant State Attorney in Flagler County. He now serves as the Felony Intake Attorney in Flagler County for the Office of the State Attorney, Seventh Judicial Circuit. After a felony arrest is made in Flagler County by local Law Enforcement, it is Josh's responsibility to determine the proper legal course of action for each case.
EXPERIENCE
LEGAL
EXPERIENCE
Office of the State Attorney, 7thJudicial Circuit, State of Florida
Assistant State Attorney
•Misdemeanor/Juvenile Trial Attorney/Felony Intake  Attorney
•Determine the proper legal course of action for any felony arrest made in Flagler County.
•Review warrants submitted by law enforcement for legal sufficiency.
•Prosecution of sex crimes.
•Participated in running worthless check division along with First Appearances.
•Balanced extremely large docket and assist with special out of county assigned cases.
•Handled numerous juvenile cases including sexual battery and arson.
•Staffs cases with Special Crimes Detectives and Fire Marshals to settle complex legal issues involving serious crimes.
•Responsible for filing decisions, plea negotiations, motion hearings and trials.
•Initiate meetings with State Attorney Investigators, Law Enforcement and Detectives instructing them on the proper course of action.
•Communicated with worthless check liaisons and staffed cases to determine optimal outcome.
•Collaborated with victims and defendants to ensure best possible solution.
•Met with assigned Judge and Public Defender each day to determine probable cause sufficiency for arrestees.
•Interfaced with Law Enforcement Officers to properly write Probable Cause Affidavits.
Guardian Ad Litem, 7th Judicial Circuit, State of Florida
Senior Program Attorney
•Represented the best interest of children involved in dependency proceedings.
•Assisted children navigating their way through Florida's Family Courts.
•Participated in mediations and case plan conferences to determine whether D.C.F. or the parent's attorney represented the best interest of the child.
•Civil trial experience.
Law Office of the Public Defender, 7thJudicial Circuit, State of Florida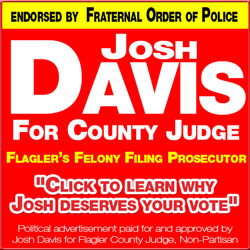 Assistant Public Defender
•Felony Trial Attorney.
•Handled and tried complex criminal felony cases.
•Conducted depositions of potential State witnesses.
•Arraignment Attorney.
•Entrusted with representation of incarcerated clients.
•Drafted and filed TASC evaluations, competency evaluations and thirty-three (33) day motions.
•Negotiated with Assistant State Attorneys for early resolutions to gain incarcerated clients desirable outcomes.
•Misdemeanor Trial Attorney.
•Selected juries and successfully defended clients at trial.
•Filed and successfully argued motions to suppress.
•Juvenile Trial Attorney.
EDUCATION
Florida Agricultural & Mechanical University, College of Law, Juris Doctor
University of North Florida, Bachelor of Arts
CONTACT JOSH FOR MORE INFORMATION

email: joshdavisforjudge@gmail.com
Mail:
Facebook
Twitter
Support Josh's campaign, make a contribution
Paid advertisement for and approved by Josh Davis for County Judge, Non-partisan