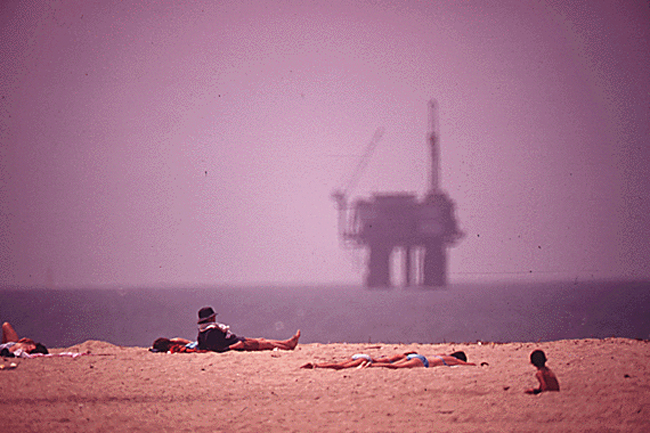 One thing you should know about the oil spill from that BP rig in the Gulf of Mexico is that oil is still gushing into the sea at a rate of almost 10,000 gallons per hour. Another thing you should know is that it'll be several weeks and possibly months before BP effectively stops the spill. It's virtually certain that by then more oil will have spilled into the Gulf than when the Exxon Valdez released 10.8 million gallons of oil in Alaska in 1989, demolishing Prince William Sound's fisheries and way of life for thousands and costing billions of dollars in cleanup.
It hasn't helped that the Obama administration's response to the disaster has been as bungling as the Bush administration's response to Katrina. For days, Obama looked more willing to defer to BP's executives than treat them like the Goldman Sachs of the seas. And that, following up on Obama's embrace of drilling as part of his energy mantra. Off-shore drilling has always been a bet on a false premise—that a serious drilling disaster would never happen because the industry was improving its techniques all the time. But it has happened, because it was always a bet, and sooner or later bets are lost, along with, in this case, 11 lives and who knows what, and how much, else.
---
Leave No Intonations Behind: Pierre Reads the Column[media id=17 width=250 height=100]
Prince William Sound was sparsely populated. The Gulf from Louisiana to Florida isn't. Florida's $50 billion tourism economy depends in large part on its clean beaches. The first muck of crude has yet to lap at Florida's shore, though it will. It may be years before the true cost of this latest of crude disasters is tabulated. All that's known is that it will far exceed the devastation of the Exxon Valdez, environmentally and economically. If the Exxon Valdez was the oil industry's Three Mile Island accident, the BP spill is its Chernobyl.
It shouldn't take years or even weeks to settle one issue today: More off-shore drilling is not the way. Not that we didn't know that already. The dirty little secret of the oil industry is that peak oil is a 40-year-old American reality. U.S. oil production peaked in 1970, at exactly 10 million barrels per day, never to come close to that again. Production is now half that, while daily consumption has increased 40 percent. Put another way: we import more oil today than American wells produced at their peak. The best off-shore drilling scenarios cannot possibly put a dent in that trend. But the oil industry and its complicit politicians keep trying, especially in Florida, covering up in fantasy what they can't prove in fact.
According to the secretive group of oil concerns called Florida Energy Associates—that's the all-drilling, all-the time group trying to convince state lawmakers to chuck the moratorium on drilling—there's as much as 3 billion barrels of oil beneath Florida's coastal waters. The number is an outright distortion of a 2007 U.S. Geological Survey analysis that estimates all crude oil deposits over the entirety of the Southern United States, to have a 50-50 probability of holding 690 million barrels. Only a fraction of that amount would be in Florida waters, yielding nowhere near the royalties Florida Energy Associates claims will fill state coffers.
Let's assume 3 billion barrels were in state waters. Those reserves wouldn't produce oil or royalties for seven to 10 years, when whatever they produce won't come close to making up for declining production from Alaska and Texas and increasing consumption all over the place. Oil companies and OPEC nations will profit. Consumers won't, especially if they're told today to drill, baby, drill, instead of developing alternative energy sources, conserving and getting off oil. And even less so if their tax dollars are part of cleaning up after oil, as they inevitably are when these disasters strike. Still want to bet a $50 billion state tourism industry on fanciful royalties amounting to less than half of 1 percent of that a decade from now?
If you drink the oil industry's snake oil you might. Exxon loves to turn its responsibility for the Exxon Valdez disaster into self-sacrificing PR. The company says it paid $3.5 billion in cleanup costs over the years. It did. But amortized over those years, it amounts to $175 million a year. Exxon made that much money in profits in 33 hours in 2008, when it recorded more profit ($45 billion) than what it cost us taxpayers to fight the war in Afghanistan that entire year. Get ready for similar PR from BP even as our beaches soak up the crude and our state treasuries get soaked by the resulting costs.
Don't get me wrong. There's drilling to be done. But it's more along the lines of craniums that need their brain cells corrected than along the shorelines of Florida.
Pierre Tristam is FlaglerLive's editor. Reach him here.