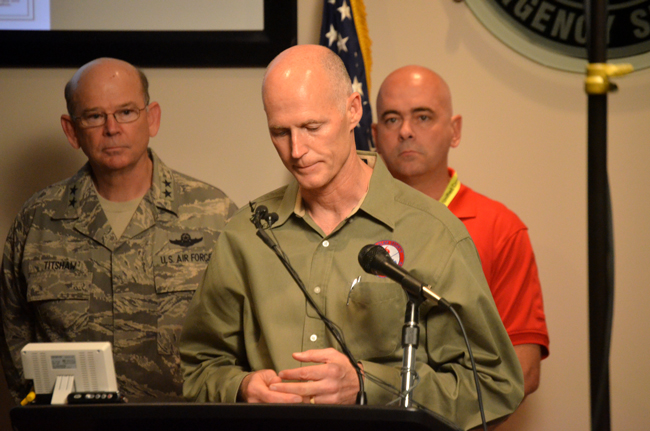 Maybe it took seeing him in person to really get the fact that the guy doesn't get it. And this is the guy in charge of our fate as a state: a man so disconnected, so clueless, so scripted as to need a prepared statement to fill in three of the nine minutes he gave the press, three minutes that added up to something like a public service announcement for third graders about not dropping lit matches on dry forest floors. This is the man allegedly in command of the state's (and Flagler's) biggest emergency since the hurricanes of the mid-2000s.
Rick Scott's parachuting visit through Flagler County today was embarrassing. It was embarrassing to watch the spit-polish obsequiousness surrounding him, embarrassing to be part of it, and worse than embarrassing—worrisome is the better word—to realize that in an emergency, this is the man in charge, a man to whom command of public matters seem as alien as his empathy for the men and women on the front lines of the emergency.
Men and women Scott refused to see today. Firemen whose sweat and mud and exhaustion Scott had no time for, except in mention as passing as his stop-over.
Have you visited the fires, governor? "I saw the fires as I was flying in." Do you intend to visit the fires? "I'm not going to go tour right now any fires locally." But he'll be flying to Naples and seeing more fires from the air, hopefully. Have these politicians not learned from George W. Bush's Katrina fly-over that watching from the plush comforts of the mile-high club doesn't cut it with the people contending with the misery below? He arrived at 4:08 p.m. His schedule knocks off at 5. He was out at 4:45. Gone. Photo-op over.
His half hour included the time it took to wend his way from Suburban to briefing room to situation room—so fast, so climate-controlled, that he never so much as took a whiff of the acrid smoke the county is living with. His lay-over in the situation room was officially billed as a press conference but was really a camera-ready flattery squad: Scott standing there at the dais with remarks as canned as the lineup of emergency response personnel and the Florida National Guard's Adjutant General Emmett Titshaw behind him. It would have been nice to see a rank-and-file firefighter next to the governor. No room in that frame. Consider it a 3 percent cut from the photo op.
---
The Live Column
---
---
And there they were, county and city managers, politicians (the entire county commission, I hear, at least two Bunnell commissioners, where a parade is always appreciated), emergency operations personnel, not to mention the rest of us schmucks—reporters, who can almost always be counted on to play into the hand that feeds them fake news—filling that situation room with bated breath as if the man who walked in the door was going to be—imagine that—enlightening, or reassuring, maybe a little inspiring. Isn't that what we look for from leaders in times like these? Hadn't this man just declared a statewide emergency? Instead, we got a lesson about hot catalytic converters on dry brush and smoke sightings from 30,000 feet up.
He was incapable of explaining what that state of emergency meant, what it will do by way of relief, what it may do to convince the federal government to step in. Maybe that's above his pay grade. Every man and woman behind him could probably answer those questions better and more accurately, and several of them have. But a governor could do more. He could convey a sense of certainty that even these men and women can't, because they don't control the state's full capabilities. They're not the ultimate authority. He is. What we would have liked to hear is that not only is Scott committed to doing (and spending) whatever is necessary to stem this emergency to the degree that it is humanly possible, but that he understands it, that he knows what's at stake, that he's involved, that this is the place where he should get to work, and not just for 25 minutes.
Scott didn't. In Flagler County Tuesday afternoon, he clocked in and out, and made a few local politicians, kindred spirits perhaps, feel like he'd just done Flagler the biggest favor in the world by deigning to take a moment from his 9-to-5ers to drop in.
Meanwhile he set aside three and a half hours for Enterprise Florida's monthly board meeting this morning, and another hour for lunch with Enterprise Florida and the Florida Chamber of Commerce, the latter fresh from its union-busting onslaught against the state's teachers, firemen and police officers—some of the same public employees he praised in generalities today. No wonder Scott couldn't spare a moment visiting firemen on the line. He wouldn't know what to tell them, how to sincerely speak his support anymore than he knew what to say during that synthetic event at the county EOC. And to think that this is the man in command, now and for the next three years.
There is a state of emergency in Florida. The wildfires are the least of it.