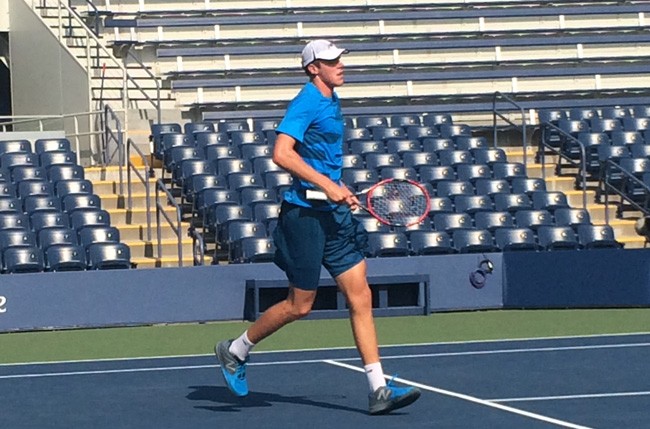 FLUSHING MEADOWS, N.Y. — The kiln-like conditions on Court 17 at the Billie Jean King National Tennis Center Tuesday meant a few things: First, there weren't a whole lot of fans watching Palm Coast's Reilly Opelka get better as the match went along and dominate. There were 40 spectators at the start, with the temperatures reaching 94 degrees, though dozens more trickled in throughout.
Second, what the sun didn't melt, Opelka's serve did. The 18-year-old junior Wimbledon champion smashed a personal-record 141 mile-per-hour serve, the second-fastest by anyone at this year's U.S. Open, and cruised past Japan's Yosuke Watanuki, 6-4, 6-1.
He now moves on to face South Korea's Yunseong Chung in the third round on Wednesday. Opelka has now reached the third round at the U.S. Open Juniors for the first time. He lost in the first round in 2013, and the second round last year.
"It actually wasn't that bad moving around in the heat," Opelka said. "I think it was worse for everyone sitting down, watching."
As for his record serve, topped only by Milos Raonic's 147 miles-per-hour blast earlier in the men's draw, Opelka admitted he did see that one.
"I never look at it but I did see it when I sat down at the changeover, since it was the last point of the game," he said with a smile. "I definitely felt like I hit that one pretty good."
Opelka, a former Indian Trails Middle School student, struggled a bit with his groundstrokes at the start, and the heat and the lack of crowd atmosphere was very different from his first-round win.
But Opelka got better as the set went along, and despite Watanuki exhorting loudly to himself after practically every point he won, Opelka broke serve in the ninth game of the first set before serving it out.
"I started attacking to his forehand more, which is the opposite of what you usually do," he said. "I was getting into a better rhythm and it started to work out for me."
In the second set Opelka picked up his game significantly, saving two break points against in his first service game, then ripping backhand winners at will and breaking Watanuki's serve twice more to grab a 5-0 lead.
With his mom Lynne and father George, still Palm Coast residents, looking on in the stands, Opelka closed the match out in style, forcing a Watanuki error off a strong backhand. The match against Watanuki was a rematch of their third-round clash at Wimbledon, won by Opelka.
His match Wednesday will be against Chung, a hard-serving player with a big forehand who Opelka beat at the Orange Bowl Tournament last year.
The previous story is below.

Opelka Cruises to Win In First Round of U.S. Open Juniors Behind 135-mph Serve
FLUSHING MEADOWS, N.Y., Sept. 7 — Reilly Opelka had to wait a few hours longer than he expected to get on the court Sunday for his first-round match at the U.S. Open Boys tournament. So he made sure he got on and off the court very quickly.
Hitting speeds of 135 miles per hour with his serve, the sixth-seeded Opelka cruised past unseeded Alejandro Tabilo of Canada, 6-1, 6-4, in a mere 52 minutes.
Opelka, a former Indian Trails Middle school student, delighted a big crowd on Court 17 at the Billie Jean King National Tennis Center, smacking 12 aces and only being broken one time. His match didn't start until 6:30 p.m. thanks to several matches going three hours before his on Court 17.
"I don't ever notice it, really," Opelka said of the radar gun on some courts. "I know I went 138 miles per hour at Wimbledon, someone told me that. I just know when a serve feels good, and it comes off the racket better you know it. But I'm going after my serve the same each time."
Opelka, the junior Wimbledon champion, raced out to a 5-0 lead in the first set and was never seriously threatened by Tabilo.
"I thought I played pretty well," he said after the match. "He came out really tight, missing a ton of balls and definitely nervous. I played a clean match."
Wearing his baseball cap forward rather than his usual backward style (a U.S. Open official told Opelka he had too many logos on his hat before the match, so he had to Sharpie some of them out), Opelka drilled 19 winners and made 17 unforced errors.
Opelka will now face Yosuke Watanuki in the second round; the two squared off in the third round at Wimbledon in July, with Opelka winning in straight sets.
"I served awful in that match, but I played really well from the baseline that day," Opelka said. "If I can serve better, I should be in good shape."
–Michael Lewis for FlaglerLive