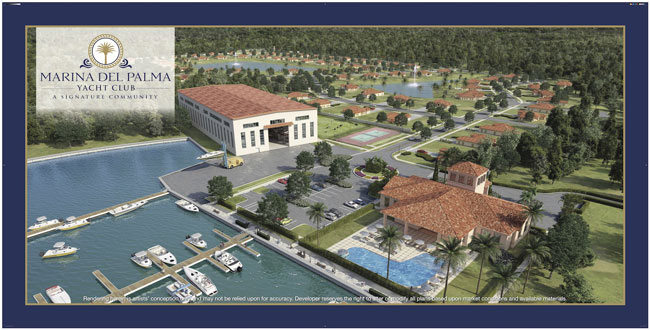 Sunbelt Land Management Chooses Palm Coast for Marina del Palma Yacht Club
As a real estate development professional, Ken Belshe, Regional Director for Sunbelt Land Management, is always on the lookout for exceptional coastal locations that can provide increasing real estate values and promise his customers a high quality of life.  When it came to choosing a site for the innovative Marina del Palma Yacht Club community, Palm Coast, in fast-growing Flagler County, easily got the nod; and the fact that the population of Palm Coast expanded by a whopping 23.7 percent in the last ten years certainly helped with the decision.
According to Mr. Belshe, residents of Marina del Palma Yacht Club will enjoy all the best that Florida offers – a naturally beautiful coastal city with small town charm, plus easy access to all the amenities of nearby towns and metropolitan areas. "Palm Coast draws people looking for the Florida good life with boating, fine dining, world-class golf and pristine beaches right at their doorstep," he said. "Marina del Palma provides boat owners everything they dream of for luxury maritime living, and more."
In real estate, location is everything. Palm Coast, one of Florida's newest and trendiest cities, is situated just 20 minutes from historic St. Augustine and exciting Daytona Beach with Jacksonville and Orlando both an hour's drive away. The Marina del Palma Yacht Club community is positioned only 1,500 feet from the scenic Intracoastal Waterway, a major plus for boaters. In addition, the pristine beaches of the Atlantic Ocean are only 3 minutes from the front gate of the community.  Palm Coast was recently named one of America's 50 best cities to live by 24/7 Wall St. and cited as the best city for retired water lovers by Money magazine. USA Today recently declared Palm Coast one of the 50 Best Places to Live.
Mr. Belshe noted that residents can easily access Marina del Palma Yacht Club's onsite concierge boating services which is designed to eliminate all of the hassles of boating and boat ownership. With little or none of the typical boat preparation chores, one can spend the day on the Intracoastal Waterway or head out to sea through Ponce Inlet to the south near Daytona Beach or Matanzas Inlet which is about 11 miles north of Palm Coast.  "This area of Florida offered one of the last opportunities to develop a luxury community of this size so close to the Intracoastal Waterway," he said. "This area has beautiful inlets and creeks to explore with indigenous wildlife and gorgeous views. Marina del Palma Yacht Club residents will enjoy their boat while visiting many wonderful cafes, restaurants, shops and galleries. Palm Coast is really a very special place."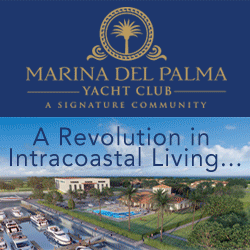 Marina del Palma Yacht Club is a new and exciting concept in luxury maritime living that was 15 years in the making. Sunbelt Land Management considers the community its crowning achievement. Buyers will find a Mediterranean-style yacht club community with design features that echo the charming Old World port cities of Europe. Small and exclusive, master-planned Marina del Palma provides joint ownership of a state-of-the-art boathouse providing an indoor boat slip for every home.
Onsite concierge boating includes dry dock storage and the services of a boat attendant waiting for the call to ready a boat for use. Residents of Marina del Palma Yacht Club will enjoy the maritime country club lifestyle within a gated community featuring a waterfront resort-style swimming pool, a clubhouse, lighted tennis court, a fitness center and an on-site dog exercise park. The community is now offering a limited number of homesites at preconstruction pricing.
Marina del Palma Yacht Club will feature the active outdoor lifestyle that is so popular in and around Palm Coast. The city is a boating and fisherman's paradise with more than 70 miles of canals and easy access to the freshwater of the nearby St. Johns River. Golfers can enjoy eight local golf courses, and there is a multitude of parks and a highly-acclaimed tennis center. With an average of 221 days of sunshine every year, Palm Coast can easily accommodate the outdoor lifestyle that today's retirees and families seek. The city makes environmental protection a top priority and continually adds amenities like hiking and biking trails, parks and other recreational facilities. There is an exciting cultural scene and nearby 5-star resorts that offer world-class cuisine and spa services. Flagler Beach is just minutes away and offers a vibrant downtown, outstanding restaurants, a popular fishing pier and a boardwalk on the beach. Flagler's First Fridays provide entertainment in an array of musical genres, and the Flagler Auditorium and Playhouse offer theatrical, musical and fine art opportunities.
Marina del Palma Yacht Club also offers nature lovers the advantage of nearby estuaries and marshlands that harbor rare birds including eagles, osprey, blue herons, endangered wood storks and colorful roseate spoon bills. Boaters spot dolphins and manatees that gather in the Intracoastal Waterway during the spring and summer season. State parks like Washington Oaks Gardens, Tomoka, and Bulow Ruins Plantation feature nature preserves and venues for outdoor activities.
Residents of Marina del Palma Yacht Club can spend the day on the Daytona Beach boardwalk along the 23-mile "World's Most Famous Beach," then visit the International Speedway for an exciting NASCAR event. Nearby St. Augustine has an historic downtown with streets lining unique shops, museums, restaurants and entertainment opportunities. A day trip to world- famous Orlando offers theme parks, resorts and world-class entertainment along with high-end restaurants and shopping, while bustling Jacksonville provides all the amenities you would expect from a large metropolis.
Sunbelt Land Management principals have been developing land across the Southeastern United States for decades. They are responsible for choosing outstanding locations for more than 150 upscale communities. The company is skilled at finding top quality properties like the Marina del Palma Yacht Club location in Palm Coast and transforming them into unique communities with outstanding amenities such as sparkling man-made lakes, impressive clubhouses, marinas and beautiful gated entryways. Throughout the last few decades, Sunbelt Land Management has developed an impressive 40,000 acres into homesites worth over $1.5 billion.
As Regional Director, Ken Belshe has been an integral part of Sunbelt's development team for nearly 20 years. He has overseen several major projects for Sunbelt, including Palm Coast Plantation, Marina del Palma's neighboring community. He is proud to have been involved with the Marina del Palma Yacht Club project since day one 15 years ago. "The idea of a resort-style Mediterranean yacht club community right on the water has always been very exciting, and now it is taking shape. It's really a thrill to see such a magical project come to life right here on the east coast of Florida," he said. Mr. Belshe also stated that he is dedicated to assuring that every homebuyer at Marina del Palma Yacht Club enjoys a 5-star customer service experience.
For further information about the Marina del Palma Yacht Club community in Palm Coast, visit marinadelpalma.com to complete a digital information request form, or call 866-204-2167.