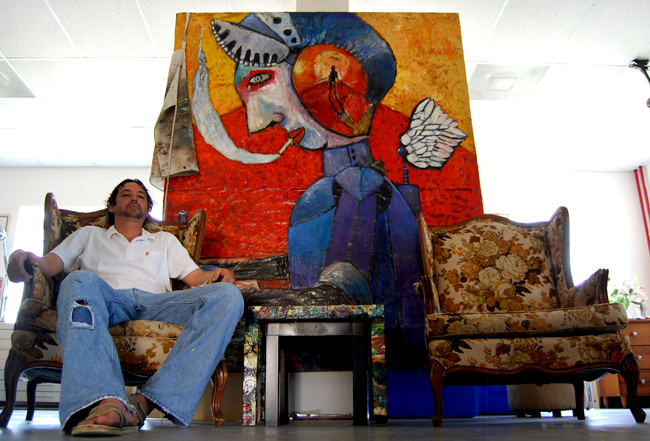 There's his past as the son of a strict Pentecostal preacher who didn't allow a TV in the house. There's his past after losing his mother 10 days before his 10th birthday, and running away from home a few years after that, to be raised by his grandmother, a NASA scientist who proved his savior on more than one occasion. There are the years in Mississippi, a state that teaches almost anyone who's lived there in the not-too distant past a thing or two about oppression. There's a past of dissolution and wanderings around the South and the West, of a broken marriage, of being reborn and redirected through art, and of contending, less than four years ago, with the death of his grandmother after he'd moved to Florida to care for her. And there's contending with his girlfriend's brain tumor, diagnosed barely over two years ago, just three months after she'd given birth to their son Gabriel. She has survived. So has he.
And J.J. Graham is just 35.
In some ways Graham has lived lives enough for characters out of Sinclair Lewis, William Faulkner and Jack Kerouac all in one. In some ways he's just starting out: 18 months ago he opened the Hollingsworth Gallery (so named to honor his grandmother, whose maiden name was Hollingsworth). He did so in one of the most unlikely places for an art gallery in Palm Coast: in two storefronts on the second floor of City Walk, the strip mall that, back then, was a desert of concrete, glass, asphalt and speculation but for a couple of businesses and the city's main offices, which had hurriedly moved into the floors above and below Hollingsworth Gallery.
But here's the thing about J.J. Graham. He doesn't recreate his world only on canvas. He does so wherever he happens to be. Walk into Hollingsworth Gallery and you might as well have stepped into a loft in SoHo or a small artist colony in Greenwich Village. Your senses are immediately aware of colors and vigor that belie the staid look outside, and more to the point, that are doing wonders to change that very look: Hollingsworth Gallery is its own anchor of change that's helping to remake its surroundings in its own image.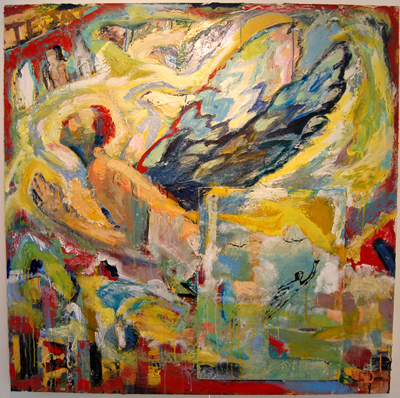 As this very story was being written, Graham was hosting the latest of his Hollingsworth Gallery openings—or rather, tonight's encore—for "Abstractions," a show featuring some 30 works from 23 artists from Palm Coast, Ormond Beach, Jacksonville, St. Augustine. New Smyrna Beach, DeLand and Orlando. Two hundred people showed up at the opening a month ago. Tonight's encore was likely to be as lively. Word of mouth has a lot to do with it. But mostly, one suspects, it's Graham's making, a reflection not merely of his love of art but of his belief in it the way other people might believe in real estate or shopping malls as engines of development. It happens to be a different kind, and in Graham's sense a more important kind, of development.
"I'm not going to live in a community without culture," Graham said. "And the beautiful thing about this city is that it's new. So in most cities that you go to have an already set culture. Here you can witness the birth of a culture, because there's very few cities in this country that are this new, and growing as fast."
"Jim Landon, whose office is right above me, he and I have become friends, and I told him the other day," Graham continued, referring to the Palm Coast city manager, "I said Jim, you know, towns don't become great cities because they get a new Walmart or a Target. It's because they give birth to culture. Every great city that I've ever been to had a great culture. And I've always been fascinated with how that came about."
How it comes about is when man like Graham can merge his artistry with a vision and a belief in a place that enables the remarkable work he's pulling off. "Some people see this as the typical shopping center," he says of City Walk. "I don't. You've got the Oriental market here, you've got a Latin market, you've got a Russian deli, the Jewish community that's coming here, you've got two different churches, and just about every nationality that's here in America is here in this City Walk, so it's almost like you could experiment in a controlled environment ways that we can work together and we are. We are supporting each other's businesses. If I go out to eat I usually go out here, and these people are sending their kids to my classes, so we're promoting one another. Maybe in a metaphysical aspect we're investing in one another."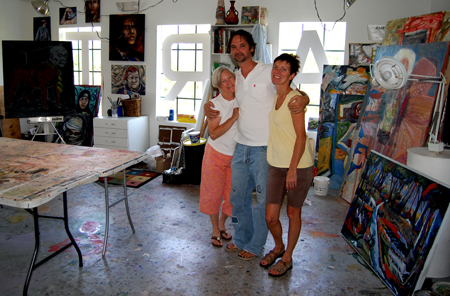 There are a couple of dance studios at City Walk, too, and a martial arts studio. Before long, the Flagler County Art League will be moving its gallery nearby, fulfilling another one of Graham's principles. "My whole idea of bringing the other community of artists is to get people to work as contemporaries, not competitors. I think any time—and I've been a student of art history ever since I fell in love with painting—any time you see artists come together this weird mojo starts to happen. I love regional art movements like the Bay Area Figurative Movement, where artists started to paint together and then all of a sudden, even though their work wasn't totally alike, something unified it. I'd love to see that happen here."
All this from an unlikely brine of circumstances. Graham was born in Jackson, Miss., in a house of strictness. There may have been no television. But his grandmother would ship him books, which he'd skip school to read (writing his own excuse notes) and being influenced by what he read far more than anything he might have seen on the small screen. "When I ended up getting to school, because of my dad's religious practice, I wasn't really allowed to do a lot of extra-curricular activities," Graham says. "But art was a way that I could communicate, and I was that kid who got pulled out in the hallway to draw posters that the football team could run through and that kind of stuff. So that became my deal."
He was a problem child. But two events mark the key turning points in his young life. The first was when his grandmother took him in: "She opened me. I've always been obsessed with spirituality but through my father it was something that had closed me, and through my grandmother, her spirituality or her sense of spirituality was something that opened me to the world. I think up until the point when she came into my life I had pretty much lived in a glass house that I was trying to break out of and have my own set of experiences.
"What it did is when I left it was pretty much all I knew, and it took me a while to realize that by leaving I had created this big hole in me, and when I went to my first year of college I was a psychology major because I was pretty much trying to understand myself and I took an elective drawing course. David Sullivan, the art professor there, just took me under his wing, told me I should change my major, gave me a scholarship, and for the first time I really started to paint. I'd always drawn, pen and ink and things like that, and I think immediately I found something that would fill that vacuum and it continues to the point where it starts to overflow. I think it's what I use to replace religion in my life, which was a huge, huge thing."
He ended up getting a small place in Laurel, Miss., where he'd paint eight hours a day. He then went to the University of Mississippi, where Jere Allen, a world-renown artist, mentored him and clearly influenced his work: the ferocity and velocity that is nowhere in Graham's soft-spoken voice is everywhere in his art. It's a boldness of color and brushstrokes that amplify an abundance of symbolism without crowding out a playfulness of subtleties that likely hint back at his earliest encounters with Sunday-paper cartoons. Allen, Graham says, "made me loosen up."
He bartended for eight years after college, making a lot of money in three or four shifts a week to have time to paint the rest of the time, though he also traveled plenty and struggled through a three-year marriage that finally failed. He speaks of self-indulgence. Then he speaks of his second turning point: moving to Orlando to care for his grandmother in the last six months of her life, and ensuring, with an aunt and his sister, that "she never had to spend a night alone in the hospital."
"I think coming to take care of my grandmother kind of awakened me into the idea that my life wasn't just about me or my issues," Graham says. He stayed in Orlando to manage a restaurant, then managed one in Ormond Beach, and met Mercedez McCartney along the way, who worked with him in a restaurant until she was forced to leave it because dating a co-worker was against company policy. The two barely saw each other after that, so McCartney compelled a turning point of her own.
"I encouraged him to quit his job and pursue his art," McCartney said. "When he was showing me his work before, he had all these snapshots of horrible pictures of his paintings, you know, like flash glares—awful pictures. So I got together his portfolio, because I do photography and also graphic design, so I was able to get it together for him, we got it printed out, and he went to the Hammock Wine and Cheese shop, that was the first place he went, because they have a little gallery there that they were still trying to get together. Before he even had his first piece hung for the show, Michel Roux bought it before it was even on the wall. That's how it all started. So it was basically the right thing to do—we were on the right path. Then Michel commissioned him to paint quite a few more paintings and he had them sent to his Absolute gallery in St. Augustine."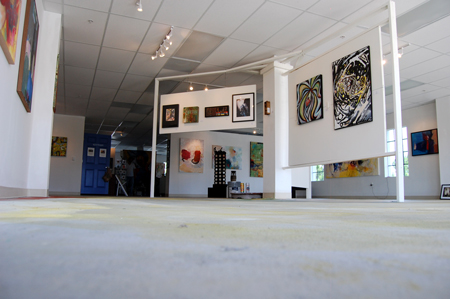 Soon after that he put on a weekend art show for Bagwan Asnani, the City Walk developer, in the space that became the Hollingsworth Gallery (Asnani was trying to drum up interest in the property). He was there among 50 artists, invited by Gena Brodie Robbins, an artist and, at the time, the president of the Flagler County Art Education Association and a teacher at Matanzas High School. Robbins and Jeff Sawyer had organized Art Walk, a four-hour event that turned over some 50 storefronts to 50 artists to showcase their work–and liven up Asnani's anemic strip. It did both. More than 2,000 people visited in those brief hours. Sensing something more viable than his own development, Asnani decided he wanted a permanent gallery there. Robbins and Graham stayed in contact, and little by little, like a Willem de Kooning painting telling a story out of abstractions, their idea gelled, and the gallery was born.
Robbins publicized and curated a half dozen shows (some of which are preserved in exhibition catalogues). There wasn't much money it it. But there was, beyond the art, the sort of commonality without which artists don't thrive as well.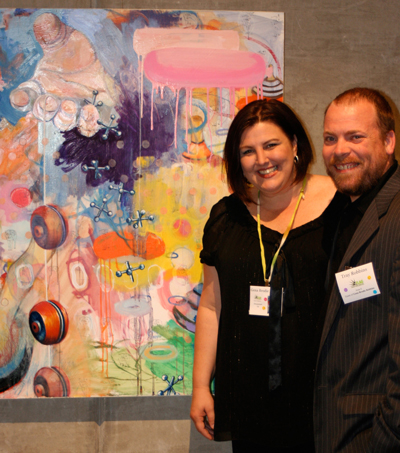 The year of their association proved inspirational to both. "We both had dealt with cancer," Robbins said, referring to her father, a high school football coach with whom she was very close growing up in Macon, Ga., and who died of cancer. "I'm sure everybody has their own story but loss—talking about loss together, working through, talking to each other whenever we had those days you have remembering loss, people we knew we've lost: we were able to give each other insights that you don't get from the average person."
There were differences, too: there always are between artists. There has to be, otherwise they wouldn't artists. And there was that other kind of loss, too: both Robbins, 42, and her husband, who taught video production at Matanzas, were laid off. Robbins had earned her MFA from Savannah College of Art and Design in 2006 and had dreamed of working there one day. Now she will, starting this fall. (She's exhibiting at Savannah's Gutstein Gallery through Aug. 15, if you're in town.) The move to Savannah prompted the end of the direct association with Hollingsworth Gallery, though Graham and Robbins, who are preserving their attachment in other ways, will always be its co-founders.
The gallery, never less than a struggle, has been kept alive through Graham's energy and big infusions of support from several other artists such as Roux and Tom Gargiulo, the Palm Coast artist. It's a lot more than a gallery, of course. Graham devised it as a place where he could keep things going without having to sell a single painting. His frequent shows generate some income. He runs the Kids Art Renaissance Experience, or KARE program, out of the studio portion of the gallery, as well as a heavy schedule of classes for young and older students (two others teach there as well). Artists can and do rent space there, and after a while get their own key to the place so they can work at any point.
"The reason I did that is because I wanted to show innovative work that was off the beaten path and it wasn't strategically designed for somebody's Florida beach house," Graham says. "It's worked. I've been open 18 months, we've done 14 shows, two of them have been international, we've had two Pollock-Krasner awards submit to these shows just from reading about us online, and I think that art is moving out of some of the bigger cities. Being culturally creative is being aware of your own community and making changes there, as a group, in a communal effort, and bringing people in and encourage them to go out and do the same thing in their community."
But not everything is a moneymaker, Graham says. "We have art supplies that we store underneath the desk up there, and at any time of day if you come in there may be five or six high school students sitting on the floor in the gallery, painting, it doesn't cost them anything. Just come in, any time during open hours, as long as they clean up after themselves and they respect the place, and they love it. The reason I painted the floor that way is because I don't care if they get paint on it. That's been in the last three months. It's one of those things that just felt like the right thing to do. Young kids started coming in here and wanting to get involved, a lot of them don't have money. This is a town that's basically built as a retirement community so they feel very disenfranchised, and finding a place, you see the lights come on: they all want to be creative."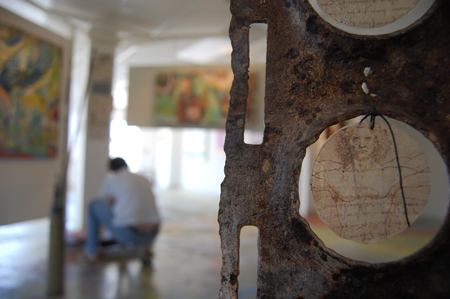 To speak with Graham is like looking at one of his big canvasses: there's no attempt to mask whatever he wants to tell you, whether he's speaking about his own wrenching past or his ideas for Palm Coast. He tells it all with an intimacy and confidence that belies a demeanor so mellow that sooner or later makes you wonder if he knows he's opening his veins to a stranger. Asking one revealing question and then another, you feel as if you're taking advantage of a man who doesn't know how to be dissimulating. But that's just the point of an artist's candor. Art is nothing if not a confrontation with truth. Graham happens to carry the point to his interaction with complete strangers. You want to keep speaking with him the way you want to keep looking at his paintings, because the longer you do, the more you see. If there's an end point to how much there is to see, it's not apparent.
His past, which he would no longer want to change for what it's taught him, his present, which he's constantly changing in some ways while feeling more uplifted by a serenity he hasn't felt most of his life ("a feeling of lift," as he put it), and his future, which he doesn't seem to tire of remaking in his mind as he would in his art, add up to a wealth of possibilities. There's the pragmatic. Then there's the philosophical (or spiritual), which to Graham are two whorls on the same palette.
"Art," he says, "is more important than it's ever been. I cannot fathom people—when I hear my students say, well, I don't know what to paint, I don't understand that. There's so many things going on in this world now, and there's so many things that need to be addressed through art, because we're changing, we have to, and the way that I encourage the spirit of this place is nothing, no idea is precious. I never, ever not have an idea when I walk up to a painting, and I've contemplated that. It's because I have more ideas than I could ever use, so you share those ideas, and by sharing them you open up that doorway for new ideas. That's the thought process that is going into this place where we're constantly sharing things. As far as art, I'm not looking for consistency. I heard a quote by Mahatma Gandhi the other day. People really criticized him for changing his views throughout his life, and he would say to them, I'm searching for the truth, not consistency. In that aspect, I love to make this a place where people can get outside the box and take chances with their art. That's the spirit of this place. I'm from Mississippi, so I know that oppression breeds creativity. In that aspect, this is where it's at."