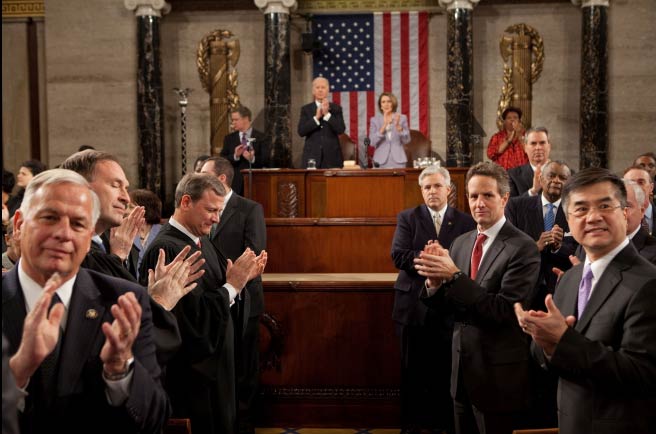 It was neither a great speech nor a bad one, neither reassuring nor inspiring. All those empty words (pressing the rest button, reclaiming the agenda, setting a new tone) are just as empty this morning. As we wrote in today's News-Journal, "Barack Obama is channeling Ronald Reagan in too many ways. A centerpiece of Obama's State of the Union message last night was rhetorical snake-oil — a freeze on government spending that exempts four-fifths of government, including defense and "homeland security," both of which should be leading the list of spending cuts. Irresponsibly, weakly, Obama is shilling for those who think the government can still make up for a decade of reckless tax cuts, impulsive wars, speculative credit and the near-depression they caused without raising taxes and cutting defense and entitlement spending."
Because in the end we never heard word one about getting the deficit under control and paying for the profligacy of the Bush years, for those trillions in deficits that Obama was careful to say he inherited when he "walked in the door." He had his I-never-promised-you-a-rose-garden moment ("I never suggested that change would be easy"), but that's not quite what we want to hear from a president, is it? It's not that change should be easy. It's that we have, or should have, a president capable of doing what's necessary to accomplish the promised change. So far: nothing.
In sum I'm not nearly as impressed as the general sense of the punditocracy seems to be. There's too much reaching for the old magic–which is just the problem: this lunge for "magic," this desire to make the impossible real, when it should be the other way around. We're surrounded by too much dismal reality that Obama's policies have yet to transcend, or conquer. I still admire more about Obama than not, but these days he's a slave to the political strait-jacket he's enabling–the GOP's hold on his agenda–by submitting to the illusions of bipartisanship.
Here's a sampling of opinions on the speech (which you can read in full here):
Simon Reid-Henry in Britain's New Statesman: "Obama seemed to track his way across a spectrum of different roles, first setting himself up with almost Blair-like enunciative stretch as local man, to deliver a variant on Clinton's 'I feel your pain' moment, before shifting into family patriarch mode to remonstrate with those who have been causing him more than a little pain of late, and finally re-appearing as a born-again politician in some semblance of control amidst the melee going on around him. It was a deliberate rhetorical arc chained to a new variant on his message of Change. "Yes it can" became "let's get it done". But for all its rhetorically artful repositioning of the President, the message sounded strangely unconvincing."
Robert Scheer in The Nation: "The state of the union is just miserable, no matter how President Obama sugarcoats it. He will claim that progress has been made in stabilizing the markets, increasing national security and advancing toward meaningful healthcare reform, but he will be wrong on all three counts. What he will be right about is that none of these problems were originally of his creation, and that the opposition party wants to exacerbate rather than solve any of them–believing, as they do, in that destructive maxim of desperate losers who find their salvation in the stumbles of the winners."
Megan McArdle in the Atlantic: "I think we saw two serviceable speeches tonight. Obama was his usual, excellent caliber. Bob McDonnell did not utterly humiliate himself, which is a big win for a SOTU response. There were a couple of minor "That's interesting" moments with financial reform and gays in the military, but mostly it was both sides saying, "I wish you'd help me enact my agenda, America." Which is not exactly surprising. In the end, maybe Obama gets a transitory bump on the strength of his delivery, but I don't see it really moving the needle on any issues. Nor do I think that the Republicans are going to rally behind McDonnell's stirring rhetorical presence and storm the nation's capitol. So everyone sleep easy . . . the world will still be much the same when you wake up tomorrow."
The Wall Street Journal: "So much for all of that Washington talk about a midcourse change of political direction. If President Obama took any lesson from his party's recent drubbing in Massachusetts, and its decline in the polls, it seems to be that he should keep doing what he's been doing, only with a little more humility, and a touch more bipartisanship. That's our reading of last night's lengthy State of the Union address, which mostly repackaged the President's first-year agenda in more modest political wrapping. "Our administration has had some political setbacks this year, and some of them were deserved," he said, in his most notable grace note."