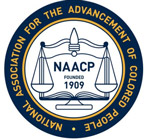 NAACP Flagler Branch General Membership Meeting
The NAACP Flagler Branch's General Membership Meeting is scheduled for 6 p.m. at the African American Cultural Society, 4422 North U.S. Highway 1, Palm Coast (just north of Whiteview Parkway). The meeting is open to the public, including non-members. To become a member, go here.
Note: the NAACP's office at the Katz Building on palm Coast Parkway will close on Feb. 28, ahead of the demolition of that building. The executive committee is searching for a new location, and welcomes recommendations and contributions.