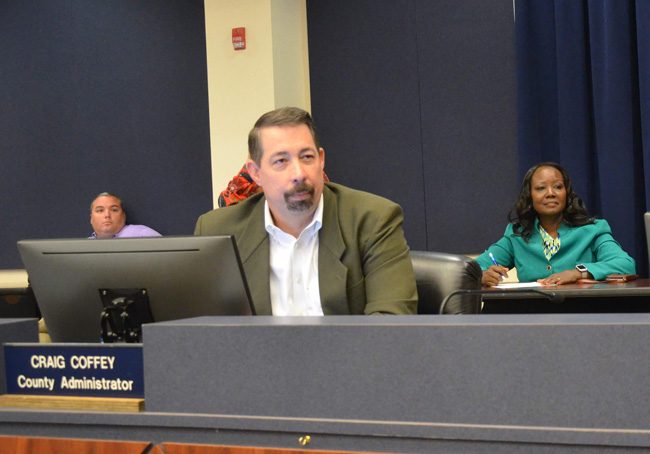 Craig Coffey's days as county administrator are numbered. It's not about whether he'll leave, but whether he'll choose to resign or be fired.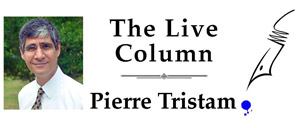 He and the County Commission are hurtling toward a Jan. 14 public confrontation. It doesn't merely risk becoming a spectacle: it already is. The sheriff and the clerk of court are either no longer on speaking terms with Coffey or barely are. The county's public-sector unions are calling for his head. Palm Coast's mayor is re-injecting in the wrangle her decade-long animus toward him. One commissioner moved to fire him, another is ready to join him, and the remaining three are babbling on somewhere between ambivalent and clueless. No administrator can credibly keep working in those conditions.
The process has been painful. It doesn't need to be cruel. For the sake of everyone involved, the county's reputation included, Coffey and the commission would be better off avoiding a public flogging on Jan. 14. Coffey should be allowed to resign with a measure of dignity–and severance. You don't employ someone 12 years only to boot him out unceremoniously, or use his past year's errors to condemn all 12. That's not to diminish his recent errors, with the Sheriff's Operations Center, Bing's Landing and Sally Sherman taking gold, silver and bronze in this year's scandal Olympics.
But Coffey is not a criminal. He's not a crook. He's not been immoral. His work ethic has not been in question, nor his commitment to his job. He's an administrator who ran out his credit some time back, his 24/7 management of the two hurricane crises boosting that credit. He got too comfortable doing what county and city executives inevitably end up doing when they stay past their expiry date: they run a fiefdom rather than a government administration, blurring professional lines in the name of greasy friendships or misplaced loyalty. As with Jim Landon in Palm Coast, Coffey's elected commission turned over twice during his tenure, accruing more power to Coffey every time and giving him the advantage of shaping commissioners to his uses rather than the other way around.
It's been easy. He had weak commissioners like Nate McLaughlin and Greg Al-Haig Hansen (Look at me, I'm in charge!), who are more interested in playing commissioner than being one. He had distracted commissioners like Dave Sullivan and Charlie Ericksen (Sullivan by his now late wife, Ericksen by his health). The combination gave Coffey a free hand to run his fiefdom to his deals' content. So let's not diminish the responsibility of commissioners enabling this mess. This is at least as much their doing as his: they could have channeled his zealous instincts to better ends. They chose to indulge them instead, no questions asked.
In a sense, Coffey the supreme deal-maker is now paying the price of that deal with his commissioners. In the end they're going to save their skin and get rid of him. Sullivan talked of convincing Coffey to resign, but Coffey would have no reason to, knowing he's getting the boot, with a severance to lose if he quit voluntarily.
Ease the way. Offer the severance, and let him resign. It wouldn't be a golden parachute on the Jim Landon scale, nor should Coffey's exit be unfairly tainted by Landon's: Coffey's severance is capped at six months' pay and his benefits package wasn't like Landon's Ali Baba cave. Nor is Coffey jerking the commission around as Landon did for a year. The commission could symbolically save face and offer Coffey five months (though that would be unnecessarily puerile), he could avoid the sourness of a firing and take the deal, and everyone can move on. If commissioners are worried about the cost of severance, they can use savings from Sally Sherman's double-dipping and overpriced salary to pay for it, since Sherman should not be allowed to outlast Coffey's tenure.
None of this solves the county's bounty of problems. But it swiftly and decently clears the way for the commission to find someone who can, preferably from outside the fiefdom.
If the commission is nervous about a replacement, they have options. There's been increasing chatter about Kevin Guthrie, the former head of Flagler's emergency management division, and Jarrod Shupe, the current head of Flagler's and the sheriff's IT operations. Both are angling for the job. Coffey's micromanagement drove Guthrie out in early 2016, about the time when Shupe was learning the ropes in his job. Both are sharp, ambitious, respected and fluent enough in Flaglerspeak to ensure continuity with critical issues–the operations center, emergency communications, dunes repairs–without too much allegiance to Coffey's Ancien Régime.
The risk for either is to become entangled in the commission's indecisiveness: this commission is constantly playing catch-up, if even that. It continues to be outflanked by reality. Here's its chance to get serious, and to do it honorably and prudently.

Pierre Tristam is FlaglerLive's editor. Reach him by email here or follow him @PierreTristam. A version of this piece aired on WNZF.