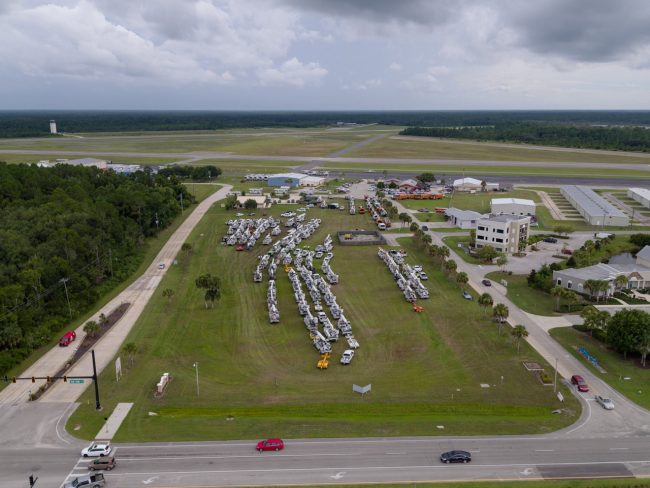 Last Updated: Sept. 1, 12:06 p.m.
You could get a glimpse of how seriously utilities are taking the threat from Tropical Storm Hermine as it approaches Florida's Big Bend through the Gulf: by this evening, the grounds of the Flagler County Airport had been turned into the staging zone for an army of utility trucks. The fleet is ready to go into action where and when needed.
Tropical storm conditions may develop in Flagler County Thursday evening and Friday, according to the National Weather Service, but the brunt of the storm is expected to pass well to the north and west. As of Wednesday evening, Flagler County was not under tropical storm warning or even watch, as are St. Johns and Putnam (watch) and other counties to the north and west. In fact, the National Weather Service specifically singled out Flagler as not being part of any watches, though the watch begins with Marineland and extends to Altamaha Sound in Georgia. Locally winds Thursday night and Friday are expected to be in the 10 to 20 mph range, with gusts of up to 25 or 30 mph. Some 3 to 4 inches of rain may fall.
Flagler, however, is part of that wide band of counties that is part of the area east of the storm where tornadoes are possible. Flagler is also among the 42 counties where Gov. Rick Scott on Wednesday declared a state of emergency, because for a while Flagler had been skirted by the storm's five-day cone of probability, as issued by the National Hurricane Center. It no longer is, with the cone moving well to the north.
The fear to the west, however, was that Hermine would turn into a hurricane before making landfall somewhere in the Big bend Thursday night or early Friday. In late afternoon Wednesday it had maximum sustained winds of 45 mph, moving north-northeast at 7 mph as it churned 325 miles from Apalachicola. A hurricane watch was declared for Anclote River to Destin.
Schools are open across Flagler County Thursday.  Dismissal and extended day programs will go on as scheduled. After-school and athletic activities, however, have all been canceled. Flagler Schools will notify the communitythrough its website, social media and, if necessary,
automated phone calls if changes to the schedule are needed.
Meanwhile, local authorities are taking a few precautions, if needed. Residents can get sandbags at the following locations:
Fire Station 71, 89 E. County Road 2006, western Flagler.
Fire Station 41, 5593 N. Oceanshore Boulevard, in the Hammock.
Bunnell Fire Station 62, 1601 Old Moody Boulevard.
Flagler Beach Fire Station 1, 320 S. Flagler Avenue, in the front parking lot.
Palm Coast Public Works Yard, 1 Wellfield Grade, off U.S. 1 just north of Palm Coast Parkway.
It's all self-service: Residents must bring their own shovel.
All courthouses in the 7th Judicial Circuit, which includes Flagler, St. Johns, Putnam and Volusia (and in 51 counties total), will close at noon Thursday and all court proceedings for the remainder of the day have been cancelled. The investiture of Circuit Judge R. Lee Smith, scheduled for 4 p.m. Thursday, will be rescheduled. All courthouses will reopen, Friday, Sept. 2, as normal.
In Palm Coast, Frieda Zamba Swimming Pool will close at 2 p.m. Thursday, and will remain closed until the storm passes, according to a city release issued Thursday morning.
For drivers, the Florida Highway Patrol's multi-agency drunk-driving "saturation patrol" scheduled for Friday has been cancelled.
You can keep up with the National Hurricane Center here, and with Flagler County Emergency here.