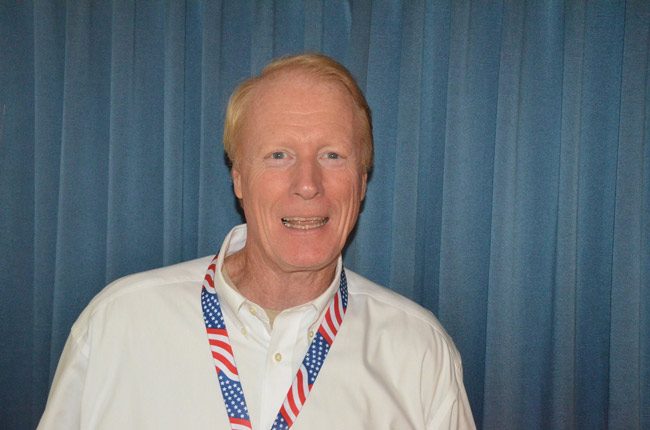 The tables have turned on Dennis McDonald, the four-time candidate for local political office who is among a small group of activists who have filed more than two dozen ethics, elections and other formal complaints against county commissioners in the past two and a half years: McDonald, currently a candidate for Palm Coast mayor, is now himself under investigation by the Florida Ethics Commission, following a complaint filed by one of his former targets, the man who's twice beaten him to a county commission seat: Commissioner Frank Meeker.
Meeker's decision was framed in the explicit language of retribution.
"I'm sick and tired of the frivolous and malicious complaints designed to cast doubt on the integrity of the Flagler County Board of County Commissioners, and me in particular," Meeker said in a statement emailed to local media late Thursday evening. "They've gone well past the point of reason, and serve no purpose but to try and defame our reputations and credibility." (See the full statement here.)
In another section of the one-page statement, Meeker again spoke of retribution as he explained the target of his complaints: "I for one have had enough," he wrote. "Sometimes when you keep poking your finger at a bear, the bear decides to poke back. For that reason, I filed two complaints well before Mr. McDonald filed to run for the critical position of mayor of Palm Coast and State Committeeman of the Republican Party of Florida to demonstrate the true purpose of a real lapse in ethics, Mr. McDonald's obfuscated efforts to hide properties (both in state and out of state) or expensive toys (individual collector cars exceeding $1000 in value each) he owns either individually, or jointly, together, or with others, and not providing that information to the public as required by a complete and most importantly honest, filing of their Form 6 Financial Disclosures."
McDonald's 2014 disclosure form, published then as part of his Live Interview, can be seen here.
"They're all disclosed, but he's saying that in my disclosure I disclosed all my properties but I had to give an exact address to each and everyone," McDonald said this evening. "It's all picayune stuff. I got to tell you something, this is all sour grapes. I could have filed all kinds of complaints on Meeker. I wasn't going to file complaints on meeker because he was my rival. It looks like sour grapes."
McDonald filed two ethics complaints, one against Commissioner George Hanns, one against Nate McLaughlin. He has not targeted Meeker directly with an ethics complaint, but he did file an elections commission complaint that named every member of the commission, Meeker included.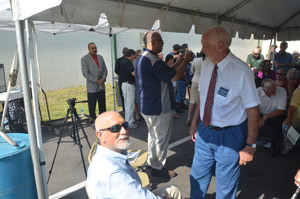 Meeker's complaints target both Dennis McDonald and his wife, Janet McDonald, who is in the middle of a four-year term on the Flagler County School Board. Meeker said he filed the complaint against Janet only reluctantly, and only because she was "dragged" into the issue involving Dennis, because the couple owns property jointly. The complaints allege that both McDonalds, but more particularly Dennis, did not fully disclose properties they own in their Form 6 financial disclosure form, including property in Connecticut, and two pieces of property in Ocean Hammock, and one property in Flagler Beach. Meeker says that while McDonald does list total assets for his auto collection, he the total begs disbelief, because it allegedly refers to 10 cars which should each be listed, with its individual value.
Candidates for office are required to file Form 6 during their election campaign. Those elected to office are then required to file the form annually.
McDonald said the allegation is merely a "smear."
"They're listed as open land in Palm Coast," he said of his properties. "I think we own six or seven lots in Palm Coast, if my memory is correct, and we listed it as open land in Palm Coast." He acknowledged having property out of state, and said he did include those properties his filings. "Mr. Meeker did not like the way I delineated them," he said, and noted that in his filing for mayor of Palm Coast, the city is not requiring disclosures of properties out of state. "He wants to get in the mud and sling this around."
Meeker, in a brief phone interview this evening, said he knew about Dennis McDonald's flawed Form 6 going back over all three of McDonald's election campaigns. "I could have filed it back then but I don't play that way," Meeker said. Now, he said, he will, having run out of patience. He said he filed the complaints two months ago.
On June 9, Ethics Investigator Thomas Reaves wrote Meeker that the McDonald complaint "has been found sufficient for investigation and has been forwarded to the Investigative Section of the Commission on Ethics." Reaves asked Meeker to provide a list of potential witnesses and their contact information and any relevant additional information. He received a similar letter regarding Janet McDonald.
Meeker is not disclosing the complaints themselves, which are not public record until the commission disposes of them, either by finding probable cause that one or more violations occurred, or by dismissing them. It is not against the law for the person who files the complaint to disclose it or to disclose information about it.
Meeker said McDonald had numerous occasions to fix the allegedly flawed disclosure forms, citing himself as an example: in one form, Meeker said he failed to disclose the co-signing of a loan he executed on behalf of his son one year, so he filed Form 6x, giving filers a chance to correct the record without penalty.
Other county commissioners are not involved in Meeker's filing, at least not formally. But it is likely that they are cheering from the sidelines, as Meeker is giving voice to what each of them has either expressed privately, or wished could do in fact. Each of the commissioner has been targeted by either McDonald or his associates at the Ronald Reagan Republican Assemblies, the political group that's been rattling moire established Republicans–and others–since its formation a few years ago.
Throughout, Meeker has scarcely contained his contempt, and at times his anger, for the group, referring to each round of new complaints derisively from his commission seat. His antipathy is also informed by internecine warfare in the local Republican Party between the more established wing Meeker represents and the insurgent wing McDonald belongs to. The insurgents successfully took over the Republican Executive Committee last year.
"My guess is there are a number of people involved in this, just by looking at this," McDonald said of the complaint against him, though the same observation could be made about many of the various complaints filed against commissioners. "This isn't Frank Meeker preparing this by himself."
Because of his filing, Meeker said he would resign his seat on the canvassing board so as not to create a new distraction there. The canvassing board membership during Supervisor of Elections Kimberle Weeks's tenure became a game of musical chairs as Weeks, often with McDonald in her corner (he attended most board sessions and conferred with Weeks) challenged the propriety of one county commission member's service on the board after another. Weeks's tenure ended in January 2015 when she resigned, shortly before she was indicted on felony charges.
Meeker mentioned the Reagan group, many of its members and Weeks by name in his written statement about the ethics filings. "The 26 Ethics filings this group submitted to the Florida Ethics Commission (among other venues) amounted to nothing more than a good bye kiss from Ms. Weeks to the commission before her trial on multiple felony charges is heard in a court of law and gave Mr. McDonald and his RRRA friends the ability to play in the mud again," Meeker wrote. "They seem to like it."