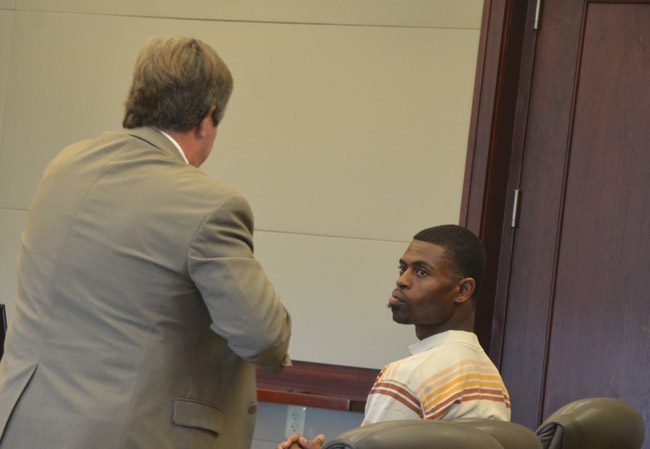 Flagler Circuit Judge Matthew Foxman was handling a routine docket of a dozen pre-trial cases Tuesday afternoon when that of Dillon Reding, facing a burglary charge, came up. A clerk informed the court that Reding, not yet 24 at the time, had died in May. There was a gasp, a muffled "what?" from one of the disbelieving attorneys, a pause, then the judge spoke. "Sorry to hear that," Foxman said. Another pause. Then he added: "Knowing the State of Florida they'd probably want that and probation."
It was a characteristically wry remark for a judge who contends with the harshness of Florida's laws in every court session and who—unlike, say, Judge Raul Zambrano, one of his recent predecessors, whom defendants fear like a judicial Khan—favors the second chance, the human element, if not the human being, behind the law.
Foxman showed that quality this morning as he granted a motion to downgrade a probationary term for a sexual predator, from sex-offender probation to simple probation, to enable the man to stay at his parents' house on occasion, rather than be homeless and sleep behind the probation office in Bunnell, as he's said to have been doing since last week.
"Don't play games with this," Foxman told Dorian Coppedge, 37. "I've gone over and above for you because I believe in your ability to basically live a lawful existence. I want you working, I want you tending to your parents, I want you raising your kids to the extent provided by law. I'm putting my faith in you. Don't make me look bad. Do you understand?"
Coppedge has had a tortuous history since his first sex-crime conviction, when he was 18, on a statutory rape charge after he'd turned 18 and his then-girlfriend was 15. In 2011 he was again convicted on a sex assault charge after he engaged in non-consensual sex with a girl at Holland Park who had gone out with him and Coppedge's friend that night, and was having sex with Coppedge's friend, when Coppedge himself assaulted her. He served prison stints both times but has been out for five years, living mostly at his parents' house on Louisiana Drive in Palm Coast. Last week, after the State Attorney realized that because of his second offense he could be branded a sexual predator, the State Attorney's Office filed just such a motion, and Foxman approved the designation, which only entails additional reporting requirements. (See details of his background here.)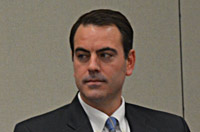 This morning Coppedge was back before the judge with his attorney, William Bookhammer, just days after Foxman sentenced him to two years' probation for failing to register as a sexual offender: police claimed he was not staying at the Palm Coast address he listed as his permanent address (his parents') but rather in Bunnell. Though neither his absence from his parents' place nor his residence in Bunnell was proved at any point, Coppedge took an open plea. That could have exposed him to a minimum of six years in prison (and 45 years had he gone to trial) had the State Attorney's office not allowed the waiving of the Criminal Punishment Scoresheet, thus enabling the judge to sentence him to probation rather than prison.
But the original sentence was sex-offender probation, which would have prevented him from having any contact with minors, or being in any living arrangement where there could be a risk of contact with minors, however incidental. It wasn't a given that his probation should be sex-offender probation, Bookhammer argued. So he filed a motion to have the sex-offender portion of the probation removed, since the crime for which he was found guilty last week was not a sex crime, but a reporting crime.
Foxman heard that motion today.
"This has rendered him homeless your honor, he's been sleeping behind the probation office since the day of sentencing," Bookhammer told Foxman of the sex-offender probation.
"I didn't intend that," the judge said.
Bookhammer said Coppedge was tracked in real time with a GPS tracking device, but if the sex-offender probation designation was to hold, he'd likely be barred from living almost anywhere but in the Mondex because of the city's restrictions on where sex offenders may live. Coppedge has three children, one of whom lives with his parents on Louisiana Drive. She is 6.
The prosecution conceded that the sex-offender probation was not a requirement under the law–that mere probation would be permissible. But the prosecutor noted that even without the sex-offender probation, an injunction is in place barring him from contact with his daughter—an issue that was not before the court today, and that Foxman said was not in his jurisdiction: the injunction is from the Department of Children and Families, and is conditional on Coppedge completing a set of classes and other requirements. So there's still a lack of clarity regarding where Coppedge may live without fear of a police knock on the door. And at one point Bookhammer made the odd suggestion that if there's an issue with the child, DCF could always remove her from the residence, prompting a barely veiled rebuke from Christie Opsahl, the assistant state attorney: "He's talking about displacing a child who's in the custody of her grandparents now, because a sexual predator can't be in her presence."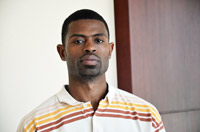 Foxman was willing to work with Coppedge within his jurisdiction, which does not include DCF matters. The prosecution wanted Copppedge to comply with a curfew of at least 10 p.m. to 6 a.m., if not longer. The judge did not go along with that, to ensure that Coppedge's chance at keeping a job wasn't jeopardized.
"I didn't give community-based sanctions because I want it to be a failure, I want it to work," Foxman said. "If it's true that there is an injunction, I can't do anything about that."
For Coppedge, who spoke to the judge at length about his case—clearly impressing the judge with his sharp intelligence—the aim is to have access to his parents. The judge was left to balance his record with his current situation.
"You have a horrible record, so the comments of the State of Florida make perfect sense, they're not being unreasonable," Foxman said. "But at the same time I recognize within you that you've matured, and you're very, very bright. I don't know why you're not doing something., else. You're articulate, you speak well, you have thought processes that are beyond what somebody should be in this courtroom, for lack of a better term, and I don't mean that in a rude way."
He then made his ruling, granting Bookhammer's motion, but he also made clear to Coppedge that he was being given a chance that won't recur, should he get in trouble again.