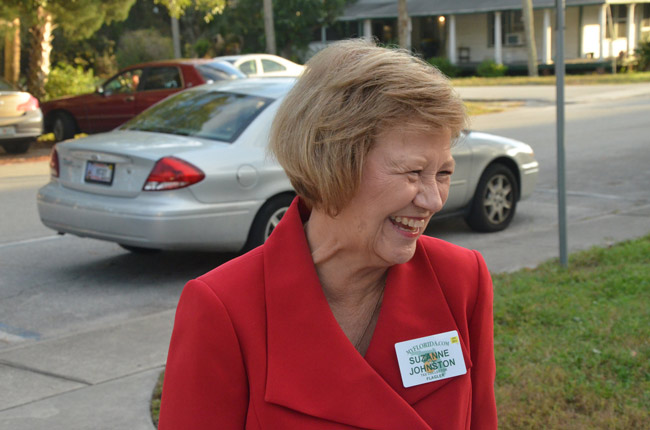 Flagler County Tax Collector Suzanne Johnston was awarded the Safer Florida Award for the efforts to inform young, first time drivers of the dangers of driving impaired.
The statewide award is presented each year by the Florida Department of Highway Safety and Motor Vehicles for an outstanding program in Florida promoting highway safety. Last year, St. Johns County Tax Collector Dennis Hollingsworth received the award for a driver education program at the high schools.
Johnston said her office was recognized for offering first time drivers and their parents to don special "Drunk Buster Impairment Goggles" that simulate an impaired drivers' vision at a blood alcohol level of .08 to 1.5. "These teens have never driven a car without their parents or a responsible adult sitting next to them," Johnston said. "It is interesting, not only do the teens try it but often the parents join in and try it."
The goggles distort the vision and reaction times in a manner similar to what an impaired driver would experience. The demonstration is voluntary, but often provokes discussion among teens and their parents. The legal limit for alcohol in the blood system is .08 but for those under 21 the legal limit is .02.
"Slip on the goggles and experience the effects of reduced alertness, delayed reaction time, confusion, visual distortion, alteration of depth and distance perception, reduced peripheral vision, double vision, and lack of muscle coordination," one of the goggles' distributors, Lifeloc, explains at its website. "Combine the goggles with otherwise simple participant tasks like walking the line, picking up coins, setting objects on a table and you'll create engaging and effective impairment demonstrations that won't be forgotten soon."
The goggles, invented by Curt Kindschuh, are manufactured at his company, Drunk Busters of America, in Brownsville, Wis.
"Your program of inviting new drivers to try on drunk goggles in order to simulate drunk driving can have a significant impact on a young driver," Boyd Walden, State Director of Motorist Services, said. "I, along with the executive leadership at the Department of Highway Safety and Motor Vehicles, thank you for going the extra mile for public safety."
"Our office is just thrilled with the award and knows that we are really making a difference in safety on roads. Catching those teenagers right at the time their license is issued is the best time to make an impression," Johnston said.
Correction: an earlier version of this article incorrectly referred to Lifeloc as the manufacturer of the goggles, rather than a distributor.