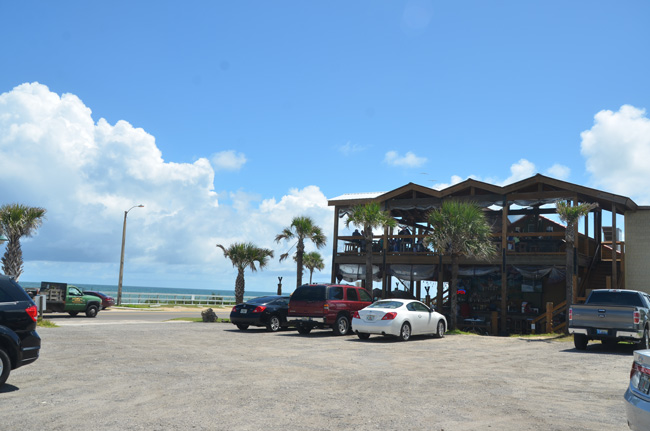 Flagler Beach City Commissioner Joy McGrew decidedly does not like Nick Kimball, the owner of Fuego Del Mar restaurant. For the second time in 15 months, McGrew publicly let loose a torrent of venom against Kimball, questioning his word, his neighborliness, his business habits, even his "good faith."
This time the restaurateur wasn't even in the room. He was on his way to a funeral. Didn't matter to McGrew. She did not want his outdoor music permit renewed and didn't want to let him have a similar permit for an empty lot next door, where Kimball, whose business has done well, has been hosting such things as movie nights and Monday Night Football on a big screen.
She was in a 3-2 minority on the music permit, but was part of a unanimous rejection on the request for the parking lot in separate votes Thursday evening. In Kimball's absence, it was left up to his attorney, Dennis Bayer, to charge that the city was applying a double standard to Fuego Del Mar, singling it out for issues the city does not enforce with other restaurants—or being made to landscape grounds while the city itself exempts itself of similar requirements.
"The city's parking lot, talking about something looking a little scraggly, it could use a little TLC, too," Bayer said at one point, using the acronym for tender loving care in a tone surfing the edge of sarcasm. "Just a friendly reminder."
McGrew skipped all subtleties. She recalled a little over a year ago Kimball's initial request for an outdoors entertainment permit, which was granted based on a series of criteria he had to meet. "I also remember very strongly asking him to be a good community neighbor, and, 'not a problem, not a problem, not a problem,'" McGrew said, as if quoting Kimball. "I think he should have his work done by the time his permit expires this year or he doesn't get it. It's not like he didn't know he didn't have to have them." The city has raised issues with Fuego Del Mar's parking lot configuration, striping and bumpers.
"He doesn't have the stripes, he knew that the bumpers were no alternative," McGrew continued. "Now all of a sudden we're giving him so much time to come in compliance for something he's had open for a year. We've asked him to be quiet. We've had complains. I mean, he's not being the person he said he was going to be. He's not running the business he said he was going to run."
Last June, Kimball, when he was in the commission room, accused the city of restricting his ability to do well. McGrew at the time called that "crap," and has since, apparently, not forgiven him. "He has blatantly rubbed in our face that we do not have a way to truly—it's not discipline, but truly have him come into compliance," she said Thursday, halfway through a nearly 90-minute discussion on the restaurant's requests. "I feel like he has blatantly thrown it in  our face more than once. So why are we giving him 60 days? Why are we even giving him 45?"
"All we get is complaints, all we get is stuff thrown out on technicalities," McGrew said. "He's not being a good neighbor. He's not being a good business person. I can say it all over again, it's a bunch of crap. It got famous last time. But I just don't believe that Mr. Kimball is truly in good faith, trying to be that good business neighbor. I mean, I'm not in favor of giving the permit, personally."
The issue revolves around Fuego Del Mar's compliance with the city's noise ordinance. In Flagler Beach, 12 establishments have outdoor entertainment permits. Those get renewed annually and routinely as long as no violation of the noise ordinance is recorded on a business.
"If any of the permit holders have received a violation in the preceding 12 months they are required to go through the applications process again rather than automatic renewal," Penny Overstreet, the city clerk. Noted.
In the past year, Finn's had one violation, Johnny D's had one, and Fuego Del Mar had three. Most were for $500, and all three of Fuego Del Mat were (two last November, one in December). Violations are assessed after a warning. The warning does not carry a fine, but it does count as a violation.
"We took them to a hearing and the special magistrate found that we were not guilty on any of those items," Bayer said of the noise violations, "so I don't know how they can be used as a negative marker against my client when we exercised our due process rights and there was a finding of no violation on those counts."
"I agreed then too that those should not be held against the applicant because they were dismissed by the magistrate," Drew Smith, the city attorney, said. "Mr. Bayer is right there." So it was never made clear Thursday evening why Fuego Del Mar was even appearing before the commission or, previously, before the so-called PAR Board (or planning and review), at least on the permitting for the main establishment. Bayer doesn't dispute having had to appear for the permit on the empty lot adjacent to the business. Later in the hearing Thursday, Smith said that Fuego Del Mar was nevertheless guilty of a noise violation, which may have referred to the warning. As the permitting was before the PAR Board and the commission, other conditions for the permit were also at issue.
"It's almost like there's a case of selective enforcement on this issue," Bayer said. "We'll work with the city. I've worked up the original parking plan and we were told everything was in compliance." He continued, "It's almost like we're getting singled out on this particular issue." He cited the elevator installed at the restaurant at a cost of nearly $100,000, which he said goes "above and beyond" requirements of the Americans with Disabilities Act.
A half dozen residents spoke, dividing evenly between supporters and critics of the restaurant on the noise matter, before the commission took up the vote for the permit at the restaurant proper. Commissioners Jane Mealy, Kim Carney and Steve Settle approved, McGrew and Marshall Shupe dissented.
"That was a swing vote," cautioned Bayer.
"Loud and clear," Bayer said.
But it was not over. The commission then turned to the matter of the adjacent lot. Commissioners were not comfortable with Fuego Del Mar's designs.  Carney said what happens on the lot may be different than "what it looks like on paper." The city attorney termed the application "open-ended."
"I don't know that we give outdoor entertainment permits to parking lots or vacant lots or anything like that," Linda Provencher, the mayor, said.
"The man opened a restaurant. Applied for outdoor entertainment" Mealy said. "Now we're talking about movie screens, watching games. It's not a sports bar, it's a restaurant. I don't know what else he wants to do out there. We could have children's games in the middle of the afternoon for all I know. That's not what his business is. His business is the restaurant that we've granted an outdoor entertainment permit to. Can we not limit what goes on if it's a restaurant?"
The city can. As for the lot, the consensus was that Fuego Del Mar would not have an outdoors entertainment permit, but that it could apply for one-time-only special events permits, which would entail giving notice to neighbors, appearing before the PAR board and the commission.
But McGrew wasn't done.
"Personally, from a  commissioner's standpoint, I don't have any faith in Mr. Kimball or what he says he's going to do," she said. "I truly don't believe that this should happen unless we have a way of stopping a violation in its tracks the day it happens. And we don't have a provision to do that. That means if Mr. Kimball decides not to do the permit process, do what he's supposed to do, and he decides to throw up another Jack Daniels bottle and have a party, we can't do anything about it. So once again we're the fools, and I just don't like that."
Broadening her charge, she concluded: "There's a huge amount of restaurants in this town and bars and whatever else you want to call them that seem to be able to work in compliance all the time. Mr. Kimball seems to like to walk on that outside edge most of the time. Why are now we not giving him special preference? I don't get that. Now all of a sudden the tables turn, now all of a sudden we're giving him time, we're giving him allowances where he wants a permit to be able to put a tent in the middle of a parking lot. That's not fair to me. That's not fair. I think we're very remiss if we grant this tonight knowing what we've heard from the residents and knowing the history."
She had no objections to a special-event permit. But Fuego Del Mar's outdoors entertainment permit for the use of the parking lot   was denied unanimously.