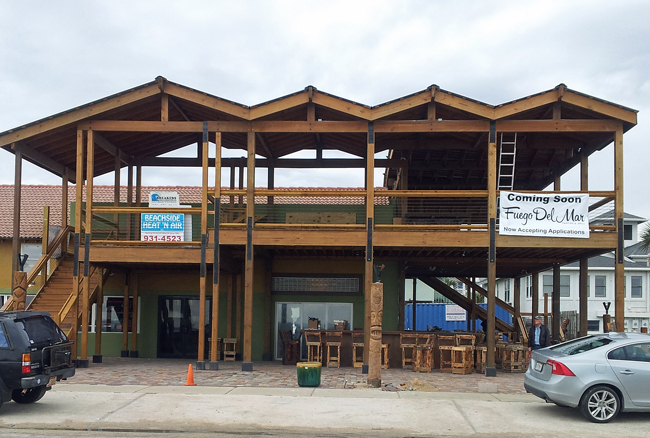 From the lace-less canvas tennis shoes on his feet to the tossed hair on his head, Nicholas Kimball projects enthusiasm about the building he's renovating into a destination oceanview restaurant in Flagler Beach.
A Flagler Beach resident, he graduated from high school in Southern California. That famous California-cool attitude, which has its frequent echoes on Flagler Beach's shores,  comes through as he talks about his vision for good service, sustainable fresh food and his responsibility as a business owner to establish good new jobs. Fuego del Mar is hiring 100 people, potentially half of those full time, he said, which should make at least a bit of a dent in a county's unemployment rate that still insists on topping the state's.
The restaurant is also part of a small renaissance of eateries in Flagler Beach, with the recent opening of Kokomo's, which moved in where the Beachhouse Beanery moved out, the Beanery itself moving closer to the beach on A1A, the Pier Restaurant finally reopening as the Funky Pelican, under new ownership, and Blue, further down on A1A, renovating its digs, while enduring classical standards like the Flagler Fish Company continue to distinguish themselves. Most of all, the renaissance is burnishing the city's growing reputation as the county's destination for authentic, original, non-chain restaurants that chew up highway exits.
"This will be a good addition to the beachside," said Mark Gerling, Flagler Beach Chamber of Commerce president. "A brand new restaurant always attracts a decent crowd of people."
Kimball named the business Fuego del Mar, or fire of the sea, as a nod to the good old days when locals built bonfires on the beach for nightly parties. Those days are almost gone: to avoid a confrontation with federal endangered species regulations, Flagler Beach voted last year to ban night-time bonfires during turtle-nesting season, from march to October. A fire pit and tiki lights are planned on the grounds outside the restaurant though. "You can have the fire without having to carry the wood," Kimball said.
Located at 608 S. State Road A1A, Fuego del Mar will offer patrons a dramatic oceanfront vista within sight of the Flagler Pier. Kimball noted the unique nature of the Flagler County coastline, which, aside from the  wealth strips of the Hammock and parts of Beverly Beach, undeveloped. "You can't drive along the beach in much of Florida," he said.
The renovation began about three years ago and aims to convert a former liquor store and bar that shared the building into a classy restaurant bar. Kimball said he's invested "more than a million" dollars into the project. "I didn't want to do it half-assed," he said. In addition to the seats outside on the ground, there will be tables inside with seats facing the window to emphasize the ocean view and a deck on the roof for an even more dramatic view. "Come over here, I want to show you something," Kimball said as he took a visitor on a tour of the building recently. He walked to the railing on the upstairs deck overlooking State Road A1A, the narrow beach and the vast ocean. "See everyone in the cars driving past?" he said. "They all turn their heads to look at the ocean."
Renovation work turned into a journey of discovery about the building. "Every time I pulled down stucco I found stuff," he said. The "stuff" included a row of high windows above the picture window and a bathroom.
Work continued on a recent day with one worker making bar stools from discarded wooden palettes. The restaurant will seat as many as 200 guests upstairs and down. Kimball has secured the entire block for parking, a crucial strategy as new restaurants increase traffic and raise the demand for parking. But also a city government requirement: Oceanside Grill, another young and expanding restaurant on the southern end of town, run by Tony and Johnny Lulgjuraj (sons of George Lulgjuraj, the long-time owner of Manny's on A1A until a couple of years ago), was run through the city's wringer to ensure that it had sufficient parking–so much that John briefly thought of running for a city commission seat.
Fuego del Mar's opening is expected in mid-March ("Still waiting on a few essential kitchen items and can't make the food without the kitchen complete," went a late-February posting on the restaurant's Facebook page. "We are building a strong team of employees that is growing everyday and we are all anxious and excited to get open but it will be a couple more weeks.")
Patrons who walk in the restaurant will have a complete view of the open kitchen, so they can see everything going on. Kimball's goal is to offer fresh-prepared meals with sustainable products, locally produced when possible. The menu will be fresh Mexican with a Pacific Islander influence. Kimball envisions people having dinner inside, then going for an after-dinner drink by the fire pit and tiki lights out the front door, or on the upstairs deck. "We'll have a nice ambiance," he said. "Not super upscale, but you wouldn't want to walk in here off a construction site. It will be the kind of place you take a date to."
Georgia Turner, vice president of tourism development for the chamber of commerce, expects Fuego del Mar to help tourism. "I know that it's always good to have more for tourists to do when they come to town," she said. "We're fortunate to have the pier restaurant open and that business is good there. The gentleman opening Fuego del Mar is already very successful. The building looks really good." Turner especially liked the upstairs deck. "That is what everyone is trying to do, go higher so everyone can look out on the beach," she said.  Kimball currently owns and operates the quite popular Burrito Works restaurants in Flagler Beach, Palm Coast, St. Augustine Beach and St. Augustine.
A banner on the building announces that applications for jobs are being accepted. "My goal is to give people a chance to work full time who want to work full time," Kimball said. Many restaurants in the area serve the same type of food and even employ the same people who have to work more than one part-time job. "It would be nice to have people who make a commitment and say this is the place I believe in," he said. "We've become condescending to our waiters and bartenders." Kimball said he considers those positions as careers. "Just as your heart pumps blood throughout your body, the staff keeps a restaurant on course," he said. Kimball said his businesses have low turnover because he offers employees a base pay plus incentives based on a portion of the net business. Full-time employees at Fuego del Mar are projected to receive $30,000 to $50,000 a year, he said, a considerable sum in the restaurant business outside of major cities.
Kimball also considers his own responsibility as business owner. "An entrepreneur's responsibility is to provide jobs," he said. "If you're not providing economic growth, you're a leach on the system. With a restaurant you know the product is made locally, most of it's grown locally, the people working are local and what they make gets spent in the local economy," he said.
Competitors are also watching and looking forward to the opening of the Fuego del Mar. "I've been watching it," said Carol Fisher, owner of the Beachhouse Beanery and a champion of small business who's been known to cheer on even her competitors. "I'm anxiously waiting for another establishment to open in Flagler Beach. It's good for all of us. It helps get Flagler beach on the map and gets more people to town. People will find out about it, come to town and find out it's a cool town."
City officials also are hopeful for the new business. Flagler Beach City Manager Bruce Campbell used a phrase popularized by President John Kennedy about a rising tide lifting all boats to describe the potential impact of a popular new business. "The overflow benefits surrounding businesses as well as new people coming to town," he said. Campbell also noted that Kimball is taking an old building and fixing it up, increasing the property value and potentially the value of nearby properties.
Jane Mealy, Flagler Beach City Commission chairwoman, said she's hopeful as long as any conditions regarding parking and outside music are met. "I'm being told it's going to be an absolutely wonderful place," she said. "The owner has put a lot of time and a lot of money into it. It's going to be a big draw." Campbell said parking issues are settled and Kimball noted he has the block around his building for parking. The owner hopes to offer outside music on the deck: that's another sensitive issue in Flagler Beach, flaring up periodically at the city commission, as it did in October. He'll have to apply for an outdoor music permit from the city, Campbell said.
Kimball's ambitions are only slighly more modest than the ocean his new business  overhangs. "If I have my way," he says, "I'll redevelop all of Main Street in Flagler Beach. This will be just one of my buildings. We have a beautiful city. We just haven't been able to keep up with the maintenance."