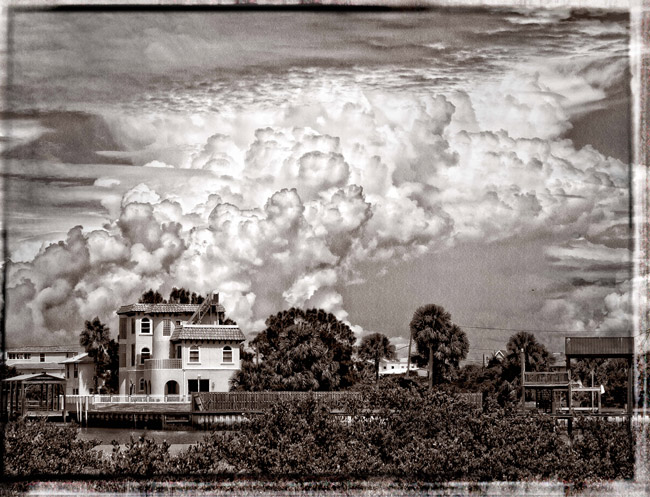 You've probably noticed the regal purple and gold Flagler County Art League sponsor banners fluttering across Palm Coast Parkway from Old King's Road across the I-95 overpass. They're heralding Saturday's new gallery opening, Saturday Afternoon with the Artists (or SAWA, for hardcore fans), which actually opens after sundown, at 6 p.m., with a free reception at the league's gallery at City Market Place.
The name is a left-over from the league's former incarnations elsewhere, when, along with the league's other mainstay of the year—the Spring Show– afternoon openings were more common. Both shows are still considered the two most prestigious of the year and consequently have the biggest money prizes. Beside advertising the league, the banners are let tourists or more insular local citizens know that there is an arts community here.
Ninety-four pieces have been entered in this year's Saturday Afternoon With the Artist (up from 70 last year, which is open-themed—meaning artists have complete creative freedom in terms of subjects, unlike, say, October's  "Animal Kingdom" show, which was obviously restricted to all creatures non-human, or their "Color Splash" show, where a vibrant expression of color was requisite, at least if artists wanted to be in the running for a prize.
Charlie Badalati, or "Palm Coast Charlie," as he calls himself, is one of the participants in the new show. The self-taught photographer from New Jersey spent 29 years in Germany before coming to Palm Coast with his wife Joke (pronounced "Yolka"), whom he met in the Netherlands.
"When I see a scene that strikes a note in my heart I stop and I look at it and try to analyze just what is it about the scene that has captured my attention," says this self-proclaimed lover of the European way of life, which he first experienced while in the Navy sailing the Mediterranean and Caribbean seas. "I will refine an image in my mind and try to frame the picture to include only that which is most important to what has captured my interest."
This process unfolds in his "Island Style," a monochromatic depiction of a solitary white house set in front of an encroaching and dramatic band of clouds. (See above.) It almost has the effect of a Japanese Hokusai print. Badalati snapped this shot while working on the "concept of life" on the barrier island. "I was in a park next to the Intracoastal looking for photo-ops and trying to take advantage of the wonderful cloud formations collecting over the Atlantic," he said. "The scene struck me as unique and a little exciting because of the way the clouds were building at the time. That cloud formation really had my attention and when the house came into place I knew I had the picture that I wanted.
"The reason that the images are monotone is that I wanted to create a feeling of the old times in Flagler Beach when life was easier, or at least not as complicated."  Badalati was inspired by stories and pictures of the first families living on Flagler Beach in the 1920s, as portrayed at the Flagler County Museum.
Another entrant is Mike Murphy, who just won a "best of show" in mixed media in the Animal Kingdom show for an oil painting of an old bull elephant. This time the 1960 American Academy of Art's graduate, who went on to have a career in business management, entered something that mixes an traditional theme with experimental techniques,  a 4-foot by 2-foot still-life multi-media vase of flowers.
"I tried for a 3-d effect," he says. " I started the painting with a material similar to dry-wall mud and built up elements with layers of that medium. I then rendered the painting in oils."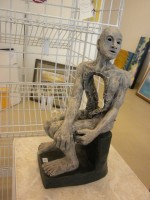 In Peter Cerreta's sculpture class across the way at Hollingsworth Gallery, Louise Kennedy has also been getting comfortable with experimentation, culminating with an entry in the Saturday with the Artist show. The result stands out. Her piece, entitled "The Hollow Man," is inspired by T.S. Elliot's poem "The Hollow Men." The sculpture strikingly conveys some of the poem's imagery: "Shape without form, shade without colour/Paralyzed force, gesture without motion." He's a man half-made, unfinished if not abandoned. There's a gaping rectangular hole in the poor fellow's chest and his limbs are sinewy, without detail, yet—there's no question that he lives: gesture without motion.
Kennedy, who usually works realistically, despite being mostly self-taught, says she's loved the T.S. Elliott poem since she was seventeen or eighteen, "that very impressionable time." She doesn't remember too much about the poem today, but the first line has never stopped haunting her:
We are the hollow men
We are the stuffed men
Leaning together
Headpiece filled with straw. Alas!
Our dried voices, when
We whisper together
Are quiet and meaningless
As wind in dry grass
Or rats' feet over broken glass
In our dry cellar
"The hollow men lived in wasteland in purgatory of their own, between life and death," Kennedy says. "The sculpture has no brains, no heart, no nothing. Everything's been taken from him. He could be a CEO, like Trump or someone. He's very sad."