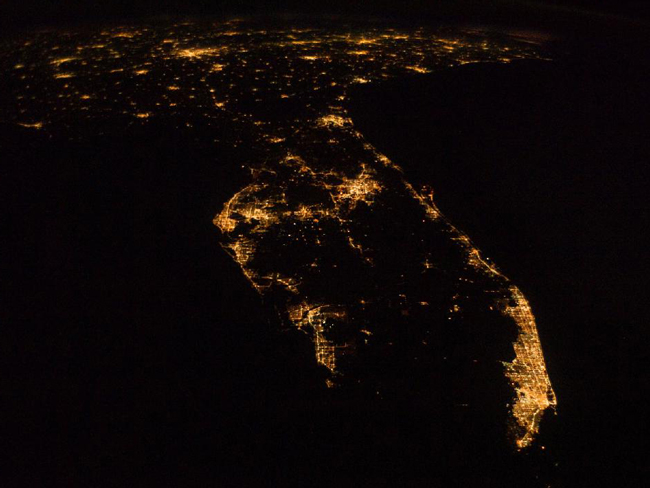 Staring around 4 p.m. Tuesday, you'll notice a lot of red shirts on Belle Terre Parkway between the Kohls and Publix shopping centers. School employees and their supporters, including school board members, will be out in force with a message for Tallahassee's lawmakers: "Kids are our business, not a business." (You'll see those words on some of the shirts.) It's one of dozens such demonstrations planned across the state at the same time. It's not Wisconsin yet. nor is it likely to be: unions here are weak, contempt for them is second nature for a majority of politicians, and Democrats are irrelevant, now that both chambers of the Legislature have super-majorities of Republicans. But on March 8, the first day of the Legislature's 2011 session, thousands of public employees want to remind lawmakers that reform and recklessness need not be Florida synonyms.
That school board members will be on the Belle Terre sidewalks alongside teachers and others is ironic. For several hours Monday morning, the school board did what it did last week in a similar workshop: it sharpened, reluctantly, its budget-cutting knives as it figures out where to slash at least $3.5 million from its budget, likely eliminating many elective classes and close to four dozen teachers along the way. Teachers should be demonstrating against them. They're not (at least not yet) because so far the understanding is that local boards, like local governments across the state, are not the culprits. They're merely the ones responsible for doing Tallahassee's "dirty work," as School Board member Colleen Conklin put it.
"I think at some level, just common ordinary people need to say: enough," Conklin said. "These are the people who are the backbone of our community and we need to let them know that we respect them and we support them. If there are pension systems tied to organizations that need to be addressed and fixed then do that, but let's not kid ourselves and lose sight that Wall Street and the banking institutions have responsibility in the financial meltdown of America."
That said, the state is facing a deficit approaching $4 billion. If, as Oliver Wendell Holmes put it at the beginning of the last century, "taxes are the price we pay for a civilized society," Florida has decided to pass on civilization. Despite the deficit, Gov. Rick Scott wants to cut taxes, not raise them. Despite now presiding over one of the most poorly funded school system in the nation, he wants to reduce funding by more than $1 billion. Add to that the end of the billions in federal stimulus Florida benefited from in the past two years, including $5.7 million in Flagler schools, and holes in local budgets begin to gape more visibly.
Flagler schools are operaying on a $97 million budget right now. The district is expecting $91 million next year, according to Valentine. It intends to make ends meet by going into its reserves of around $7 million, and by cutting some programs and positions.
"It's a drastic cut," Superintendent Janet Valentine says. She doesn't see how those cuts can happen without making equally drastic changes to how the district operates. The board is almost certain to approve changing school schedules and the length of the school day, of classes, and of year-long employees' contracts. All would be altered, reduced, redrawn. Most significantly, the seven-period day in middle and high schools would be reduced to six, or in high schools the seven-period day would give way to a hybrid between "block scheduling" and a shorter class (three very long periods and one short one). Either way, the net effect would be job losses for many.
"If we go with the decision of the middle schools and the high schools going to a different schedule," Valentine said, "we think that will probably be, I'm going to say roughly 30 teachers, and it may be a little more. It could be 30 to 40." That's the only way the district can make the required budget cuts "and still meet class size, which is our mandate."
Also proposed by a principal Monday: a 2 percent across-the-board salary cut for all employees as one way to ward off layoffs, though that would net only a $1.2 million saving. Also on the table: reducing year-long employees' work days and cutting back hours for others.
All such proposals must first be endorsed by the school board, which the board is expected to do next week, then negotiated between the district administration and the unions. Those negotiations begin immediately after spring break. Those negotiations will be neither easy nor predictable, and an impasse similar to that of December (before the district discovered it was legally obligated to grant the sort of experience-based salary increases teachers were asking for) is not out of the question.
Katie Hansen, president of the Flagler County Educators Association, the teachers' union, said cuts don't have to be that drastic: the district isn't looking at all options, from paring down its district and administrative staff to imposing a two-mile rule on bus transportation (most students would be eligible for bus transportation within two miles of a school attended). "Frankly, and this is kind of a conversation I'm hoping to have with the district very soon, we, FCEA, is very disappointed with how the district is dealing with this issue." Example: the letters the district sent to some 170 employees informing them that their contracts would not be renewed, though a majority are likely to be rehired. Valentine says the letters were necessary as advance notice, letting people prepare alternatives, and ensuring that the district was on firm ground when it does come to lay-offs.
"I think the letter was a little bit presumptuous," Hansen said. "We haven't been to the bargaining table, we don't know what the budget is going to look like and the session hasn't even started." That's the legislative session that starts Tuesday.
Hansen will be on Belle Terre Tuesday, too. Valentine won't be–not because she doesn't support her employee's message. She says she does, wholeheartedly. But she'll be in Gainesville, at the same three-day roll-out of a federal education initiative called Race to the Top where Hansen was Monday and the first part of Tuesday.
That's another irony of these demonstrations: one of the issues teachers have with proposals at the Legislature is a merit-pay plan similar to initiatives contained in Race to the Top, which is an Obama administration plan. Obama is supposedly a union ally, though he's also made clear that he cannot be easily categorized ideologically.
Other proposals rankling public employees are attempts to constrict their collective bargaining rights and Scott's plan to require all public employees to contribute 5 percent of their pay to their pension, which amounts to a 5 percent pay cut (since the contributions going into their retirement fund now are part of their compensation package, not a gift from the state). But the bulk of those proposals have a strong chance of making it through the Legislature because of the Republicans' majorities.
Why bother demonstrating? "I asked the same thing," Conklin said. "If we become apathetic then it sends another message, it sends the message that we're ok with what you're going, we approve of what you're doing, we need to accept what you're doing. You know what, maybe I've got it wrong. Maybe it's not apathy at all. Maybe people—this is what they really want."