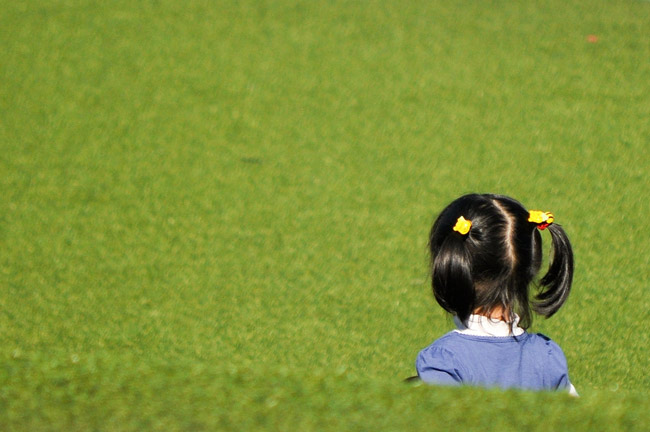 Tuesday's Five Reads here.
When Mitt Romney was a passionate defender of a woman's right to an abortion: The clip is from his 2002 debate with Shannon O'Brien, when he was running for governor of Massachusetts (and won). Anyone who thinks Romney isn't a brass-knuckled debater should have a look at this. This was the fifth and last debate, when O'Brien really lost it by appearing unserious, interrupting Romney repeatedly, and letting him dominate. Until then, O'Brien had been leading in the polls. She lost. Details about the debates at Huffington Post.
Los Angeles repeals its ban on marijuana shops: "After struggling for years to regulate storefront pot shops, the Los Angeles City Council retreated Tuesday, voting to repeal the carefully crafted ban on medical marijuana dispensaries it approved a few months ago.
The move shows the political savvy of the increasingly organized and well-funded network of marijuana activists who sought to place a referendum overturning the ban on the March ballot, when the mayor and eight council seats will be up for grabs. It also leaves Los Angeles, once again, without any law regulating an estimated 1,000 pot shops, which some describe as magnets for crime and others call a source of relief for those who are desperately ill. The council's 11-2 vote came after an impassioned plea from Councilman Bill Rosendahl, a medical marijuana patient who is fighting a rare form of cancer. Looking gaunt and speaking in a faint voice, Rosendahl asked his colleagues how sick patients like him would be able to acquire the drug if the ban remained in place. "Where does anybody go, even a councilman go, to get his medical marijuana?" he said." From the L.A. Times.
Teen birth rates at record lows: "The number of U.S. births has been dropping since 2007, when they peaked at 4.3 million, just before the worst economic downturn since the Depression. But now, substantial declines in just one year among certain segments of women suggest a deeper and potentially longer-lasting change in childbearing. […] The number of births to teens 15-19 dropped 10%, to 329,797, marking the fewest teen births since 1946. Teen birth rates also fell 8% to 31.3 births per 1,000, the lowest recorded since 1940. The rate has declined more than 3% a year since 1991. […] The federal report notes that the pace of decline in the teen birth rate has accelerated since 2007, and since then, there's been a 25% drop. The all-time high teen birth rate was in 1957, 96.3 births per 1,000 teens." From USA Today.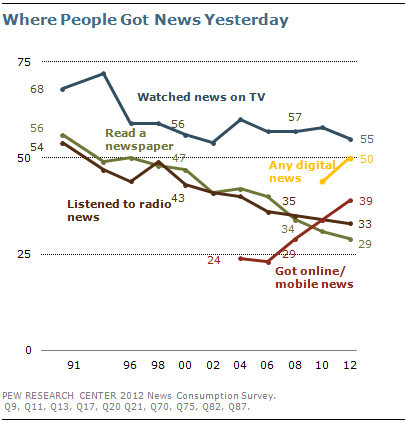 Americans' changing news habits: even television is vulnerable. "The transformation of the nation's news landscape has already taken a heavy toll on print news sources, particularly print newspapers. But there are now signs that television news – which so far has held onto its audience through the rise of the internet – also is increasingly vulnerable, as it may be losing its hold on the next generation of news consumers. Online and digital news consumption, meanwhile, continues to increase, with many more people now getting news on cell phones, tablets or other mobile platforms. And perhaps the most dramatic change in the news environment has been the rise of social networking sites. The percentage of Americans saying they saw news or news headlines on a social networking site yesterday has doubled – from 9% to 19% – since 2010. Among adults younger than age 30, as many saw news on a social networking site the previous day (33%) as saw any television news (34%), with just 13% having read a newspaper either in print or digital form. […] The proportion of Americans who read news on a printed page – in newspapers and magazines – continues to decline, even as online readership has offset some of these losses. Just 23% say they read a print newspaper yesterday, down only slightly since 2010 (26%), but off by about half since 2000 (47%). The decline of print on paper spans beyond just newspapers. The proportion reading a magazine in print yesterday has declined over the same period (26% in 2000, 18% today). And as email, text messaging and social networking become dominant forms of communication, the percentage saying they wrote or received a personal letter the previous day also has fallen, from 20% in 2006 to 12% currently. There has been no decrease in recent years in the percentage reading a book on a typical day, but a growing share is now reading through an electronic or audio device." From the Pew Research Center's latest study on news consumption. The full report is here.
Alaska judge overturns $500K award to man police Tasered more than 15 times: "In the early hours after Christmas Day 2006, Thomas "Boya" Olson awoke in his rural Alaska home to find himself surrounded by police. What would transpire next has been a point of contention, but nobody disputes that police in the Western Alaska village of Hooper Bay used a Taser some 15 to 18 times to calm an agitated Olson — shocking him so many times that he was left with scars and may be lucky to be alive. The incident would lead to Olson suing the City of Hooper Bay, winning a favorable jury verdict and $500,000 in damages in April. But now an Alaska Superior Court judge has overturned the verdict. And the case, which has already been reviewed once by the Alaska Supreme Court, may be headed back to the high court. As was true when Olson first sued, the case turns on whether Hooper Bay police officers used excessive force. In Alaska, however, there isn't much case law to turn to when it comes to police deploying Tasers — an electroshock weapon that unleashes 50,000 volts, disrupting voluntary control of a person's muscles. While some have heralded Tasers as an ideal alternative to lethal force, questions remain both in Alaska and nationally, stemming from overusing the weapon on potential suspects." From Alaska Dispatch.
The Hypocrite: Strom Thurmond's Lasting Legacy: "As Joseph Crespino's new biography makes clear, Thurmond lacked the integrity even of his own publicly proclaimed racism. As the Dixiecrats' presidential candidate in 1948, Thurmond demagogically declared that the entire U.S. Army couldn't force white southerners to "admit the nigger race into our theaters, into our swimming pools, into our homes, and into our churches." But two decades earlier he had fathered an illegitimate daughter with his family's African American servant. Thurmond maintained warm relations with his daughter, Essie Mae, even while building his political career on claims of black inferiority and condemnation of miscegenation. He kept his daughter a secret until his death at age one hundred in 2003. Thurmond believed that his personal conduct and his political actions had nothing to do with each other. But revelations of Thurmond's monumental hypocrisies not only strengthened the view that "the personal is political," they also helped foster the widespread belief that politicians inwardly lust after what they profess to condemn. Nowadays, when a religious or political official starts denouncing homosexuality in particularly heated terms, many expect that it is only a matter of time before he will be caught playing footsie in a restroom stall. It seems a matter of satire more than history that Thurmond, of all politicians, presided over the opening of the Senate's impeachment trial of President Bill Clinton. In his contributions to public cynicism, as well as to racial polarization, the breakdown of Congressional norms of teamwork, the triumph of politics over governing, and much else that has degraded the American political system, Thurmond was a pioneer. The most pessimistic political observers may be tempted to agree that we are all living in Strom Thurmond's America, in the words of Crespino's title." From a review of Joseph Crespino's Strom Thurmond's America, in The New Republic.
From Jerry Seinfeld's "Comedians in Cars Getting Coffee," With Michael Richards: