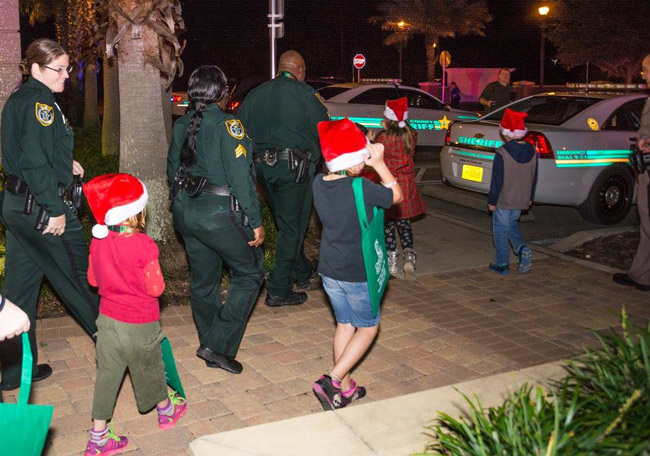 That time of year is approaching that transforms the Target shopping center into what looks like the county's biggest police emergency scene–with innumerable patrol cars converging on Target, lights flashing, sirens blaring, children squealing.
But those squeals, like those sirens and lights, will be for the happiest reason: the 9th Annual Christmas with a Deputy, when Flagler County's poorer children are paired with a cop, handed a $150 gift card, and set loose at Target to buy their Christmas presents, with a deputy tagging along. The children get to ride to Target in a cop car.
Christmas With a Deputy this year is scheduled for Friday, Dec. 16 at City Centre at 145 City Place in Palm Coast's Town Center. The event kicks off at 6:30 p.m. Everyone is welcome to come out and watch and join in the excitement.
Christmas with a Deputy was started by Retired Flagler County Sheriff's Office Sergeant Larry Jones in 2008 at his kitchen table with his own money. That year, just 14 children were part of the shopping spree. But the event has grown steadily, so that it now includes 100 children.
"I grew up in the community poor and knew what it was like not to have much, especially at Christmas," Jones said. "Once I had a job making decent money, I decided to give back to the community." Jones was a deputy at the Flagler County Sheriff's Office for some 30 years. He ran for Sheriff this year, defeating incumbent Sheriff Jim Manfre in the Democratic primary, but losing to Republican Rick Staly in the general election.
Christmas with a Deputy is a non-profit organization. The program is made possible by donations received from law enforcement and the community. Names of children who qualify for the event were submitted through suggestions from sheriff's employees along with Flagler County School District staff. The children are paired with law enforcement officers from the sheriff's office, Bunnell Police Department, Flagler Beach Police Department, Florida Highway Patrol and the Florida Fish and Wildlife Conservation Commission.
The event kicks off with activities including crafts and games at the Chiumento Selis Dwyer office building at 145 City Place, within sight of the annual Rotary Club Fantasy Lights in Central Park. Each participating child receives gift bags filled with goodies and their very own Santa hat with their name in glitter on it. Then, approximately 100 law enforcement vehicles with lights and sirens blaring form a convoy and head to Target for holiday shopping, causing the usual surprise and panic among those who think it's a vast police emergency. But over the years, fewer and fewer people have mistaken the event for an emergency, and more and more have come to know and see it as part of the make-up of the Christmas season in Palm Coast.
Christmas with a Deputy committee members are essential to organizing the event and include Jones, Commander Lou Miceli, Sgt. David Williams, Cpl. Daniel Weaver, Detective Jodi Glasgow, Victim Advocates Linda Blum and Kathy Vasquez, as well as Caroline McNeil and Michele Hurd from Chiumento Selis Dwyer and Adam Artymovich from Target.