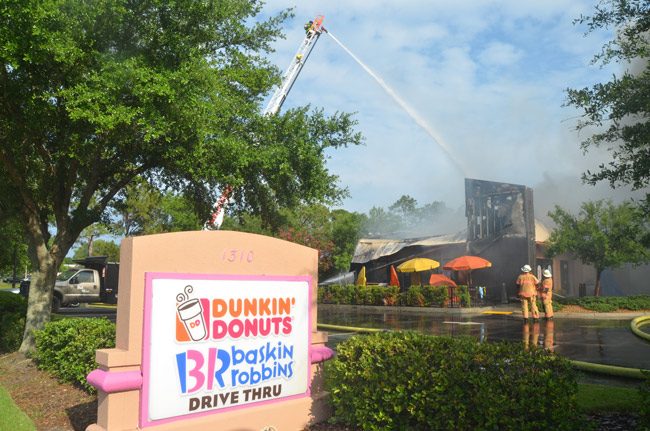 As Glen Garman stood a few feet away from his Dunkin' Donuts as it burned last June 9, himself befogged in smoke, he promised, Schwarzenegger-Terminator style: it will be back.
So it will.
Initial plans for the new restaurant were submitted to Palm Coast building officials on Oct. 3 for review. The proposal does not have to go before the city's planning board or city council for approval. "Based on the planning staff's feedback, they're about to submit the updated plans – we're expecting those Monday," a city spokesperson said today (Nov. 4).
The restaurant at 1310 Palm Coast Parkway is expected to reopen in February or March, occupying the same 3,667 square foot space and combining Dunkin' Donuts with Baskin Robbins ice cream. It will have a drive-thru, as with the old location.
The restaurant was undergoing roof repairs last June when, even as it was operating with customers beneath, the roof caught on fire and flames quickly spread through the building. The building was engulfed and proved a total loss.
Some 35 people were employed at that location, about half of them full time. No one was injured. Garman, who co-owns other Dunkin' Donuts locations in the region, said at the time that the company would do what it could to help them find work, possibly at those other locations, before the re-opening.
The state fire marshal responded to the fire and conducted an investigation. The results of that investigation were requested, but were not immediately available. Nor has the city received a report of the investigation, Fire Chief Mike Beadle–who was at the scene of the fire in June–said, suggesting that the investigation is not complete.