No sooner had the Flagler County Sheriff's Office issued a statement late this morning declaring Flagler County a clown-free zone than a clown was allegedly spotted and photographed in Palm Coast's W Section, prompting a different statement from the sheriff's office.
"At approximately 2:42 p.m. today, a citizen who resides at 20 Woodlyn Lane in Palm Coast called the FCSO to let us know that she had seen a clown in her backyard," the statement read. "According to the caller, the clown was holding two pink balloons and as a picture was taken of the clown, the clown ran into the woods. A search of the area was completed and the clown was not located. The clown is described as wearing all pink clothing, red wig, red nose and red, white and blue shoes."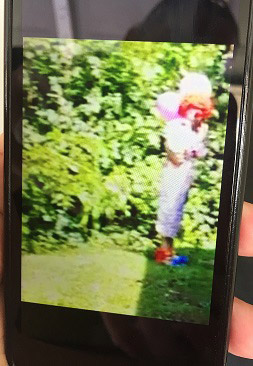 The clown was not apprehended, and his or her identity is unknown–if indeed the sighting was authentic: those reporting such sightings have been known to be in on the not-so-funny joke in other states. It is not likely a coincidence that the alleged sightings were reported within hours of the sheriff's initial Facebook posting about clowns or local media reporting the sheriff's statement and its context (see below).
"While on the call, deputies learned from a citizen in the area who heard via social media that a clown may have been trying to scare children as they got off their school bus. Deputies escorted two buses through the neighborhood and ensured all children departed the buses safely."
Sheriff's officials reiterated their warning against individuals who may opt to dress as clowns, either as pranks or worse, as that may lead to their arrest.


Clown Hoax Prompts Terse Warning From Flagler Sheriff as Arrests Multiply Elsewhere
"Near a roadside in a wooded area of rural Ocala, a masked and menacing figure was caught on camera lurking in the tall grass," the Tampa Bay Times reported Thursday. "The mask's orange matted hair, big eyes, red nose and contorted face could force a chill to climb up anyone's spine late at night."
"Already, similar encounters of costumed clowns have been reported across the U.S., from Kentucky to Florida," Florida Today reported the same day. "Some of the incidents have been reported at school bus stops, along walkways and even along busy roads. In Alabama, nine "clowns" have been arrested across the state and charged with making "terroristic threats."
There's been similar reports in New York, South Carolina, North Carolina, Alabama, Virginia, Ohio and Wisconsin, prompting the following statement from the Flagler County Sheriff's Office today:
"There are threats circulating on social media throughout our country about people dressed like clowns scaring people. Many of the threats involve clowns going to school campuses to either kidnap students or kill teachers going to their cars. THIS IS NOT TRUE! The Flagler County Sheriff's Office and officials from Flagler County Schools have reviewed these hoaxes and have been in communication and offer the following to our citizens: Please do not use this phenomenon of false hype to dress like a clown and play jokes on others. Any attempts to do so will be treated like a real threat."
The reports from elsewhere have not been hoaxes: in all, 12 people have been arrested so far for making threats, false reports or even chasing people. The phenomenon led to a school-district closure in Ohio. In Pensacola, a woman took a video of a clown lurking in her backyard, and subsequently explained that it was a prank intended to scare her, but the video has had 10 million views and may have fed into the phenomenon.
It is illegal in Florida to wear a mask–a clown outfit fits the bill–in order to intimidate anyone. Police could use that law locally, though Jim Troiano, the sheriff's chief spokesman, said it is not an issue yet: the sheriff's office wanted to get ahead of the issue and educate people about it.
"We felt it imperative we discuss it here locally, that this is not an issue, we don't want people to be concerned," Troiano said. But he warned against people dressing up as clowns and playing into the hoax. "It's not going to be a good idea, we take these threats very seriously." There's been no threats to any schools or any individuals, however.
"We've heard loosely that there's been sightings of clowns throughout Palm Coast but nothing reported to us directly," he said, again repeating that as far as Flagler and Palm Coast are concerned, "this is not real, we don't want our kids to get upset."