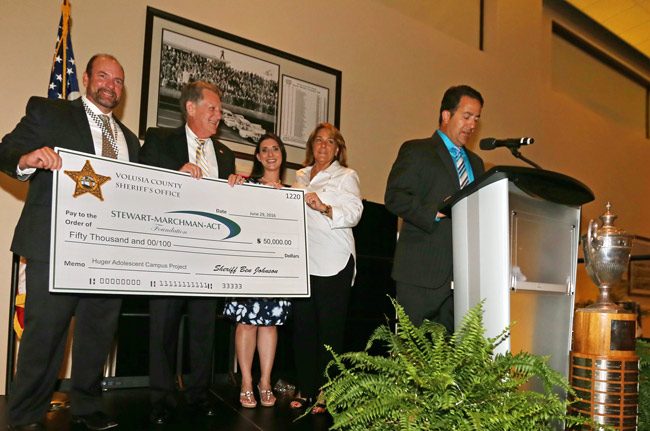 The Stewart-Marchman-Act Foundation raised $129,000 at the annual dinner celebration and auction held at the Daytona 500 Club at Daytona International Speedway on June 29. The foundation honored former NASCAR crew chief, TV analyst and motivational speaker Steve Letarte at the banquet. Proceeds from the event will support SMA's Huger Adolescent Campus project.
Proceeds benefit the Huger Adolescent Campus Project, which includes major renovations of SMA's facility on Tiger Bay Road to create a new Adolescent Campus that will re-imagine what it means to deliver an exceptional experience for a child going through a difficult time of  life.  The renovations will bring BEACH House and RAP onto the same site, where they receive exemplary educational services through Volusia County Schools.  This new Adolescent Campus will benefit area families by enabling children to stay close to home for individualized treatment and addiction-recovery needs. It will provide comfort and healing for all in the community, including the poor and uninsured.
To help support the project, visit here.
"This event broke attendance and fundraising efforts for the SMA Foundation this year," said Melissa Murphy, Chairman of the Board of Stewart-Marchman-Act Foundation. "This was our 18th year hosting the event and the support from the community has always been outstanding."
Ralph Sheheen was the Master of Ceremonies and worked with Andrew Gurtis, the Dinner Chairman, to conduct a live auction.  Auction items included an official 2016 Daytona 500 leather jacket autographed by Denny Hamlin, and a Peavey Composite Acoustics guitar autographed by numerous artists from the recent Country 500, including Lady Antebellum, Brian Kelley of Florida Georgia Line, Jason Aldean, and Little Big Town. Funds raised were from ticket and auction item sales. The theme this year was Victory Lane… Then & Now.  In celebration, the family of the late Marvin Panch graciously offered his 1961 Daytona 500 winning car and trophy that was on display for photos in Daytona's Gatorade Victory Lane.
Letarte is a former NASCAR crew chief, having celebrated success with both Dale Earnhardt Jr. from 2011-2014 and Jeff Gordon before that.  During his ten years as a crew chief in NASCAR, Letarte celebrated 11 wins, 19 poles, 112 top five finishes and made the Chase for the Sprint Cup nine years in a row.  He is a television analyst for NBC Sports.