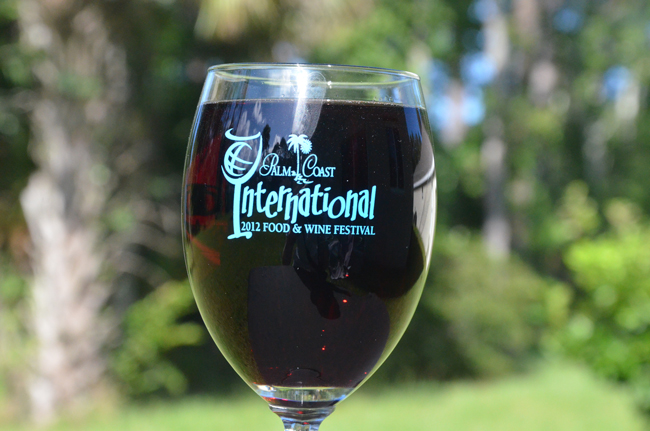 Palm Coast's International Festival–previously known as the Food and Wine Festival–returns to Central Park at Town Center Saturday, Oct. 3, for its 4th edition. Admission is free. The festival starts at noon and runs through 9 p.m.
A major part of this year's festival will be the live entertainment – a full day of free music, dance, storytelling and pogo stick stunt shows.
"Music, dance and folklore are fun and experiential ways of learning about other cultures," said Palm Coast Parks and Recreation Director Luanne Santangelo. "The live entertainment at the International Festival is a fun way for people to explore the traditions of people from many different countries. We invite the residents of Palm Coast to spend their day enjoying a great line-up of free entertainment."
The International Festival will also feature booths and displays from cultural heritage organizations, a variety of ethnic cuisines, and international wines and imported beers. (See the list below.)
The event will be an opportunity for people to meet their neighbors and learn more about their cultural heritage, traditions and languages. Participating organizations include: the African American Caribbean Heritage Organization, the Cambodian Fellowship, the Grenadian Association of Palm Coast, the Hispanic American Club, the Polonia Society of Korona and the United Caribbean Cultural Association.
Food and drink selections will include Polish, Hispanic, Caribbean and Cambodian dishes. In addition, the festival will feature soups with a northeastern U.S. flair from the award-winning Canfield's Restaurant, gelato and sweets from Sweet City Gelato & Gourmet Desserts; hero sandwiches and pizza from Giabella Italian Restaurant and Pizzeria, ice cream and Nathan's hotdogs by Bruster's, snow cones and other treats from Florida Snowie, and a bar with a selection of beer and wines operated by Fun Coast Bartending.
There will also be exhibits by the Flagler County Art League, Palm Coast United Methodist Church, City Repertory Theater, the Palm Coast Art Foundation, Flagler County Voter Registration and other local organizations and businesses.
Palm Coast's Central Park is located off of State Road 100 behind Flagler Palm Coast High School – near the movie theater and the new Palm Coast City Hall (opening later this fall).
To see the wine list and menus, see below the schedule of entertainment, which is as follows:
· Noon – Festival kickoff with DJ Vern, who will emcee the festival throughout the day
· Noon – Familion, a Hispanic band
· 1 p.m. – Ancient City Pipes & Drums, a bagpipe and drum musical performance
· 1 p.m. – "Stories from Around the World" by professional storyteller Kaye Byrnes
· 1:30 p.m. – X-Pogo Stunt Team, doing stunts on pogo sticks
· 2 p.m. – Parade of Nations, through Central Park
· 2 p.m. – "Stories from Around the World" by professional storyteller Kaye Byrnes
· 2:30 p.m. – X-Pogo Stunt Team, doing stunts on pogo sticks
· 3 p.m. – Polonia Society Dancers, traditional dance and dress
· 3 p.m. – "Stories from Around the World" by professional storyteller Kaye Byrnes
· 3:30 p.m. – Complicated Animals, a Brazilian music duo
· 4 p.m. – "Stories from Around the World" by professional storyteller Kaye Byrnes
· 4:30 p.m. – X-Pogo Stunt Team, doing stunts on pogo sticks
· 5 p.m. – Polonia Society Dancers, traditional dance and dress
· 5:30-6:45 p.m. – The Caribbean Crew steel drum band
· 7-9 p.m. – Havana Soul concert by Miami band that carries on the Golden Age of Cuban music and promises to keep the crowd dancing
· All day, Noon-9 p.m. – Firecracker the Mechanical Bull
Wines:
Vinas de Olivara Toro
Spain
A medium-bodied wine that has a fresh-scented nose of wild berries and spice. The soft tannins and lush finish of this Spanish red makes a good match with roast pork, grilled chicken and medium-bodied cheeses.
Valckenberg Madonna Spatlese
Germany
Makers of the original Liebfraumilch, Valckenberg is one of the oldest wine shipping firms in Germany. Madonna is a cut above the ordinary Liebfraumilch with some Riesling in the blend to add backbone and freshness.
Paint the Town Red
Italy
A rich blend of Primitivo and Cabernet, this has dark fruit aromas of blackberry jam, currant and black cherry with a hint of spice and raspberry that is smooth and full. The wine maker, Gregory Perrucci, is passionate about preserving the traditional grapes of the Puglia region.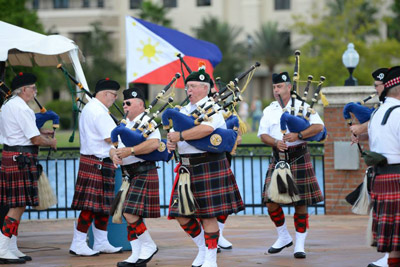 Monili Montepulciano d'Abruzzo
Italy
A beautiful, vibrant, ruby-purple-red wine with a nose of plums, raisins, black cherries dates and berries. In the mouth, the tannins are balanced by supple roundness and attractive blackberry and plum flavors. A robustly structured wine, it has balanced alcohol and fruit and a particularly long finish.
Collalto Pinot Grigio
Italy
Beloved the world over as an aperitif and a lovely choice with fish, Pinot Grigio responds beautifully to Conte Collaltos winemaking philosophy, yielding a wine with a strikingly full tonality, silk smooth palate, and appealing notes of fruit on the nose. The perfect choice to marry with so many classic Italian recipes.
Chateau Moncontour Vouray Dermi Sec
France
Pale yellow-gold, with an orange hue, and silver highlights. This demi0sec Vouvray follows through with a plate of melon, red apple skin, and minerals with a hint of ripe strawberry, which is where the very subtle sweetness comes from.
Alan Christopher Brut Blanc De Blancs
Southern France Sparking Wine
Pale straw color with green highlights. Dry, medium light body with fresh acidity. Bright lemon fruit and surprising level of toastiness. Subtle mineral finish. Lively and refreshing.
Cassa Del Bosque Reservation Sauvignon Blanc
Chile-South America
Gorgeous nose, pungent and complex with layers of aromas that transfer into the palate. Notes of gooseberry, key lime and herbs and jalapeno pepper hints give way to grapefruit and more tropical fruit richness, followed up with a touch of minerality. The palate gushes with pink grapefruit, gauava and a sweet, tart interplay that is fresh and vibrant.
Saint Genevieve Chardonnay
West Texas
A medium-bodied wine is golden in color and displays aromas and flavors of tropical fruits, apple, mature pear and slight honey notes. It has a soft, balanced finish that is off-dry (not completely dry).
Graham Beck Game Reserve Cabernet Sauvignon Blanc
South Africa
The wine has a great complexity of black berry fruit, plums and tobacco spice on the nose. This wine has a rich, juicy entry supported by a dense fruit core and firm tannins. An elegant creamy palate leads to a long lingering finish.
Woodhaven Merlot
California
Fruit-forward, soft Merlot with aromas of violets, dried plums and chocolate. A deep garnet color with flavors of black cherries, currents and just a hint of toasted oak to accent the finish.
V. No Malbec
Chile
Full bodied, with rich tannins and dark cherry flavors, along with a chocolate and pepper spice finish.
Nugan Shiraz 3rd Generation 2012
Australian
Brilliant red with a youthful purple hue. Lifted aromas of red berry with spice, ash & earthy overtones. A well-structured medium bodied wine with ripe fruit spicy tannins and black pepper nuances.
Food:
Canfields
New England Clam Chowder finished with Fresh Dill & Oyster Crackers, Roasted Red Pepper & Organic Chicken Sausage finished with Basil
Polonia Society of Korona
Golabki (stuffed cabbage), Bigos (Hunter's Stew), Kielbasa, Pierogi, Szarlotka (Apple Tarta), Zywiec Brewery Polish Beer, Soda
Cambodian Fellowship
Eggrolls, beefsticks
United Caribbean Cultural Association of Palm Coast
Pre-package Ox tail, Rice & Beans, Jerk Chicken, Fruit Punch
Hispanic American Club
Empanada de Carne, Empanada de Pollo, Rellenos de Platanos maduros, Bacalaitos Fritos, Alcapurrias, Corona, Tona, Presidente, Estrella, Medalla, Dos Equix XX, Negra Modelo
Bruster's Ice Cream/Nathan's
Ice Cream Hot Dogs
Florida Snowie
Snow cones, lemonade, ice tea and popcorn.
Sweet City Gelato & Gourmet Desserts
Favored Italian gelatos and sweets.
Giabella Italian Restaurant and Pizzeria
Hero sandwiches and pizzas