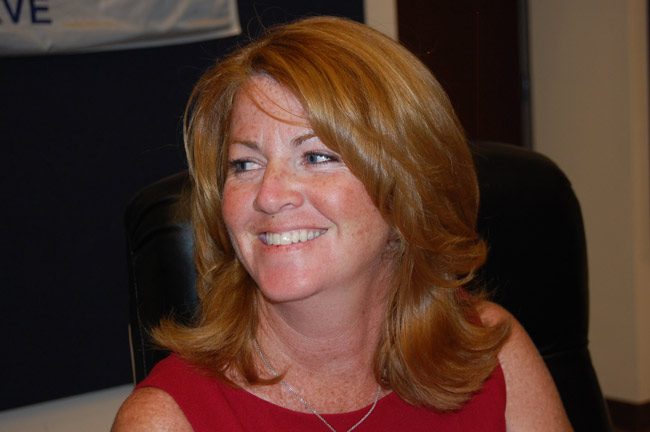 By Colleen Conklin
I have been struggling whether or not to publicly address several issues since the conclusion of this insane election cycle. I didn't want to contribute to any type of pot-stirring. Please know that is not my intent. However, after the encouragement from someone I highly respect I felt the need to say something. I certainly do not want my silence to be taken for approval.
As a School Board member in Flagler County I feel responsible to reassure our parents, staff and students of our commitment to the core value of providing students with a safe learning environment. Our mission is to educate our students and empower them to reach their full potential as responsible, ethical, and productive citizens in a diverse and changing world. Mutual trust and respect for each other are also core values that help us accomplish our goals.
True confession: I was attracted to the Trump vote because he wasn't going to be owned by anyone and could possibly bring back some sense of local control. I am sick and tired of being told how to educate our children. I am sick and tired of big-book publishers and testing companies controlling education. I am sick and tired of the corporate takeover of public education.
Charter schools and voucher programs don't freak me out. Hold them accountable, require that they are transparent with our tax dollars and have at it. The message to my colleagues in public education: don't blow it. Provide the most amazing educational opportunity for students, and they won't leave. As of today, I don't fear President-elect Trump. He is not a right-wing conservative Republican. He's not even a Republican. He's a lifelong Democrat who likes to win. He's more comfortable with Senate Majority Leader Mitch McConnell than he is with House Speaker Paul Ryan. He is now our President.
But he needs to acknowledge that words matter.
I recognize the desire to move past the election results. The voters have spoken. For the good of our nation we collectively should be rooting for the president-elect to succeed. His failure is our failure. However, that doesn't mean an automatic pass on the vile comments he spewed over the last several months. This isn't a Republican or Democrat issue. It's about the civility and integrity of the highest office in our country.
---
Denounce vile statements and expect more from the person who holds the highest office in the land.
---
All the fear-mongering and protesting is not helping. However, ignoring what has been said and attempting to erase it as though it was never said is not helping, either. I believe it's dangerous. Our president-elect has made horrendous statements which have outraged individuals on both sides of the aisle and beyond those aisles where America shines much more richly than as mere Republicans and Democrats. I understand the need for some to ignore Trump's statements. But political leaders, both locally and nationally, must own what has been said and be bold enough to not accept it, denounce it and expect more from the person who holds the highest office in the land.
As a School Board member and educator, I often think about life from a child's perspective. We must know that children have been listening to all of this for months now. The worst was being played out on TV repeatedly. It's heartbreaking to personally hear children express fear about the man who is going to be the President of our country all because of the color of their skin, or because they're worried that their family may be deported.
To know the mother whose child was born different from the rest of us, and to see and hear those differences made fun of instead of celebrated, is wrong.
To see young girls continually question their value when strong, intelligent women are reduced to objects, to a thing valued only for its look or slimness, is wrong.
To hear the parent who tells her sons to not wear a "Make America Great Again" ball-cap for fear they could get hurt is wrong.
To accept that a middle school child at Imagine School last week was simply drawing or playing when he placed a swastika on the arms and hands of children is just wrong.
To deny the connection of any of these events to the election is irresponsible. We must educate our children that they are unacceptable and our soon to be President should drive home this point for the good of our country.
We just can't ignore it and make believe there are no consequences. This election has impacted our children whether we want to acknowledge it or not. This isn't about suck it up buttercup or trophies for everyone. This is about emboldening a generation to say and do whatever they please with no concern for others and no awareness of consequences.
I'm searching for common ground that we can all agree upon. I believe we wouldn't want anyone saying those things to our own children or our grandchildren. I have to believe President-elect Trump himself would not want anyone referring to his children in this way. This type of discourse erodes trust and respect for each other. I pray we come together as a country for the sake of the next generation and take great care in what we say and do.
I respectfully call on our political leaders to denounce anything less. I'm hopeful as President-elect Trump transitions to hold the highest office in our nation that he acknowledges what he's said is inappropriate and reminds the next generation to take great care in the words they use. May God bless and guide our President-elect.




Colleen Conklin, first elected to the Flagler County School Board, will be sworn-in to her fifth term this morning. She is the senior-most elected official in Flagler County.