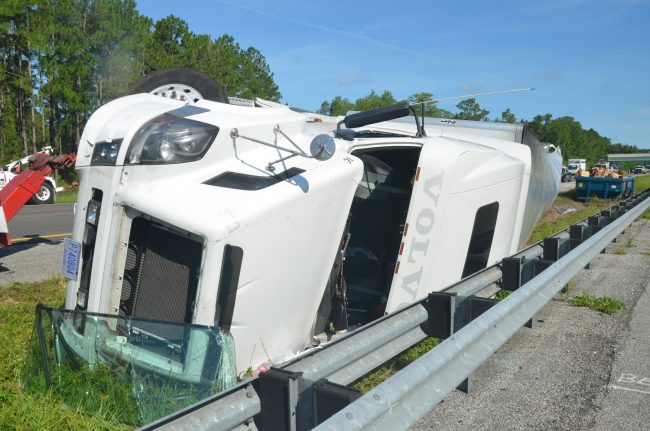 A tractor trailer hauling some 30 tons of apple and cranberry juice overturned early this morning on a straight stretch of southbound I-95, between the U.S. 1 and Matanzas Woods Parkway exits. The driver was taken to Halifax hospital in Daytona Beach with a severe leg injury, according to authorities at the scene.
The cause of the crash has not yet been officially determined, but indications at the scene are that the driver may have either fallen asleep or lost control of the truck. The truck's tires draw a trajectory that show the truck veering off the road toward the emergency lanes then over-correcting before overturning. The truck ended up on its side, on the driver's side, along the guard rail. It did not impede traffic. But the left, inside lane of the highway was closed shortly after the wreck took place, at 2:40 this morning.
It remained closed at 10 a.m. Crews spent the rest of the morning emptying the truck of its cargo. A crew from John's Towing, the Bunnell-based towing company, along with a dozen workers and a Bobcat emptied the trailer of its juice boxes, some going into a dumpster, some going on flatbeds to be stored at John's Towing until an insurance company releases the cargo–likely either to be donated to to be destroyed, John Rogers, owner of John's Towing, said at the scene.
"We got the call at 3:30," Rogers said. "We couldn't upright the semi loaded because as you see the roof is compromised, so we had to off-load it." Environmental Land Services the Bunnell company, provided the roll-off dumpster. "Once we get it off-loaded we'll flip the semi on its wheels and tow it off."
The driver, whose identity has not been released, is from South Carolina, where the truck is registered. The load was heading for a Walmart store. Rogers estimated the total load at 30 tons. Aside from the Florida Highway Patrol, the Palm Coast Fire Department, Flagler County Fire Rescue and the Palm Coast Fire Police responded to the incident. The scene was expected to be largely cleared by noon.
Flagler County's stretch of I-95 has had its share of trailer wrecks, including a trailer hauling tons of t-shirts overturning in 2011, a trailer hauling cantaloupes catching fire in 2013, and a fuel truck exploding in 2013, an incident that claimed the driver's life.