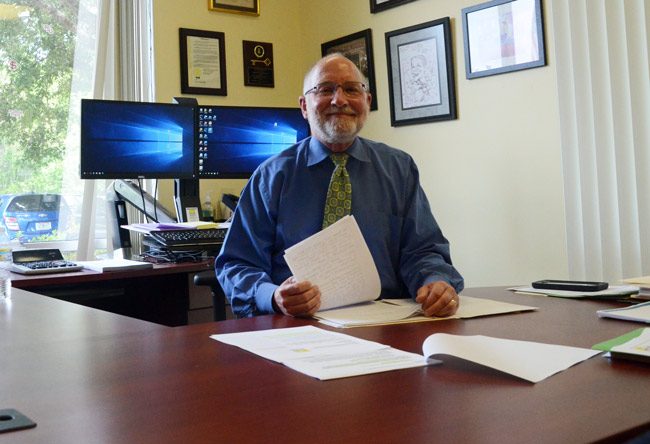 Should you be worried about the measles outbreak that so far has totaled 704 cases in 22 states, including two in Florida? Not if you and your children have been immunized.
And though there's been no cases reported in Flagler, the concern at the Health Department is this: Out of 67 counties, Flagler has the second highest rate in the state of children not immunized against measles and other communicable diseases. Overwhelmingly, measles and other communicable diseases that are preventable through vaccines affect those who have not been vaccinated.
Out of 896 students who enrolled in kindergarten in Flagler's 13 schools in 2017-18, 823 were immunized, or 91.9 percent. But 73 were not. Of those, 19 had a medical exemption, which is usually temporary. Fifty four had a permanent religious exemption, or 6 percent, much higher than in the rest of the state except in Sarasota County, where the religious-exemption rate is 7.2 percent. Religious exemptions in Florida average 2.4 percent.
"Some states don't allow allow any exemption except for medical exemption," says Bob Snyder, who heads the health department in Flagler. California, Mississippi and West Virginia are among those states. New York lawmakers just introduced a bill to end the religious exemption in that state. "I think that's a way for parents to avoid getting their child immunized. The reason that's a concern obviously, because we're looking at what's happening with measles. Measles is highly contagious. It can cause death."
The current outbreak is the most serious since 1994. In 2000, measles was considered to have been eradicated in the nation. But so-called "herd immunity," meaning the large proportion of immunized individuals that essentially renders the spread of a communicable disease ineffective, is breaking down. A larger proportion of people are going without vaccines, and social media, with ironically viral effectiveness of its own, is amplifying or reinforcing false messages about vaccines.
That's Snyder's frustration: the still-prevalent enough notion among a minority of people who believe against all evidence that vaccines are toxic, that they cause autism or other diseases.
"This is not what science tells us," Snyder says. "These are all myths that have all been debunked, and there's a lot of misinformation out there and a lot of education that needs to take place with respect to immunizations in general, and we're just seeing it manifested nationwide now with 22 states having outbreaks of measles. This is beyond belief, in the 21st century that we should be concerned about this. Communicable disease that can be prevented and avoid harm to our children and other children and adults because diseases like measles are so contagious."
The latest such study to debunk the myth of connection between the measles, mumps and rubella (MMR) vaccine and autism was published in March. It involved 647,000 children born between 1999 and 2010. Those who were vaccinated were no more likely to develop autism than those who were not.
Snyder and other Health Department officials are attending a Flagler County School Board workshop on June 18 (originally planned for May 14) to discuss immunization in general, among other topics. When the Health Department gets involved, it can be very effective: for example until last year, the school board used a private provider to issue flu immunizations. This year it engaged the health department to provide the shots. The number of immunized students and faculty went from 550 last year to 1,300 this year, 150 of them employees and faculty.
So the thought process was: OK, once we get into the school system, I want to be able to just tout the success and effectiveness of our efforts in collaboration with the school system," Snyder said.
The measles outbreak this year is putting a spotlight on Flagler's exceptionally high rate of non-immunization, lowering that herd immunity, and placing the county's school-age population at risk of infection.
If there were to be a single case of measles in a Flagler school, says Sue Reese, a registered nurse and epidemiologist at the health department, the protocol is clear: any child in that school who has not been immunized–other than the affected child–will be required to stay out of the school for 21 days, the incubation period that, once cleared, means the child is not a carrier and may return to school.
"We don't want to play with this, that's a standard epidemiological approach," Reese says.
Measles is usually associated with childhood diseases but can be contracted at any age. Living in the throat and nose of those infected, it is highly communicable, including through proximity, not just contact. "Measles is so contagious that if one person has it, up to 90% of the people close to that person who are not immune will also become infected," the Centers for Disease Control report. The incubation period ranges from seven to 21 days. It results in fever, conjunctivitis and coughing, the skin develops small spots with white centers, red blotchy rashes appear on the face and all over the body, lasting four to seven days.
The disease can lead to numerous complications, from ear infections to pneumonia to encephalitis, or swelling of the brain, which requires hospitalization. It is fatal in one to two childhood cases out of 1,000.
"You should worry because it's very contagious, it can affect your child, it can spread to adults," Snyder said. "This is a very contagious disease that can be deadly, even though the mortality rate is less than 1 percent." Just as important: "It's a 99 percent effective vaccine if you have been immunized."
The current outbreak started through travelers who had been to the Philippines, Ukraine and Israel. It has since spread more widely.
Children ages 18 and under can get the MMR vaccine and required childhood immunizations for free at the Health Department in Bunnell. Walk-in hours are 8 to 11 a.m., Monday through Friday.
Adults should be vaccinated with at least one dose of MMR vaccine, with a second dose recommended for those at higher risk such as international travelers and health care workers. People with underlying health conditions should discuss with their health care provider to determine the need for additional booster doses. Flagler's Health Department provides adult MMR vaccine/boosters for $98.